Antilles School kindergartners were treated Monday to a visit from V.I. First Lady Cecile deJongh, who has been on the road distributing her newest literary project, "See the Virgin Islands March," which puts 21 stanzas of the local song together with pictures done by young V.I. illustrators.
"When I was younger I actually had difficulty remembering the words to the song, and don't I think people actually know that it is actually 21 stanzas long," deJongh said after reading the book to both of the school's kindergarten classes. "I thought it would be easier looking at the words along with pictures, and it was also a great opportunity for me to work with young illustrators that are either in high school, college or just graduated from college."
DeJongh's past six projects have focused on local authors but this time she got the chance to put out the call to artists on the island or living abroad that could "paint the words" of the song with images of the islands.
DeJongh said she, along with editor and publisher Mario Picayo, put out a call for illustrators within the territory's schools and the V.I. Council on the Arts, and selected from the pool of illustrators that submitted drawings.
Three of Antilles School's alumni contributed to the book, along with two of the school's seniors, Prea Bhandari and Brianna Vasquez-Smith, who were both on hand Monday to sign books for the students along with deJongh.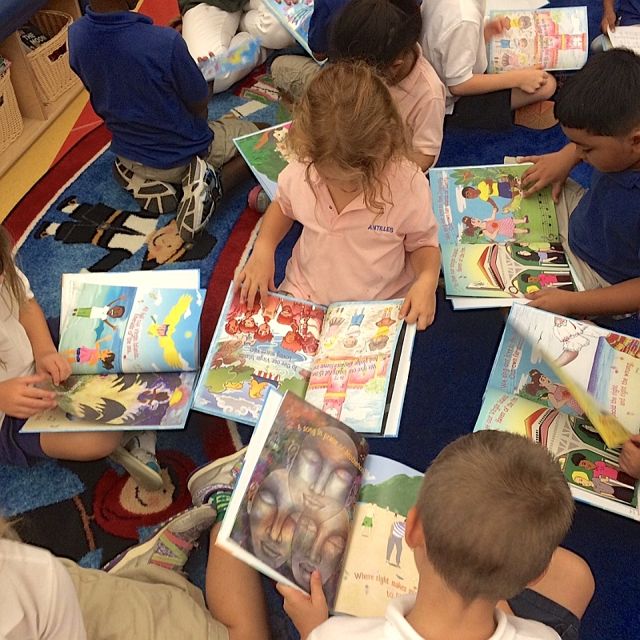 "It was definitely exciting having this experience," said Bhandari, who focused on showing off the territory's blue waters and marine life. "Art is something that I am passionate about and I was glad to be a part of this project and contributing to something that could give students an appreciation for art, for reading and for our islands."
Vasquez-Smith, who said she's passionate about music, channeled the spirit of "Virgin Islands March" creator Alton Adams Sr. with an "instrumental piece" that she said showed off the rich musical history of the islands.
DeJongh said each student was given a stanza to illustrate. "They drew whatever they saw fit and I think what they came up with was pretty terrific," she said.
DeJongh said 9,000 copies of the book were printed for distribution to all of the territory's kindergarten through third-grade classes.