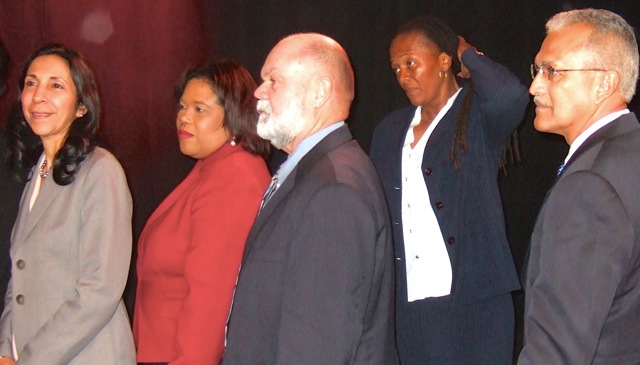 Governor-elect Kenneth Mapp's selected commissioners are familiar faces, most having worked in the Virgin Islands government in one capacity or another over the years.
On Tuesday, Mapp and his lieutenant governor-elect, Osbert Potter, introduced more than a dozen nominees for cabinet positions. The candidates will need to be confirmed by the 31st Legislature in January.
So far the only returning commissioner is Beverly Nicholson-Doty, who will continue leading the Tourism Department. Mapp said Nicholson-Doty was retained because she is "respected in the region and industry" and by employees and business owners.
Nicholson-Doty has been Tourism commissioner since 2007 and before that was president of the USVI Hotel and Tourism Association. She has more than 32 years experience in tourism and is past chairman of the Caribbean Tourism Organization.
Soraya Diase-Coffelt was announced earlier in the week as the new attorney general. Diase-Coffelt ran for governor this year and, when she was eliminated, she came out in support of Mapp.
Diase-Coffelt had a private law practice with her late husband and served as a Territorial Court judge from 1994-2000.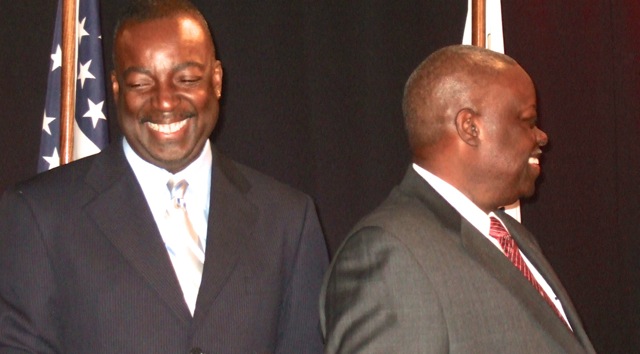 Mapp said, "We intend to build a strong, capable Department of Justice," adding that "irregularities" such as collusion, corruption, price fixing and selling expired food and medicines would be "confronted" along with crimes and dealt with to the law's fullest extent.
To run the largest agency, Sharon McCollum was selected as commissioner of Education. McCollum has worked for Education since 1982, most recently as the principal of Ivanna Eudora Kean High School on St. Thomas.
McCollum worked in South Africa on a Fulbright Scholarship, earned a master's in sociology and a doctorate in educational administration in 2004.
Mapp wants McCollum to "change the world" and teach marketable skills to the territory's young people. He said he also plans to add vocational technology to the curriculum of the University of the Virgin Islands.
Delroy Richards was tapped to serve as V.I. Police commissioner. Richards worked for the Police Department from 1974 to 1995, serving as St. Croix deputy chief, St. Croix chief and territorial chief of police.
He ended that career as special assistant to the police commissioner. Since 1998 to present time, Richards has worked in private investigation and security.
Engineer Gustav James was picked to manage the Public Works Department. He spent eight years in Saudi Arabia with the Arabian American Oil Company. James was the resident engineer for the Frederiksted Pier and has performed energy audits for commercial and government entities.
He earned a mechanical engineering degree at Michigan State University. According to Mapp, James' priorities will be to recapture federal highway funds, build new roads and develop mass transit.
Roads will not be just resurfaced, Mapp said, because they wash away with the first rain.
The former chief financial officer for Cruzan Rum, Marvin Pickering, will become the director of the Bureau of Internal Revenue. He began his career with Cruzan Rum in 1982 as staff accountant and retired as senior vice president in 2012. Pickering also ran for governor in 2014.
Business manager and former St. Croix administrator Pedro Cruz will begin to build after-school programs in conjunction with the Education Department, according to Mapp. He will serve as commissioner of Sports, Parks and Recreation Department.
Cruz managed Glidden Paint Company on St. Croix for 10 years and ran, unsuccessfully, for the Senate in 2010 and 2012.
Taking over the Department of Licensing and Consumer Affairs is attorney Devin Carrington. Over the years, Carrington has served as counsel to several governmental agencies and most recently to Sen. Diane Capehart.
He has also been a Casino Control commissioner and worked as a certified mediator with the V.I. Superior Court. Nova Southeastern University Law School awarded Carrington a Juris Doctorate in 1994.
Milton Potter, who did not attend Tuesday's announcement, will take over the Department of Personnel. Currently he is the director of human resources at the V.I. Port Authority.
Potter was assistant director of the V.I. Personnel Department for six years. From 1994 to 2004, he was an executive assistant for the Office of Collective Bargaining.
If approved by the Legislature, the next director of the Bureau of Motor Vehicles will be Lawrence Olive, a career government employee. He worked for Motor Vehicles from 1999 to 2007, finally as assistant director on St. Thomas.
He has also worked for the Departments of Justice and Property and Procurement. His education included the V.I. police academy and advanced drug law enforcement training.
Mapp said he wants to do away with vehicle inspections at Motor Vehicles. He said drivers will make sure their vehicles are working with the help of the VIPD. He also envisions online auto registration.
The governor-elect also named island administrators during the media conference. Taxi and car rental business owner Camille Parris was designated for St. John.
Stephanie Williams, former corrections officer and high school basketball coach, will become St. Croix administrator.
Although not announced at the meeting, businessman and Elections Board member Lawrence Boschulte will step in as St. Thomas administrator, according to Mapp's communications chief, Kim Jones.
Mapp and Potter congratulated the new appointees and said "life will get better" as long as the cabinet works with trust, passion and respect for the community.
"We don't want to be an administration of perfection. We want to be an administration of excellence. We're asking you to give these wonderful Virgin Islanders your support," Mapp said.
More announcements will be made in the coming weeks, Mapp said. Still to be selected are leaders and commissioners for the Departments of Health, Human Services, Labor, Finance, Agriculture, Property and Procurement, and Planning and Natural Resources, the V.I. Waste Management, the Economic Development Authority and the Bureau of Corrections.
Mapp said more than 600 resumes have been received and all will be acknowledged. He and Potter are reaching out to Virgin Islanders living stateside who might want to return home to work in the administration.
The Mapp/Potter administration will not have a traditional level of communication managers between the governor's office and the departments and agencies. All will interact directly to avoid building up the bureaucracy, Mapp said.
"They will lead and manage their departments and agencies. We will work with them in selecting deputies and assistant directors," he said.
The incoming administration will be known for its "hard work and accountability," Mapp said. "The tasks are not going to be easy, but we will confront them one by one."