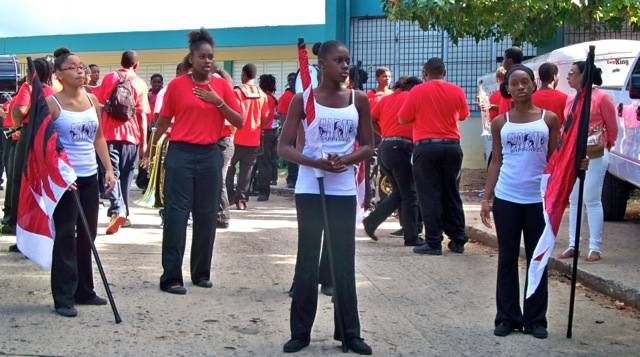 The action on the parade route in Frederiksted for Martin Luther King Jr. Day started long before the parade. Residents representing themselves and several local civic groups and churches were out in full force at 7:30 a.m. for Operation Clean Sweep Frederiksted, marking Martin Luther King Jr. Day of Service.
Around 50 volunteers spread out on both sides of the whole length of King Street shoveling dirt and debris from ditches, pulling weeds, sweeping walks and picking up trash.
On Fisher Street, some residents were painting a white picket fence.
One of those painters, Rebecca Lewis, said she was helping spruce up Frederiksted because she believes if you aren't part of the solution, you're part of the problem.
"I'm here doing whatever I can to help the community," Lewis said. "We can't maintain the earth properly when we destroy it. We have to take care of it."
"I'm doing what I can because this town is so beautiful," said Dave Knaggs, another painter.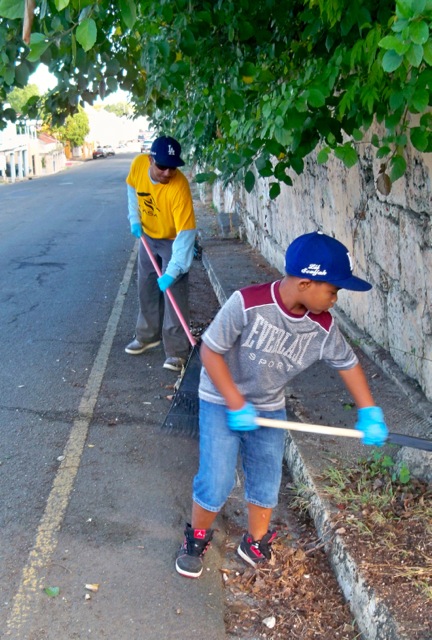 On King Street there was a father-son team from the Prophetic House of Worship Church, raking debris.
"This is so uplifting, making a difference and being the change in the community," said Marcos Gilbert. His 10-year-old son, Marcos Jr., said he was having fun cleaning up the town with his father.
Another 10-year-old from the church, Jose Nunez said it was fun helping people.
Paul Arnold Jr. from American Legion Post 133 said Virginia Clairmont, founder of
Clean Sweep Frederiksted, contacted the Legion for assistance.
"The American Legion is donating manpower and resources to help out any way we can," Arnold said.
Clean Sweep Frederiksted is a coalition of community stakeholders dedicated to the economic development and revitalization of Frederiksted. The mission is to support these efforts by creating and maintaining a litter-free and pristine community. Through organized cleanups and other efforts they hope to teach behaviors that will result in a cleaner, safer and more vibrant community.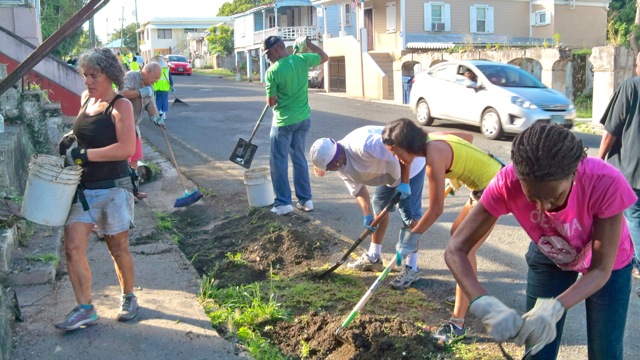 Clairmont said when she moved back to her hometown of Frederiksted in June, she was shocked and left speechless by the sad condition of Frederiksted. She said she had to do something about it.
"It's a beautiful town with so much history and culture," Clairmont said. "We need to do our best to give the town the respect it deserves."
She said over all she has had 350 volunteers since the first Clean Sweep at Thanksgiving. Four weekends following that she organized volunteers, and now volunteers can come out every Saturday at 7 a.m. to lend a hand.
She said the volunteers were digging out the dirt and debris from drainpipes and ditches Monday and she hopes the Department of Public Works and the V.I. Waste Management Authority will keep the ditches flushed out from now on.
"I really appreciate the community coming out and doing the project," Clairmont said. "Everyone has been very supportive. This effort really comes from the heart."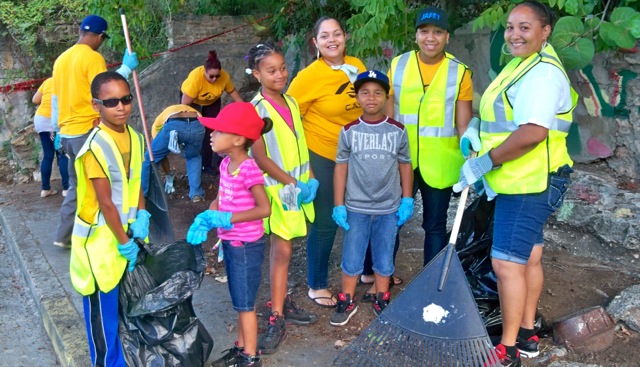 She added if anyone wants to donate money or materials for the cleanups or wants more information to call 240-671-7106 or go to Clean Sweep Frederiksted on Facebook.
Because of the services contributed by volunteers on Martin Luther King Jr. Day of Service the parade route looked great. Shop, bar and restaurant owners got involved sweeping sidewalks in front of their businesses. There were even a few flower boxes filled with pretty vinca flowers.
The parade started forming at Claude O. Markoe Elementary School at 9 a.m. and got under way at 10 with numerous public elementary and parochial schools marching to honor King's memory.
The St. Croix Central High School Carib Sapphires and St. Croix Educational Complex Barracudas majorettes, dancers and bands performed for the folks seated in canvas chairs all along King Street.
The Junior ROTC group from Central High and the V.I. Chapter Tuskegee Airmen Youth Aviation Club members also took part in the parade. The Seventh-day Adventist Youth V.I. Pulse Drum Corp played their hearts out all the way to the end at Buddhoe Park.