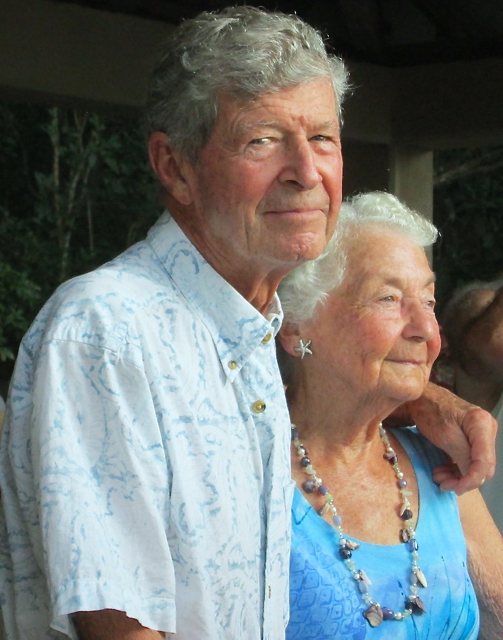 With their hands on each other's hearts, about 75 couples on Saturday renewed the marriage vows they made years before.
"I recommit myself to you," they said at the prompting of non-denominational minister Anne Marie Porter during the 13th annual Valentine's Day Vow Renewal celebration held at Trunk Bay.
The event, which is organized by Porter, is usually held on the beach but this year huge north swells forced its relocation to the pavilions adjacent to the beach.
The couples indicated they were married anywhere from a short time to 60 years.
Three couples topped the 50 year mark. Dave and Clare Kane of St. John and Greenwich, Conn., were at the top of the list with 60 years. Alan and Sallie Gratch of Evanston, Ill.' followed with 58 years and Terri and Jim Provost of St. John made the cut at 50 years.
One couple, Carolyn and Rich Sells of Richmond Va., were married by Porter nine years ago on St. John on Valentine's Day. That afternoon they attended that year's Vow Renewal Ceremony in their wedding finery.
"We're trying to make this an annual thing," Carolyn Sells said.
Couples had a variety of reasons for deciding to renew their vows. Jeff and Debbie Coleman of Walpole, N.H., were taking in the sun and sand at Trunk Bay when they saw that some event was about to take place.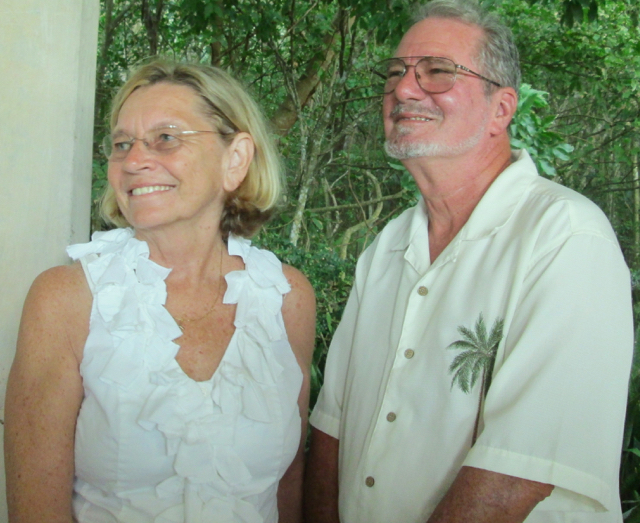 "It sounded like fun," Jeff Coleman said, adding that he got down on bended knee to ask his wife of 34 years if she'd like to participate.
Colleen Fitzpatrick and her husband Jim, married 40 years and from Coopersburg, Penn., happened to be at Trunk Bay many years ago while the vow renewal ceremony was in progress.
"I said I'd like to do it and he said OK," Colleen Fitzpatrick said.
As for his opinion on why the marriage lasted, Jim Fitzpatrick had a quick answer.
"I compromise a lot," he said.
Judy Drake of Buffalo, New York, had the same answer when asked why her marriage to her husband Tom lasted 45 years.
"Compromise. Do it my way," she said, laughing.
Getting a bit more serious, she said the real secret was to be thoughtful and kind.
"Think more of the other person than you do yourself," Tom Drake added.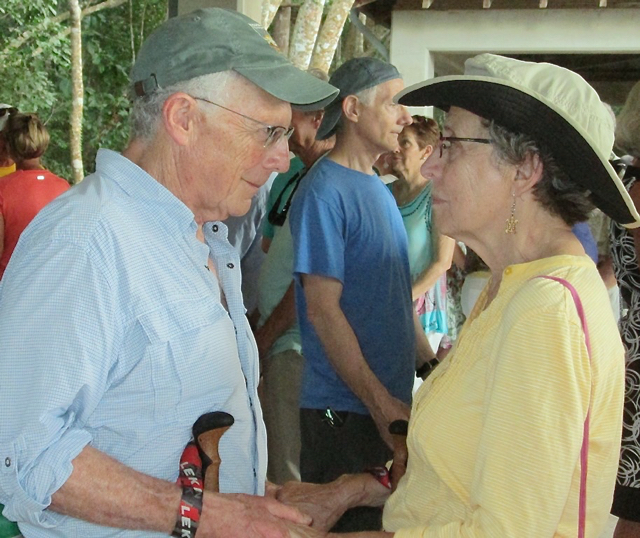 Helga Kimball and her husband Tom, are married for 40 years. On vacation from Londonderry, Vermont, she said the secret to such a long marriage is a good sense of humor and trust. She said it also helped that they worked together at their golf course since the day they were married.
When asked his why their marriage lasted so long, Tom Kimball had a ready answer.
"All of the above," he said, echoing his wife's remarks.
Julie and David Messinger of Boston are married 48 years. He said he married his wife because she was an independent woman.
"She would have done fine without me," he said.
While a lot of the couples had many years of marriage to talk about, Lana Meyers of St. John and her husband Kyle have been married only seven years. She said they came out because it was a good community event.
"It's such a St. John thing," she said.