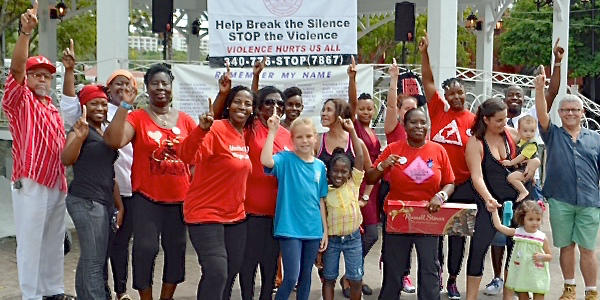 A small but stalwart group of dancers, drummers and voices turned out Saturday at Emancipation Garden as part of "One Billion Rising," a worldwide mass plea to stop violence against women and girls.
The event is the largest day of mass action ever to stop violence against women.
Saturday marked the third, and wettest, year the Family Resource Center has staged the event.
Vivian St. Juste, FRC director, who never takes no for an answer, defied the elements on Saturday morning.
"We were concerned," she said. "Up until about 10:30, when we were doing a last rehearsal of zumba at Yacht Haven Grande, we talked about postponing it, because the weather and downed power lines would work against us. But, we decided to persevere and at noon when we began, the clouds rolled back and the sun shone brightly. Our drummers started, the dancers followed."
And the group was rewarded this year with an unexpected element.
"Just before the dances started, an audience member, George Larsen, asked permission to toll the Liberty Bell in the Garden.
"It was awesome," she said. "He stood outside and tolled the bell. He asked permission to toll it one more time when the performance ended. It was so stirring."
So with the sunshine and an unanticipated bell ringer, the 20 performers expressed their outrage in a performance to support an end to violence against women once and for all, singing their hearts out.
"Strike, Dance, Rise," St. Juste chanted as she led the dancers in the "Break the Chains" dance.
According to the "One Billion Rising" website, one in three women across the planet will be beaten or raped during her lifetime. Every February, women rise – in hundreds of countries across the world – to show local communities and the world what one billion looks like and shine a light on the rampant impunity and injustice that survivors most often face. We rise through dance to express joy and community and f celebrate the fact that we have not been defeated by this violence.
"We rise to show we are determined to create a new kind of consciousness – one where violence will be resisted until it is unthinkable," the website says.
St. Thomas joined more than 200 countries Saturday, as women from the Democratic Republic of Congo to flash mobs in Mogadishu, from Paris to the Philippines, demonstrated Saturday.
The Family Resource Center is a private nonprofit corporation that provides programs and services for victims of domestic violence, sexual assault and child abuse. Its mission is to end family violence in the Virgin Islands. The center is celebrating 33 years of service to the community and says it will continue this important work until its services are no longer needed.
Information about the worldwide One Billion Rising can be found by clicking here.