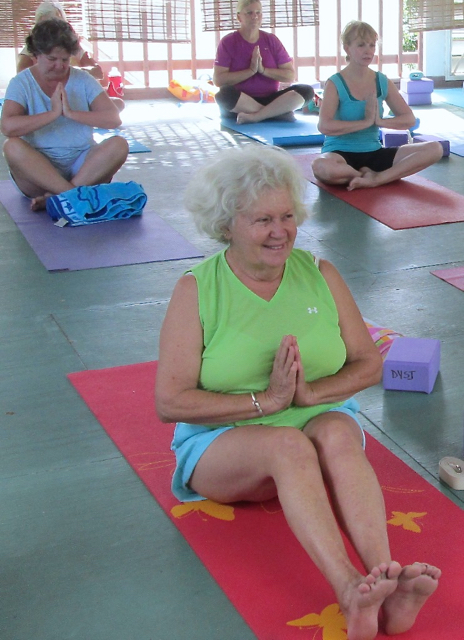 Baggywrinkles is a nautical term, the name of an item used on sails to keep them from chaffing. But Coral Bay resident Marie Naisby saw it as an apt name for a group of older women who meet twice a week to practice yoga in Coral Bay.
"It seemed to fit in other ways," she said, a bit ruefully.
Naisby, 74, got in touch with yoga instructor Nancy Stromp to put together a yoga class for women who range in age from their mid-50s to at least their upper 70s. It's by invitation only to keep the class size manageable, but Stromp hopes the idea of yoga for older people will grow.
Naisby said she was intimidated by the idea of taking yoga classes with groups that tend to focus on younger, more toned and agile people. Participants in such groups tend to wear trim-fitting yoga outfits, but the Baggywrinkles wore everything from shorts and T-shirts to less form-fitting traditional yoga outfits.
"Loose, comfortable clothes are all you have to have," Stromp said.
The Baggiewrinkles also have issues that come with aging, such as Naisby's replacement ankle. This means they need a slower, gentler form of yoga.
The handful who stuck around after the hour-plus class all spoke about how much better they felt since they started taking the class.
"I feel like I have more energy and my balance is improving," Naisby said.
Ginny Westrick, 60, also noted that her balance was getting better. She said it was important to know that should she experience a slip, she'll be able to catch herself.
Stomp, 56, said "balance and core" is one of yoga's concentrations.
"As we age, we have the threat of falling," she said.
Additionally, gravity "pushes" people down. While that facet of aging is obvious to those getting older, it also impacts breathing, because the shoulders tend to slump over. This compresses the lungs and makes breathing more difficult.
"Yoga makes posture better and opens up the lungs," Stromp said.
Because the participants are older, Stromp said this yoga class is slow and makes adjustments for what the women can and can't do.
"Nancy is great at focusing on what our needs are," Westrick said.
Debby Raymond, 60, is pleased that her body became more flexible after she started taking the class in October.
"You feel better," she said.
Melody Smith, 59, tagged along with her neighbor, Diane Devine, 67, to take the class for the first time. She said she came because she loves yoga and could walk to the class.
Devine is a long-time yoga practitioner. She takes another class with Stromp, but said this one is special because Stromp donates half of what she charges to a charity decided upon by the students.
It varies from week to week, but Stromp said giving back is part of the yoga experience. She said they gave money to Carolina Corral's Dana Bartlett, who had extra expenses in bringing an injured donkey back to health. Money went to several women with breast cancer, who used it to help defray transportation expenses to St. Thomas for treatment. The St. John Cancer Fund was a recipient. And they donated money to help with funeral expenses for Elvis Smith Jr., who died Jan. 10 in a car accident in Coral Bay.
"Whatever we hear about," Stromp said.
While most of the women knew each other in some way or other before they started attending the class, Westrick saw one big advantage.
"Camaraderie with people who have the same mindset," she said.
The class always finishes with some quiet moments to focus on the reasons why the women are thankful.
"It ends with a connection to what is really important in life," Stromp said.
Anyone interested in starting a yoga class for older women or men can contact Stromp at 1-340-775-0533 and she'll locate a suitable instructor.