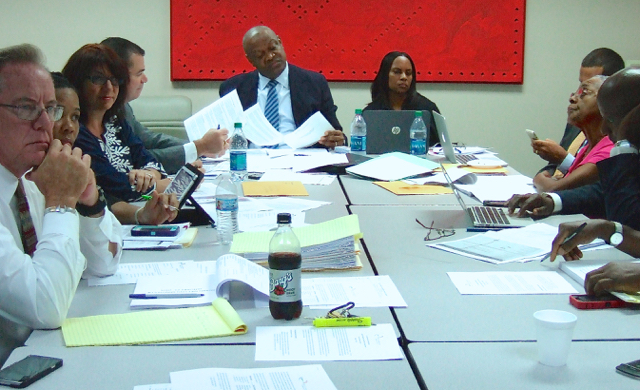 The governing board of the Gov. Juan Luis Hospital will be celebrating in August if it maintains the progress reported Saturday, CEO Dr. Kendall Griffiths said Saturday during a short audio conference with the board and hospital administrators.
Bud Pate, from Greeley Consultants, told the board that by the end of March the hospital will have completed corrections for 90 percent of the most serious deficiencies listed by CMS in September. In October, the federal agency gave nine months to improve care and avoid decertification by the U.S. Center for Medicare and Medicaid Services.
Pate said Greeley first completed an analysis at the hospital from December to January to determine root causes of any gaps in operations.
"The experts were gratified not to see a host of clinical problems. We didn't discover bad care," he said.
Greeley's "basic finding" according to Pate, was a "lack of traction for sustainability." With 85 percent of the corrections for "A" deficiencies having been made to date, half don't lead to sustainability, he said.
To correct the problem, assignments with tracking sheets are being reviewed in daily and weekly management meetings.
Improvements need to continue in the emergency room, Pate said, and the group will study staffing, staff qualifications and other issues in the department.
Responding to a question from Board Chairman Anthony Ricketts, Pate said all of the steps have been completed for the systems improvement agreement, but not all are effective.
By the end of June, Pate said, JFL should be compliant with CMS and have a few months "to practice" before the CMS audit, expected in August.
The third-party consultant agreed to provide the board written, weekly, action plan reports.
In his report, Griffith was optimistic about meeting the CMS deadline.
"We will be celebrating in August because we will have a successful audit. Stay on mission and we will be successful in August," he said.
There has been progress in the emergency room with several treatment rooms being reopened. Staffing was increased, and a leadership team provides better supervision at night. The entry to the department was redesigned for easier access. The result is a 30 percent improvement on how quickly patients are seen by medical personnel, Griffith said.
According to Ken Okolo, chief operating officer, several rooms are being prepared adjacent to the ER for patients with mental health issues. The area will be ready in three weeks, Okolo said. He pointed out the change will streamline the service in the ER as well.
Ricketts said he looks forward learning that mental health patients have been treated at the next board meeting.
During her report, Hazel Thomas, quality and regulatory chief, said the number of patients who leave the hospital without being seen by a physician has dropped from 20 percent in November to 4.1 percent in February and fewer patients are falling while under hospital care. The fall rate has dropped to three percent, while the national average is two percent, she added. In February, five patients fell in the hospital but Justa Encarnacion, chief nursing officer, said there were no injuries.
Even if hospital operations are improving, the hospital is far from prosperous. Tim Lessing, chief financial officer, reported the total operating revenue increased 24 percent over 2014, but expenses were 10.5 percent higher, resulting in a $3.19 million loss in January.
Board treasurer Philip Arcidi talked about efforts to increase the reimbursement rate from CMS, since costs have increased since the 1996 base year. Sicker patients are being treated, he said, and pharmacy costs have skyrocketed. After being rejected the first time, a second request has been submitted with 1,500 pages of documentation.
The entire financial department is being reorganized, Arcidi continued, and a study is underway to determine the number of charity cases treated yearly.
Ricketts reported on negotiations with the 31st Legislature for funding to complete the systems improvement agreement with CMS. After detailed discussions, he believes there "might be funds available." The Senate has requested the board review employee contracts, all positions for financial and action redundancy and disciplinary action, before taking any action.
The board has reiterated instructions to the hospital administration regarding a moratorium on raises and new employees, Ricketts said.
Attending the meeting were Ricketts, Arcidi, Joyce Heyliger, Kimberly Jones and Troy deChabert Schuster.