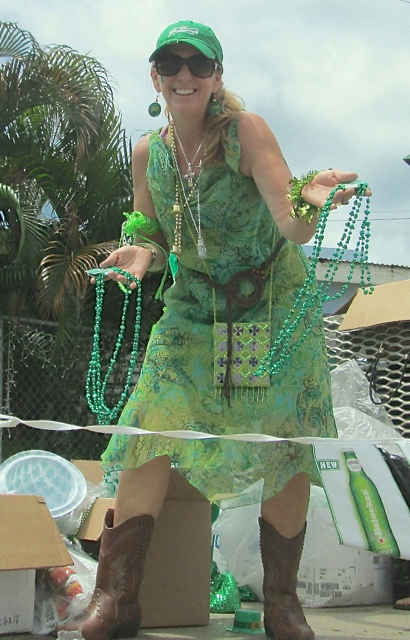 Green shirts, green hats, green suits and even green hair were spotted Saturday in Cruz Bay as St. John celebrated St. Patrick's Day with the 18th annual leprechaun-sized parade.
"It's one of the most fun events," St. John resident Erin Hrastar, who was wearing green hair, said as she waited for the parade to start.
Residents and visitors crowded the street that runs from the roundabout to the old FirstBank location, watching a a dozen or so groups parade down the route.
Alex Laughlin, a parttime resident, was wearing a green suit adorned with shamrocks he said he bought online.
"Oleletcheprechaun," he said, indicating the words on his name tag and giving a parade-goer a squeeze.
Another St. John resident, Joe Chmielewski, was on hand with some visitors from upstate New York.
"Apparently it's the thing to do and we're Irish too," said Jenny Manwarren of Syracuse.
As for Chmielewski, he called the parade a blast.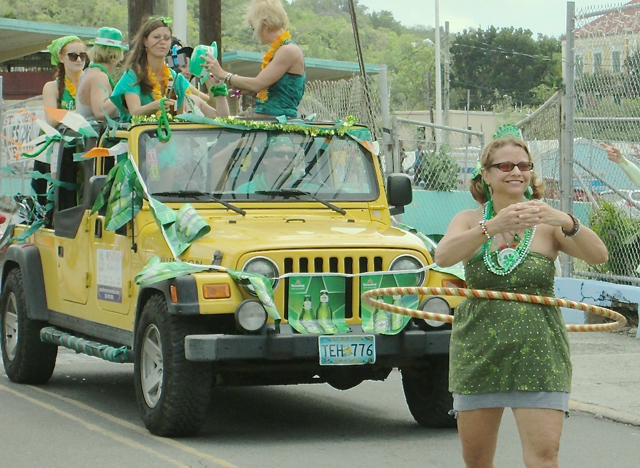 "It's a quirky, cool and fun parade," he said.
This parade was the seventh for retired couple Bonnie and Don Nuendel of Cape Cod, Mass. They spend a couple of weeks every year at Cinnamon Bay Campground, and hitchhike in from the North Shore to take in the parade.
"We hope we have seven more," said Don Nuendel, sporting a green tie.
Another set of campers was waiting on the corner for the parade to start. Susan Welsh of Norwich, Vermont, and Joann Clifford of Cornish, New Hampshire, also hitched in from Cinnamon Bay. This was a first parade for both of them, though Clifford has visited St. John before.
"I'm sure it will be raucous and fun," Clifford said.
Debbie Freyer of Gilgo Beach, N.Y. said viewing the parade was on her bucket list.

"I'm here for the revelry," she said.
Christin Habas of Wells, Maine, was sitting at a table in front of Woody's Seafood Saloon with a group of fellow Maine residents. A frequent visitor, she said she just stumbled on the parade some years ago and now wouldn't miss it for the world.
One of her friends, Nan Ramsey of York, Maine, is also a frequent visitor – so frequent that that when her husband saw a cute dog at the Animal Care Center of St. John's weekly display at the Marketplace shopping center, they took the dog home.
This year's parade even had a Miss Ireland – Sierra Schrieber – a team of hoopsters led by St. John resident Lori Walden, a handful of troops waving distillery banners, and a car filled with kids enjoying it all.