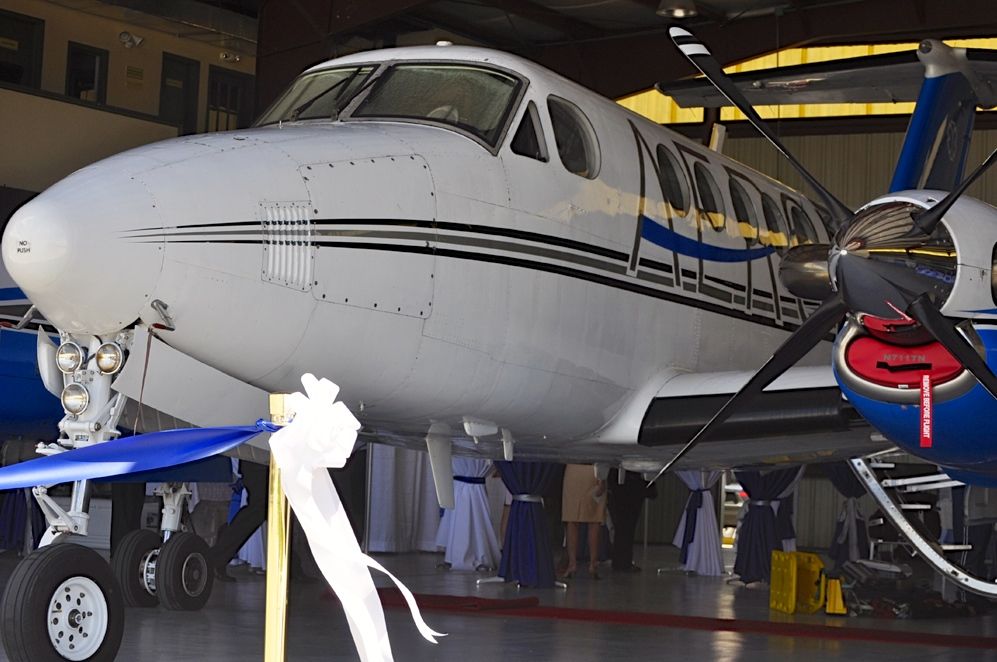 Representatives of AeroMD, a critical care air ambulance service, promised to revolutionize emergency medical transport in the Virgin Islands and the Eastern Caribbean at a ribbon-cutting ceremony at the St. Thomas Jet Center on Tuesday afternoon.
AeroMD's Board Chairman Stephen Evans-Freke told guests at the ceremony that unlike many medical transport services available in the Caribbean, which typically charter planes from the U.S. mainland via brokerage agents, AeroMD will keep two planes on location in St. Thomas for immediate dispatch.
In addition, the company promises that critical treatment aboard these planes will be comparable to what a patient would receive in an emergency room.
Evans-Freke, who moved to the Virgin Islands in 2008 as the cofounder of Auven Therepeutics, said that he has witnessed first hand the delays that can occur when an air ambulance must be chartered from outside the region.
He said that on a recent trip to Anegada a friend had required emergency transport only to find that, despite his subscription to an air ambulance service, no planes were available without having to deal with "days of bureaucracy."
At Tuesday's ribbon cutting ceremony, Evans-Freke introduced the press and members of government to Brendan Anzalone, a decorated U.S. Air Force veteran who has been tapped to head AeroMD's operations as president and chief medical officer.
Anzalone was awarded the Bronze Star while serving as a member of the Air Force's Special Operations Critical Care Evacuation Team in Afghanistan. Anzalone left active duty last July.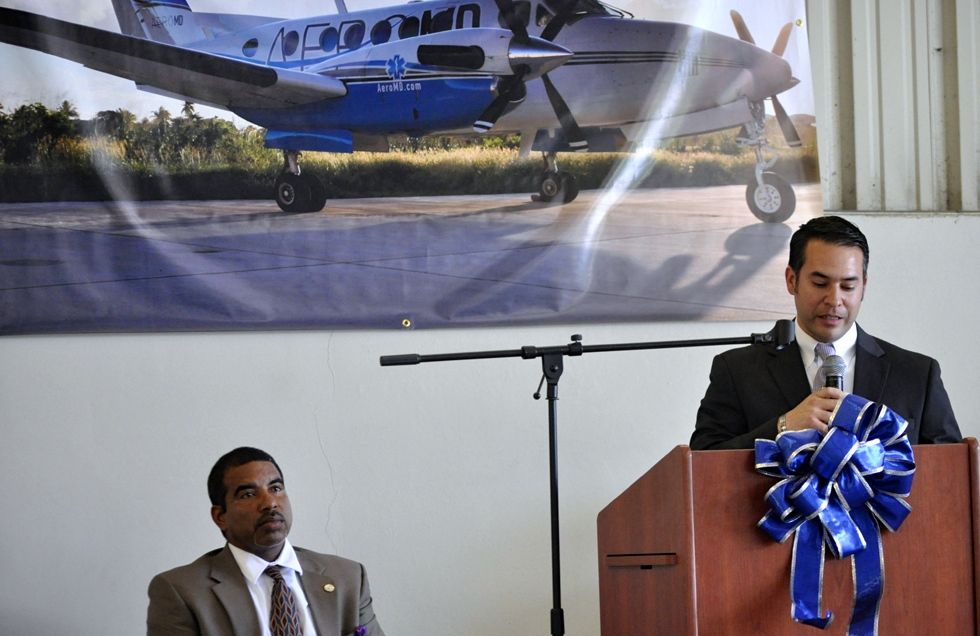 "I was looking for the next step," said Anzalone. "How do I continue to serve? And how do I do that in a suit and maybe not a uniform?"
Each AeroMD flight team consists of four members, explained Azalone. In addition to two pilots, a respiratory care practitioner and a critical care nurse are present on every flight, essentially turning the plane into a "flying intensive care unit."
He said that AeroMD has recruited staff from "some of the best programs in the country" for its St. Thomas-based operations. He also says the company has purchased "some of the most highly sophisticated gear in the industry."
Azalone stressed the "bedside to bedside" service of AeroMD, saying that the company's medical technicians do not leave the patient's side until they arrive at their destination hospital. The entire way, AeroMD's call center monitors the mission and reports back to family members on the status of the patient.
"That continuity of care is important to us… if I'm not on the plane I'm available to my crew by satellite phone," he added.
Only one of two planes in AeroMD's St. Thomas fleet, a Beechcraft Super King Air 200, was present at Tuesday's ribbon cutting due to the company's faster Learjet 35A being dispatched on a mission the previous night. Azalone said the King Air 200 is an "absolute workhorse" that is ideal for landing on the small runways that exist on many Caribbean islands.
Both of AeroMD's planes are equipped with state of the art medical equipment including a heart monitor/defibrillator, an ultrasound machine, a video laryngoscope and a portable laboratory for conducting tests.
AeroMD is offering individual yearly memberships at a cost of $299. Yearly memberships for families of up to six cost $499. The company also offers plans for businesses that would like to offer AeroMD as an employee benefit. More information about the company can be found at www.aeromd.com.