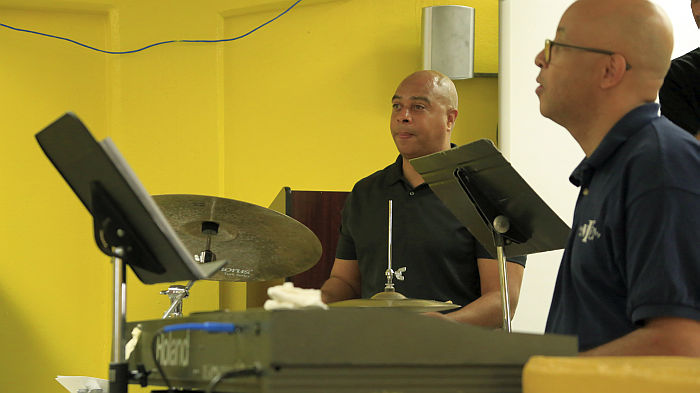 Dion Parson and his 21st Century Band have a new album coming out in mid-June, an album that pays homage to his island home, St. Thomas. But for the past two weeks, promotion for the the album's New York release has taken a back seat to the band's continuing efforts to expose students throughout the territory to the world of jazz.
The album, "St. Thomas," will be released June 23 through 25 at Lincoln Center in New York. In the meantime, the group has been focused on furthering its relationship with the Department of Education, Community Foundation of the Virgin Islands and Jazz at Lincoln Center by appearing for workshops at six V.I. schools and community concerts on all three islands.
In November 2013, Parson kicked off a pilot program with Education that brought Jazz at Lincoln Center's WeBop program to the territory and Parson said the effort was so well received by students that they were eager to participate when the band appeared back in the schools late last month. On St. Thomas, Parson and the band were at Ulla F. Muller and E. Benjamin Oliver elementary schools, along with Julius Sprauve on St. John and then traveled the week after to Eulalie Rivera, Claude O. Markoe and Juanita Gardine elementary schools on St. Croix.
"The overall mission is to share with the students and educate them about jazz and swing, about working together, about recognizing the quality of music, and to be creative," Parson said in an interview with the Source after the workshop at Muller. "As Virgin Islanders, we don't get the same kind of musical educational training as we would in New York or Philadelphia, where there is more creative music happening all the time, so one of the goals is to present to the students these art forms that were really born in America, that came from slaves and Africans in America, so they can recognize that this is also part of our culture."
A general session could introduce students to musicians ranging from Ella Fitzgerald to Louis Armstrong, with kid-friendly songs that keeps them singing and dancing along.
"In many of the schools, the students remembered the last presentation we did and it's very exciting for us as performers to see them come back and still have that information fresh in their heads while also being receptive to the new things, like improvisation, that we're giving them," Parson said. "It makes us as musicians want to swing harder and work harder on the bandstand."
A week on St. Thomas-St. John, followed by a week on St. Croix, also gave Parson and the band a chance to hold free community concerts that Parson said gave students a chance to bring their families out to enjoy the music.
"When the students are able to actively participate with us in school, when they sing and dance, that is something they remember and take home with them to share with their parents, and then the whole family will come out to these community concerts," Parson said. "So, what we're seeing is that this is really starting to open up the vision and minds of a lot of folks to embrace the music, and also see it as part of the culture. We've been really happy to be on the receiving end of all these compliments from the students and their families and people all over their communities."
In the territory, Parson's Mentoring Through the Art of Music program also works with budding musicians, such as band members from Ivanna Eudora Kean High School, who recently spent time with Parson during an intimate weekend workshop in late May. These efforts are also supported through a partnership with the Community Foundation of the Virgin Islands, whose president, Dee Baecher-Brown, recently told the Source that Parson's efforts are producing tangible results in children as young as kindergarten.
"CFVI has a fund for Mentoring Through the Art of Music with the Parsons,' which helps support the work they are doing in the schools and also in the early learning environment," Baecher-Brown explained. "And the work that they're doing around jazz is far beyond the music and the instruments: it's an opportunity for youth development that isn't always available in our community. And, when you see the young people participating, to them, it's about listening, communicating, interacting with their fellow students and teachers in a different way and that's why CFVI really values the partnership."
At the Muller workshop, for example, Baecher-Brown said she was able to see the transformation of second and third graders into "engaged learners," while a session at EBO gave students a chance to "totally immerse" themselves in the music.
"At this age, learning is fun and this kind of activity opens up the world for them," Baecher-Brown said. "They're out there participating and it opens the gateway for our students to not only learning about music, but their own environment and the world."
Parson added later that in the future, he and the band hope to build on both partnerships and push the programs as far as they can go.
"We're just going to expand on what we're doing," he said. "Our goal is to try to educate and share with young students as much as possible so that they know that they have choice. We're not trying to make everyone a professional musician, but we can raise their awareness and widen their vision, and the community's vision, of music."
Dion Parsons & 21st Century Band celebrate the release of their album "St. Thomas" at Dizzy's Club Coca-Cola in New York City from June 23-25, with two nightly sets at 7:30 and 9:30 p.m. For more information on the concerts, visit http://www.jazz.org/dizzys/events/158378/Dion-Parson-and-21st-Century-Band.