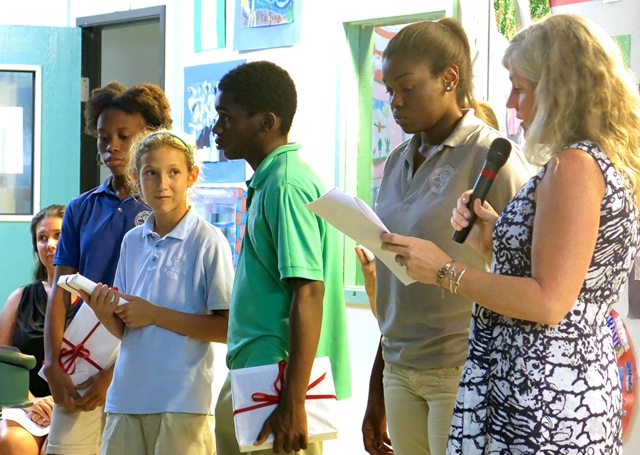 On Wednesday, Gifft Hill School administrators and faculty took advantage of the last day of classes to honor students' athletic and academic achievements.
Students from second to 12th grade gathered in the Upper Campus great room to receive awards for sports, community service, school spirit, fine arts and more.
The program kicked off with sports awards, which Gifft Hill School Athletic Director Barbie Barry handed out to students who had reached national and presidential standards of the 2015 presidential fitness program. The program tested students in chin-ups, sit ups, a shuttle run, a mile run and a flexibility test called sit and stretch.
Barry also recognized students who had participated in the swim club and the archery club, which was in its inaugural year and headed by Chris Dunlop.
"The students raised their own money to buy the equipment, which was impressive," said Dunlop. "We've definitely been developing skills and we'll do it again next year."
After an injury sidelined their original basketball coach, Mike Jones took over the helm of the elementary team.
"All of the team members showed great spirit and they definitely improved as the season went on," said Jones.
Noah Gessner was the team's high scorer, netting a total of 38 points during the season, and was awarded most valuable player. James Walgenwitt, who despite his size was willing to play any position, was honored with the most team spirit award.
The team's most improved player award was a tie between Dennis Bigrigg and Pierre Holland. Naheem Modeste, who showed a tenacity of spirit, was given the never gives up award.
While the elementary flag football team practiced hard with coach Sean D'Abbraccio, Department of Sports, Parks and Recreation officials were unable to find other schools for the team to play, Gifft Hill School Athletic Director Barry explained.
"Right before the season was supposed to start, we found out there was, unfortunately, not going to be a season," said Barry. "We still want to acknowledge everyone who participated and showed such great spirit."
Coach Laura Dunlop led the elementary soccer team, which faced fierce competition this season.
"We were a young team and this was a building year," said Dunlop. "It was a long and difficult season. We were up against some of the best teams in the league. We had mostly third-grade girls and were against mostly sixth-grade boys each time we went out on the field. Congratulations to you for going up against such tough competitors."
Roshan Kalantarian was awarded most team spirit for elementary soccer, while Adelaide Jones was honored with the leadership award. Keshan Alomal was recognized as being the most improved player. After figuring out and mastering her defensive position, Nina Gonzales was honored with the most valuable player award.
Gifft Hill School's varsity soccer team was led by coach Rich Walsh, whose squad also faced a difficult season of tough competition.
"We were hoping to create a junior varsity team and a varsity team but we didn't have enough numbers, so we went with varsity and it presented some challenges," said Walsh. "We had mostly eighth-grade boys going up against seniors. It was trying at times but we kept our head up. The team formed great bonds with each other."
"We ended the season with a win, which was great," Walsh said. "That gives us something to build on for next year."
Walsh recognized the team's three captains, Evan Jones, Landis Wallace and Jackson Barry. Walsh also honored Jones with the sportsmanship award, Alex Ray and Gabe Brooker as most improved players, and goalie Jackson Barry as the team's most valuable player.
"We lost a lot of games but it was not the goalie's fault," said Walsh. "Jackson kept us in every game. If we lost 5-0, it should have been 10-0. If we lost 10-0 it should have been 20- or 30-0. And Jackson always encouraged his defense and kept a great attitude."
Gifft Hill School's Education and Resiliency Through Horticulture (EARTH) program director Dave Minner awarded Noah Gessner with a planter box for showing great interest in agriculture. For his achievements in researching vertical gardening, which school officials hope to implement next year, K'Yon Louis was also honored by the EARTH program director.
Citizenship awards, which recognize students' commitment to their school and their community, were given to elementary student Alliyah Maximin, middle schooler Adelaide Jones and high school student Luca del Olmo.
Rosemary Richards recognized students for outstanding achievement in fine arts. She honored James Walgenwitt, Ananda Hernandez and Vela Colbert. Awards for performing arts achievement were given to Tierney Murrell, Trystein Pierre and Wallace Graham.
For defining school spirit at Gifft Hill School, Embeyah Braithwatite, Lily Margo Francis and K'Yon Louis were honored with awards. Athletic merit awards were given to Sklyer D'Abbraccio, Naheem Modeste and Evan Jones.
Gifft Hill School Head of School Laurie Bottiger honored Malena del Olmo, Damien Wallace, Genesis Dawson and Monique Edwards with academic merit awards.
For her outstanding music video to the song "Happy," Maia Ginther was honored a video production award. Alex Ray, who scored among the top 1 percent in of PSAT takers, was given the national merit award.
Makeda Dawson, who will attend Embry-Riddle Aeronautic University in the fall, was awarded the Caroline Adams Aviation Scholarship by the Department of Education worth $4,000 annually. The World Food Prize was given to Alex Raymond for his essay on malnutrition in Laos. Gifft Hill School math and science teacher Jim Willen recognized John Spinale for finishing in fourth place at the Monaco Moustrap Car Grand Prix.
Senator at Large Rocky Liburd congratulated the students for their athletic and academic achievements at Gifft Hill School.
"I want to say to all the students to keep up the good work," said Liburd. "Education is the key to success and discipline is the name of the game. I want to wish you all the best and congratulate the seniors."
Before wrapping up the program, Gifft Hill School senior Luca del Olmo spoke with candor and heartfelt emotion about each of his fellow eight graduating seniors.
Bottiger also left the seniors, who will graduate Friday, June 12, with a few parting words. "Reading is knowledge and knowledge is power," said Bottiger.