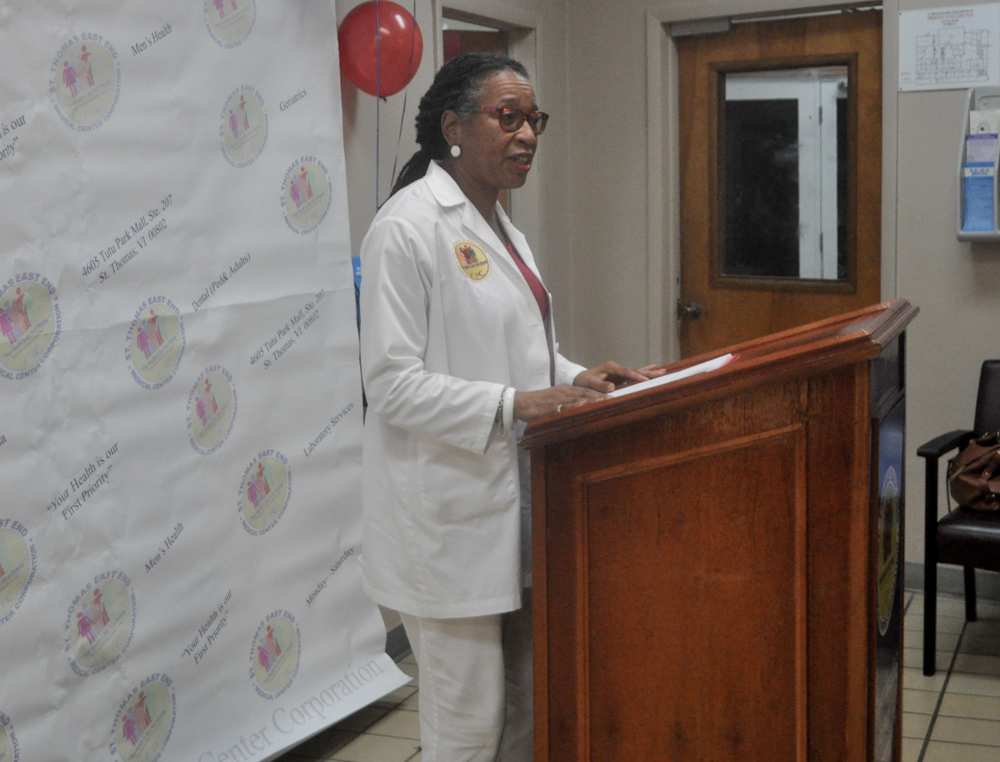 A group of St. Thomas East End Medical Center patients with diabetes gathered at the health center in Tutu on Friday to have their A1C glucose levels tested in preparation for a three month challenge to reduce those levels.
The program, called the Three Down in Three Months Challenge, is the brainchild of STEEMCC doctor Barbara Douglas and is being run by her and fellow doctors Madel Villega and Debra Wright-Francis.
Douglas said the health center's patients with A1C levels higher than 9 have been challenged to reduce those levels to between six and eight. An A1C level of 5.6 is considered non-diabetic and 14 is the highest level possible.
Approximately 30 patients have signed up to participate in the challenge and have been divided into three competing teams. The team that collectively reduces their A1C levels the most by October will earn a trophy, and the individual who reduces theirs by the most will be rewarded with a $150 prize.
STEEMCC Executive Director Moleto Smith Jr. joked that he hoped the $150 would be split exactly 30 ways with a prize of $5 each going to all of the tie-winners.
"I look forward to these very low numbers in a few months, but more so I look forward to each of you feeling better about yourselves," he told those participating in the challenge.
Wright-Francis, a gynecologist who has worked with the health center for over 10 years, said she and the rest of the STEEMCC staff knew something needed to be done to lower the high number of patients at the center who suffer from diabetes-related complications. She said over the course of her time with the health center she has seen improvements in the condition of diabetic patients, but not nearly as much as she would like to see.
"Only about half of our [diabetic] patients are under the kind of control that we actually consider to be 'under control,'" she said. "We decided we had to do something innovative because just having the patients come and sit with us for 20 minutes every three months is not cutting it."
Douglas, who came up with the idea of the challenge, said that complications of diabetes are extremely serious, and often result from patients being in denial about their condition. She said those complications can include blindness, renal failure, stroke, heart attack and the need for amputations.
"Many people turn away from it say 'I'm not taking medication, I don't have it.' And then things just get worse," Douglas said. "We want to send the message that you can accept it and do something about it and things will get better."
"What's really concerning is that we are seeing that our youngest patients, as young as 10, are actually getting Type 2 diabetes," Douglas said.
Type 2 diabetes is often caused by obesity and poor diet, she explained.
"It's really important to try to re-educate people about what they should do," she said. "With Type 2 diabetes it's possible to even get off medication with the proper diet and exercise."
The Three Down in Three Months Challenge will include coaching from STEEMCC doctors as well as nutrition classes and exercise programs.
"I really really really want my A1C levels to be under control, because I wasn't taking it seriously, and it is very much serious," said Leonile Davis, a patient at STEEMCC. "You need a lot of self-discipline but I am very happy for this program. It's even harder to do on your own."
Another patient who wished to remain anonymous said she was excited for the nutrition classes and to begin incorporating more vegetables and fish into her diet.
"That's what me and my family are trying to do right now," she said. "We need more programs like this."
"We like our bellies. We like our provisions and we like all of it piled on," Wright-Francis said. "I always say, I'm great at dieting when there's not a bunch of food in front of me. But if everybody's coming to me saying 'come to beach party, come to church function' and all I see is a big glop of macaroni and cheese, and a big plop of sweet potato stuffing, it's really hard."
Smith, whose uncle and a brother both died young as a result of complications of diabetes, said that reducing diabetes rates in the territory will take a paradigm shift.
"We have to begin to change our lifestyle because our children follow how we live," he said.
The Three Down in Three Months Challenge will end on Saturday, Oct. 10 with a Walk-A-Thon from Havensight to Emancipation Garden.