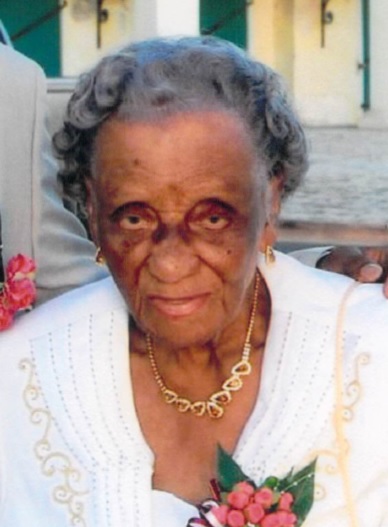 Lucina Mucet Loretta Canaii died on Aug. 24.
She was preceded in death by her husband, Phillip Oliver Canaii.
She is survived by her daughters: Lorna Augustin, Arlene Armstrong and Alith Ellis; sons: Andre Canaii, Allison Canaii, Arnold Canaii, Alvin Canaii, Arthur Canaii and Martin Wilson; sisters: Miriam Campbell, Estella Andrew, Dorothy Odlum, Sheila Cherburin and Renee Pollard; brothers: Lindsay Odlum, Rawle Odlum, Robert Odlum, Gene LaCobiniere and Hartley LaCobiniere Jr.; grandchildren, too numerous to mention; nieces, many nieces too numerous to mention; nephews: many nephews too numerous to mention; cousins: many cousins too numerous to mention; special friends: Janet DeGannes, Mrs. Brathwaite and family, Margaret Riviere and family, Ianthe and Tony Latique, Florence Walters and family, Matthew and Agnes Cazaubon, Mr. and Mrs. Adams, Sister Purcell, Mrs. Trim and family, caretaker Angie, the Marcellin family; and other relatives and friends too numerous to mention.
A viewing will be held from 4-6 p.m. on Thursday, Sept. 3, at Divine Funeral Services Chapel.
A second viewing will be held at 9:30 a.m. followed by a funeral service at 10:30 a.m. on Friday, Sept. 4, at St. Patrick Catholic Church, Frederiksted. Interment will be at Frederiksted Cemetery.
Arrangements are entrusted to Divine Funeral Services and Crematory. We own and operate our crematory. Let us offer you a Dignified Funeral, affordable by all. Tel: 773-0003/fax: 773-3003.