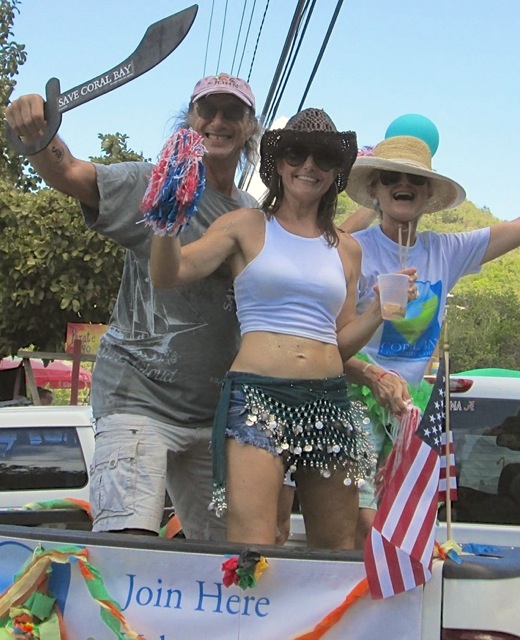 Energy and enthusiasm were evident as the annual Coral Bay Labor Day parade wended its way from Cocoloba shopping center to the Coral Bay ballfield.
"It's Coral Bay. People come out of the woodwork," resident Dan Carlsen said as he waited for the parade to begin.
Like many of those who stood in small knots along the roadside, Carlsen said it was a chance to meet up with people he seldom sees.
Another Coral Bay resident, Catherine Fahy, said although she's lived on St. John for 23 years, this was the first parade she attended. Recently retired, she said she was always working on Labor Day.
"Coral Bay is really a neat little community," she said.
While many of those at the parade were old hands at island life, Hayden Nunn and his three friends were first-timers. They moved to St. John from North Carolina about a month ago.
"We thought this was a good time to meet some people," Nunn said.
Abigail Kirby said she's been to every Labor Day parade since 1988. "I had my first date with her dad at the Labor Day parade," she said, gesturing to her daughter, Lexie.
Up near Emmaus Moravian Church, St. John resident Gafford Penn and his family set up in the shade. "We come every year," he said.
Meanwhile, vendors were busy selling their wares at the ballfield and along the road. St. John resident Ecelima Sprauve had fresh fruit juices made from fruit grown in her yard. "Tamarind, papaya, gooseberry, and mango," she said.
Most vendors hailed from St. John, but Charles Leonard made the trip over from Bordeaux. St. Thomas with a luscious array of fruits, vegetables and his specialty, honey. "It's my number one thing," he said, pointing to several tables filled with bottles of the sweet treat.
Leonard also had red tomatoes, purple eggplants, bright yellow lemons and brown eggs, among his many offerings.
Further down the field, Rosalie Huyghue, also from St. Thomas, was busy dishing up chicken legs, pot fish, johnny cake, shellfish pate, and tarts in flavors like coconut, guava and pineapple.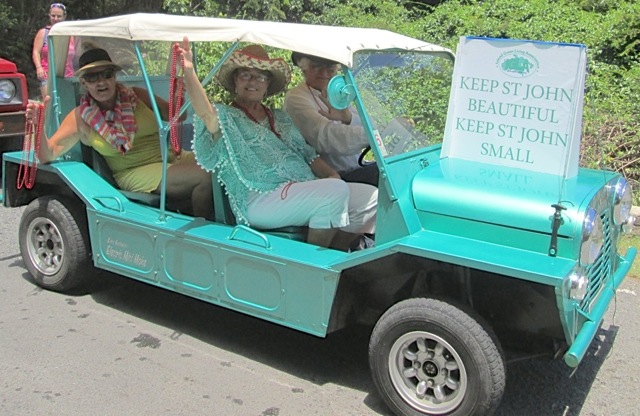 The thump-thump of the music heralding the parade's start could be heard at the ballfield, and soon the troupes and entries came into view.
With the fire truck leading the way, troupes from a good smattering of Coral Bay businesses, Coral Bay folks just out to have fun, a dozen Volkswagens from the St. Thomas-based Paradise VW Club, Miss Festival queen runner up Caija Campbell and princess Sanijah Grism, the Macislyn Bamboula Dance Co., the Island Green Living Association, and others made their way toward the ballfield.
And in keeping with Coral Bay tradition, a troupe led by Dana Bartlett of Carolina Coral in a cart pulled by two donkeys brought up the rear.
The day wrapped up with a party at the ballfield.