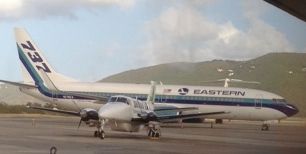 It was a trip down memory lane for some folks driving past Cyril E. King Airport Wednesday when they spotted an Eastern Airlines jet parked on the runway. No, Eastern hasn't started flying from points north to the Virgin Islands again but rather it was a chartered aircraft picking up passengers stranded aboard the Carnival Liberty when a Monday engine fire prevented the cruise ship from leaving its port at the West Indian Co. Ltd.
U.S. Coast Guard spokesman Ricardo Castrodad said at 1:45 p.m. Thursday that the Carnival Liberty was free to leave St. Thomas.
WICO said in a late afternoon press release that the ship was scheduled to leave for Puerto Rico at 7 p.m., sailing under its own power. Passengers who have not left the island on a cruise-line chartered flight will leave with the ship.
"We are pleased the Liberty and her passengers are able to safely leave St. Thomas," WICO President Joseph B. Boschulte said. "Liberty makes regular calls and we look forward to welcoming her soon. We also hope passengers from this cruise will visit us again, either on another cruise or for an overnight stay on any of our beautiful islands."
However, Castrodad said the agency cleared the ship to travel only as far as Puerto Rico, but it may transport passengers on the trip.
The ship will require further repairs once it reaches San Juan, he said.
Castrodad said the cause of the fire was still under investigation, and until it's complete, he won't be able to comment on it.
The Carnival Liberty passengers were out and about on St. Thomas while the cruise line decided how it would deal with the stranded passengers. Eventually charter flights began Tuesday, the airline said earlier.
V.I. Port Authority spokeswoman Monifa Brathwaite confirmed Thursday that the Eastern Airlines plane was indeed a charter that arrived Wednesday.
Eastern Airlines was a major carrier to the Virgin Islands until it went belly up in 1991.
In 2011, a group of investors acquired what its website terms intellectual property and put together a plan to operate out of Miami International Airport.
In May it began operating twice-daily flights from Miami to Havana for HavanaAir and weekly flights to the Cuban cities of Camaguey and Santa Clara.
In a statement on its website, Carnival said Thursday morning that charter flights will continue Thursday to a variety of mainland destinations based on where passengers live. They are using charter flights because there is limited availability on commercial flights.
Carnival said that all future cruises, including one scheduled to depart Sunday, will operate as planned.