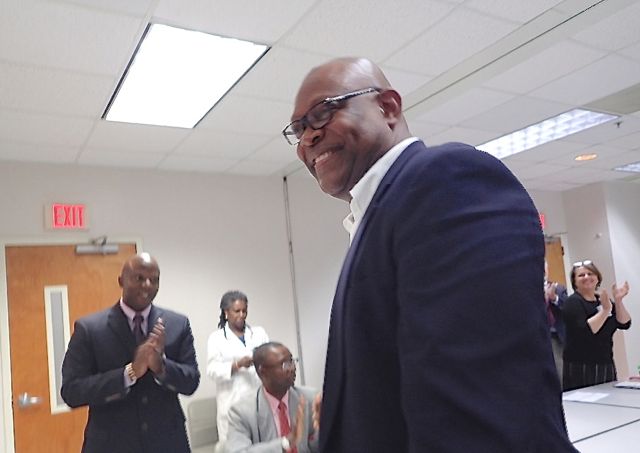 After bidding farewell Wednesday to Dr. Anthony Ricketts, who served as the board's president for three years, and welcoming a new member, the governing board of the Gov. Juan Luis Hospital and Medical Center heard about a faintly positive financial trend for the first time in years.
Ricketts led the hospital through lethal crises, including threatened defunding by the Centers for Medicare and Medicaid Services and crushing financial issues. He carried on in "a statesman like demeanor," said Dr. Kendall Griffith, chief executive officer, as he thanked the pediatrician for his service.
Griffith updated the board on the CMS extension that gives the health care facility until Dec. 31 to execute a systems improvement agreement to their satisfaction. He said that the emergency department and environment of care units continue to be high priority and are under surveillance for compliance.
Other areas are seeing progress, according to Griffith.
"The hospital is well on track with implementing the initiatives of the (systems improvement agreement) sustainability projects and monitoring compliance with these improvement actions," he said.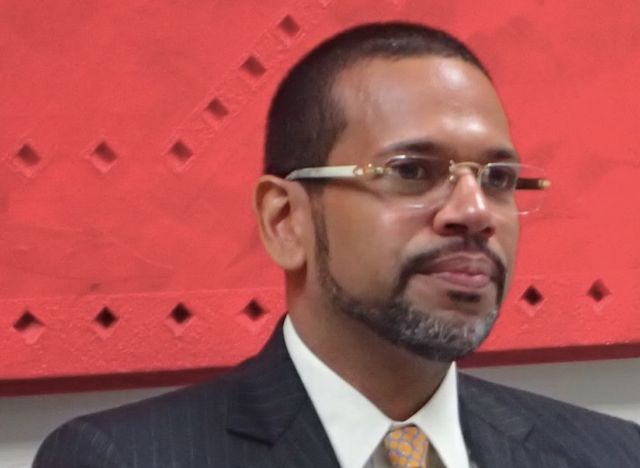 Griffith also talked about the state of the organization. In-patient volume for August was 2 percent higher than last year and emergency room visits decreased 5 percent, he reported.
Good news includes the approval of the presumptive eligibility program that enables the hospital to qualify patients for Medicaid upon arrival. It will increase reimbursement for charges previously written off to uncompensated care and absorbed by the hospital, Griffith said.
Philip Arcidi, board treasurer, and Tim Lessing, chief financial officer, elaborated on the financial situation.
Revenue has increased 7 or 8 percent because a charge-capture system has been implemented, according to Lessing. Patients are billed for medical fees and supplies as the expenses are incurred.
And collections have improved 10 or 12 percent, he added.
"This is a significant improvement – not only to our finances but for the community," Lessing said. A positive bottom line for July and August is "not a trend but great news."
The financial report for this year, compared to the same 11 months in 2014, shows that operating revenue has increased almost 26 percent. Total revenue was $51.9 million from Oct. to August 2015 and $41.5 million in 2014.
Unfortunately, there is still a huge gap between income and expenses: $77.9 million this year and $65.9 million last year.
Staffing has also been a challenge at the St. Croix hospital for years. Traveling nurses and doctors are still necessary to staff the internal medicine, pediatrics and the emergency departments, Griffith said.
"Our current recruitment activities remain focused on filling positions that directly impact our overtime costs or are urgently needed to assure that we keep meeting our clinical needs," Griffith said.
The turnover rate for September was at least 3 percent higher than usual, the CEO reported. Upon leaving, most clinical personnel said they needed to relocate and nonclinical staff said they needed better job opportunities stateside, according to Griffith.
Salaries have increased more than 22 percent this year. (And the cost of medical supplies jumped almost 49 percent. CMS cited the hospital for the lack of supplies.)
Other discussion centered on patient satisfaction survey reports, the construction of the in-patient behavioral unit and fiduciaries for the JFL Foundation.
According to Ken Okolo, chief operating officer, the executive team will meet on Oct. 15 to review five requests for quotations to build the behavioral health unit. Then another month to receive requests for proposals and hopefully they can determine a contractor within two weeks after that.
Arcidi pointed out that renovation of the outpatient waiting room, funded by a private party, would be tied into the bids. Neither gave an estimated completion date
Hazel Philbert-Thomas, chief of quality, updated the board on patient satisfaction survey reports conducted by a national contractor between October 2014 and June 2015.
The highest scores were found in patient safety and physician communication, and the lowest scores were for leaving the family out of the loop in patient treatment.
Patients are also still reluctant to give the hospital high grades or to refer others to JFL for service. Philbert-Thomas said she did not know how many respondents participated in the survey but said she would report back next month.
Chief counsel Richard Evangelista reported donations are being accepted through the Community Foundation of the Virgin Islands for the JFL Foundation and that he plans to meet with officers of both foundations in the near future.
Troy deChabert-Schuster, acting chairman, introduced new board member Vera Falu, named by Gov. Kenneth Mapp and approved by the 31st Legislature last month.
Ricketts' replacement, chosen by the medical staff, was not announced and Dr. Mavis Matthew, chief medical officer, said she didn't know when someone would be selected.