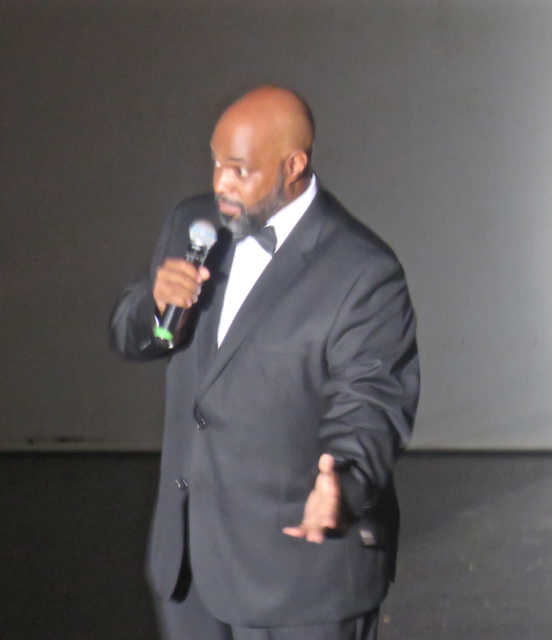 Reichhold Center for the Performing Arts was transformed into a bit of Hollywood Saturday as moviegoers walked the canopied red carpet to view the premier of "Timeless: A Virgin Islands Love Story," the first movie completely produced and filmed in the territory.
Written and directed by Edward Laborde, Jr. and produced by David Edgecombe, of Cutting Edge Entertainment, Inc., "Timeless" debuted before a sold out crowd. As the sound of a young child singing the Virgin Islands March and the opening scene filled the jumbo screen, the crowd responded with thunderous applause.
A unified sense of Virgin Islands pride was palpable throughout the audience as familiar songs, sights, and accents permeated the air. From Cool Sessions and Pressure Buss Pipe, to K-Victoria, and Kenya Eugene, local artistry was on display.
Edgecombe and Laborde founded Cutting Edge in 2008. In 2011 the company acquired Grip Flicks, Inc., which had been providing production support in the territory for more than 30 years. They began filming "Timeless" in 2012.
Saturday was the culmination of that effort – not only to make a film but to create a film industry.
"We really suffered a lot. It kind of took a lot out of me. This is what we love, this is what we do," Laborde told the audience as he struggled to keep his emotions in check. "It's difficult for us to be home [working in film] because we don't have the industry here for us. But we have visions of what could be."
He thanked the community, which throughout the process had offered both emotional and financial support, along with his cast, crew members, and business partners for their tireless contributions to bring the film to life.
Edgecombe hinted that discussions with Caribbean Cinemas might be in the works for distribution of the movie throughout the region.
Lead actor Brummell Germain expressed appreciation for the level of tapped and untapped talent and resources that already exist in the territory.
"I just hope that there are more people who realize the talent that we have here and bring it to light the way Ed stepped up and took the risks that he did to bring this to everyone," Germain said.
Former Virgin Islands Lottery executive Kevermay Douglas came out to support the premier after seeing Laborde present his initial concept during her tenure with the agency.
"When I worked at the Lottery, I was so happy to endorse Ed's project and to be able to allow him to get funding to continue with it. He was so eager to get it done and bring the story to the public that I had to come and see it," Douglas said.
Kim Industrious-Ayala said she also felt a sense of pride about supporting the film.
"I was always interested in black film and theater, so to find out that a local Virgin Islander had written, produced and cast this movie, I had to be here. It wasn't an option. I think this is definitely something that will be spoken about for quite some time," she said.
"I think it's part of the Virgin Islands Renaissance," said Rashidi Clenance, who was master of ceremonies for Saturday's premiere. "We have great stories to tell but now we have storytellers, moviemakers who can turn those epic lives onto the silver screen."
"Timeless" weaves numerous tales that transcend time, space, and location, including – the tale of forbidden love for Koje and Ajuwa, played by Sean Georges and Kenya Eugene respectively – two West Africans at the height of the transatlantic slave trade; the tale of unrequited love gone awry for Alphonse and Bianca, a modern-day Virgin Islands couple fighting for Bianca's freedom from the underground sex slave trade while Alphonse is relentlessly pursued by the lead character Malinda; and a tale of power and its ability to corrupt those who use it carelessly.