While the problem isn't anywhere near the level it was in 2005, some coral species are bleaching in some locations in the territory, U.S. Geological Survey biologist Caroline Rogers said Monday. "It started about one month ago," Rogers said.
Rogers was snorkeling Sunday at Hurricane Hole on St. John, where she said she saw bleached fire coral. However, she said that species is one of the first to bleach when water temperatures are high.
"I'm seeing some very white fire coral," she said.
St. John resident Pam Gaffin said the fire coral at Haulover's south side also took a hit.
"It was horrifying. It's like somebody took a bottle of Clorox and dumped it," Gaffin said.
However, she said the fire coral on at Haulover's north side, which looks out toward Tortola, isn't that bad.
Gaffin said she also snorkeled recently at Kiddle, Groupon, Little Lameshur and Great Lameshur Bays, and some of the fire coral had bleached but it wasn't anything like she saw at Haulover.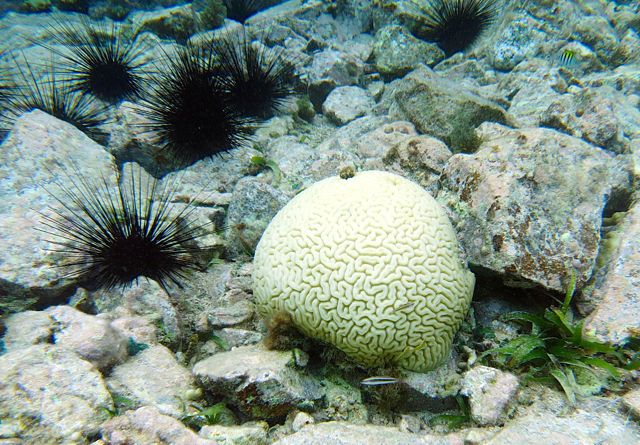 Rogers said Porites astreodes, commonly called mustard hill coral, is bleaching quite a lot. She said she's seen bleaching in Diploria labyrithiformis, better known as brain coral, as well as some colonies of Siderastrea siderea, commonly called starlet coral.
Rogers said a colleague also saw some bleached coral at deep water levels.
She said she hasn't seen any bleaching at Francis and Maho Bays, likely because there isn't much coral there to bleach.
Rogers said the corals under the Hurricane Hole mangroves are doing okay because the mangroves provide shade. "They're providing a refuge for the corals."
At Buck Island Reef National Monument on St. Croix, the park's chief of resource management, Zandy Hillis-Starr, said researchers working at Buck Island report seeing bleached coral at both shallow and deep sites. The species showing first signs of coral bleaching are star corals and smooth starlet coral, which turn violet when bleaching begins.
Hillis-Starr said the "bleaching is far milder than what is currently being experienced in Florida."
Tom Dolan, the St. Croix-based chief of fisheries at the Planning and Natural Resources Department, said bleaching has occurred territorywide in shallow water.
"But nothing particularly alarming," he said.
Dolan said that given the recent "heat wave," the bleaching is to be expected.
Marilyn Brandt, a University of the Virgin Islands assistant professor and member of the territory's coral reef monitoring program, said she doesn't expect to see mass bleaching.
"The bleaching is normal seasonal bleaching. We're not seeing anything out of the ordinary," she said.
While very warm water is one factor, Rogers said that the current flat seas allow more light to penetrate and further bleach the coral.
"This calm weather can aggravate it," Rogers said.
So far, the corals are only bleached, which Rogers said was a sign of stress that happens when the corals expel their algae. If the stress continues, disease can follow like it did in the 2005 bleaching event that left about 60 percent of St. John's coral cover dead.
While the current bleached coral situation isn't good news, Rogers said that the coral can recover as the water temperature drops.
"It's still alive," she said.
Dolan agreed and said a recovery is likely.
The 2005 bleaching was the worst Rogers said she's ever seen, and the corals still haven't recovered fully. She said the water temperature that year was the highest ever recorded in the Caribbean.