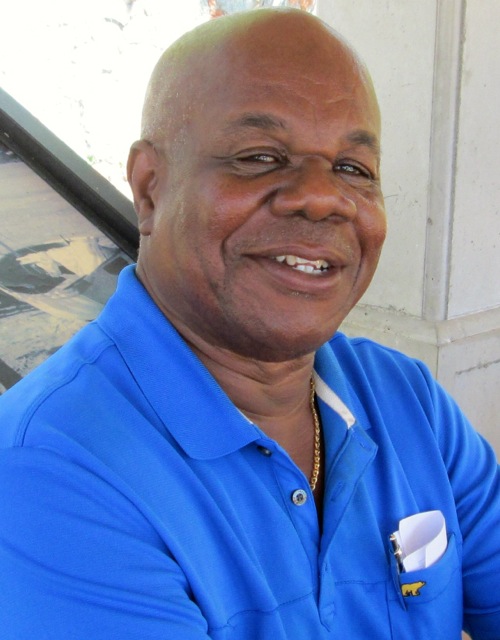 While he's known in recent years as 'Koko' of the scratch band Koko and the Sunshine Boys, Mahlon Pickering spent many decades enforcing laws and policies for various government agencies that included the National Oceanic and Atmospheric Administration.
"The second flight we made, the wing was on fire," Pickering said, discussing a 20-day NOAA assignment that took him to Adak, an island in Alaska's Aleutian Islands.
He said it must have been the hand of God that helped the pilot land the disabled plane on Adak's tiny runway after the NOAA crew was out looking for Japanese fishing vessels that strayed into U.S. waters.
After spending the next 19 days in the Aleutians, Pickering said he headed back to his native Cane Garden Bay, Tortola, to recover from the experience.
Now 69, Pickering moved with his family to St. John in 1957 because his two sisters, Doris Samuel and Daisy Callwood, both lived on the island. He first attended Guy Benjamin School and then went to Julius E. Sprauve School.
While he said it took him some time to adjust to sleeping without the sound of the sea in his ear like he did on Tortola, he made the transition. He was a Boy Scout with the late Theovald "Mooie" Moorehead as his leader. And Pickering said he was in a 4-H group headed by educator and environmentalist Doris Jadan, a woman he said taught him etiquette and other niceties of life.
He later made the ferry trip to St. Thomas to attend Charlotte Amalie High School.
Immediately after graduation, Pickering was drafted into the U.S. Army and said he put in his two years but was spared going to Vietnam.
After returning home to St. John at 19, Pickering built a house and started working for the Department of Conservation as an environmental enforcement officer. A job with U.S. Customs followed.
"I was assigned a vessel at my disposal," he recalled.
That job segued into one for U.S. Immigration, where he was assigned to a team at Indiantown Gap, Penn., to work with Cuban refugees who arrived on the Mariel boatlift in 1980. Then Cuba President Fidel Castrol allowed Cubans to leave from April to September 1980. Pickering said they landed in Miami but overcrowding forced the federal government to disperse many of them around the country.
Pickering said some of those Mariel refugees had mental health issues or were criminals, so he got to visit mental health facilities around the country and penitentiaries up and down the east coast as part of his job.
Pointing to a scar on his inner wrist, Pickering said he got that when a woman inmate at Indiantown attacked him.
"There was blood all over the place," he said.
That fall, Pickering signed on with NOAA and spent the next 19 years on assignments that took him from the Caribbean, including Puerto Rico, to St. Petersburg, Fla.
"I did patrols in the Gulf of Mexico," Pickering said, noting that it was part of the job to make sure fishermen had devices on their nets that allowed turtles to escape if inadvertently caught.
He returned to St. John in 2002, got a job as a police officer with the V.I. Port Authority, retiring again in 2008, and resumed playing the music he learned as a boy growing up on Tortola. Ezekiel Callwood made his first instrument, a ukulele.
A self-taught musician, Pickering played piano with a group called the Jokers. After he got out of the Army, he said, he played piano with the Jealous Sounds and later in a steel band called the Silvertones.
Along the way, he taught ukulele at St. John School of the Arts and at Guy Benjamin and Sprauve schools.
In his spare time, Pickering works on construction of a house he's building on St. John and keeps in touch with his four children. Kelvin lives in Atlanta. Tonya is on St. Thomas. Artio calls Baltimore home and Leah is in Jackson, Tenn. He also has seven grandchildren.
He laughed when asked to tally up the number. "Oh no, now I'm in trouble."
Pickering said he expects that Koko and the Sunshine band will be a big part of the years ahead.
"I'm looking forward to playing scratch music," he said.