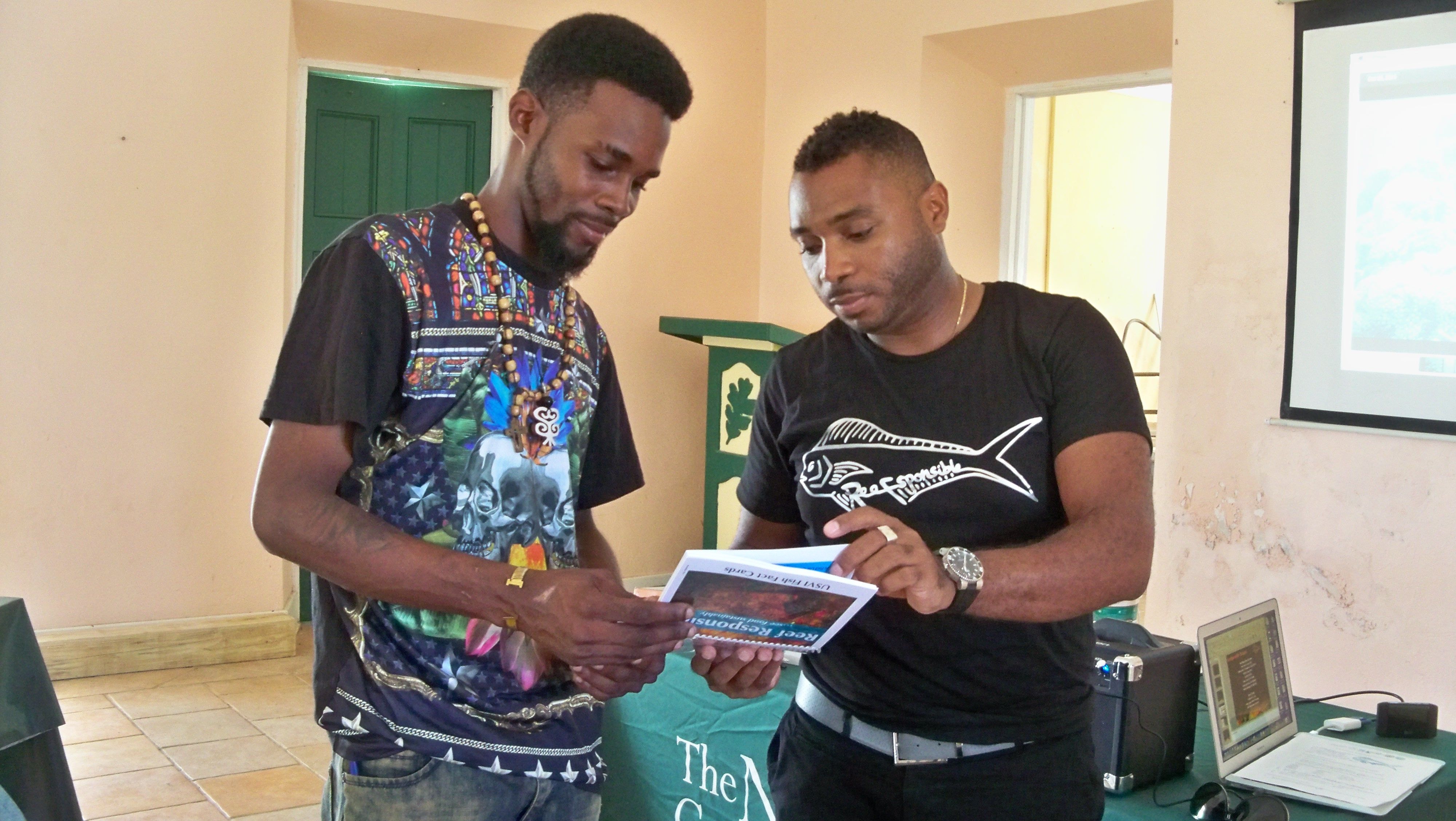 To regulate what goes on underneath a large ocean is a tough task, so the Reef Responsible Initiative is taking a look at what comes in the back door of restaurants and kitchens.
The Reef Responsible Initiative, which includes a variety of local organizations, is bringing this point home with workshops and an event called Dine VI.
Kemit Amon Lewis, coral conservation manager at the Nature Conservancy, presented two workshops Thursday at the Conservancy Office in Estate Little Princess on responsible catch, purchase and consumption of locally harvested seafood. The workshops were geared toward restaurant workers to help them purchase seafood in ways that did not endanger the ecosystems of the reefs.
Lewis handed out a flip book that listed which sea food was a good choice, which deserved caution when purchasing and the seafood that should never be purchased. He also handed out a poster showing the months when certain species could not be harvested locally.
This was the ninth such presentation that Lewis had made, enabling the certification of restaurants in the Reef Responsible program. He said the program once included 15, but was down to 13 now because two restaurants, Tuttu Benne and Eat@CaneBay, had closed.
Jamal Miranda, chef and owner of J & V Diner, said people have to think about the future of the fisheries.
"We all have to play by the rules," Miranda said. "They have to say we can't catch this yet."
Lewis said the program had three aims for restaurants:
-To support local, licensed fishers
-To focus on best choice seafood and to never purchase illegally harvested seafood
-To educate their customers about seafood consumption and how it affects the reefs
Lewis said he hoped that not only restauranteurs but all people would understand how their consumption choices affect the coral reefs.
He began the presentation with a short film about how coral reefs are being threatened worldwide. The threats are coming from over fishing, pollution, shore line development, acidic rise in ocean content and climate change.
The initiative sponsors have been asked to expand the program to St. Thomas and St. John. Lewis said that should happen within a few months.
Lewis added that the reefs around the U.S. Virgin Islands are in a lot better shape than some neighboring Caribbean islands.
"I'm excited about the future of our reefs," Lewis said. "We definitely benefit being a U.S. territory."
On Sunday, Reef Responsible will host, in partnership with the V.I. Department of Tourism, a free fish fry from 3 to 6 p.m. at Shoreline at Chenay Bay. This event is also part of Dine VI, a week-long food festival that celebrates the culinary scene on St. Croix.
The Fish Fry will include seafood bites from local Reef Responsible restaurants (Shoreline at Chenay Bay, Savant, Twin City Coffee House, Café Christine, Empress Fresh Foods, Baked Café, La Reine Chicken Shack, Ital in Paradise, Zion Modern Kitchen and Chef Frank Pugliese.

The Nature Conservancy and partners – DPNR Division of Fish and Wildlife, NOAA's Coral Reef Conservation Program, NOAA Fisheries, UVI Marine Science, St. Croix Reef Jam, and A Taste of St. Croix — officially launched the Reef Responsible Sustainable Seafood Initiative in April of last year.
The workshop was sponsored by The Nature Conservancy, NOAA's Coral Reef Conservation Program, DPNR Division of Fish and Wildlife, Don't Stop Talking Fish, UVI Marine Science, St. Croix Reef Jam and the Department of Tourism.