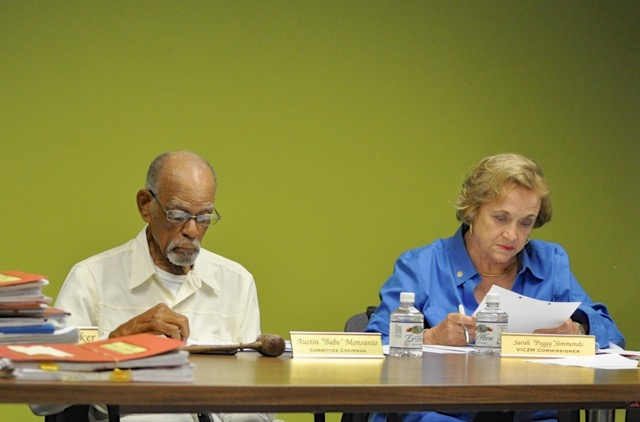 The St. Thomas Committee of the V.I. Coastal Zone Management Commission approved a request by the V.I. Port Authority to build a single-story, steel and concrete parking deck at the Red Hook ferry terminal Tuesday evening.
The parking deck, which is a vertical expansion of the existing parking facility at Urman Victor Fredericks Marine Terminal, will not exceed the existing footprint of the lot or the height of the terminal building. VIPA requested the addition in August, stating that the 112 parking spaces at the ferry terminal do not meet the community's needs.
The lot's 112 parking spaces currently include four handicap spaces and seven spaces reserved for taxis. The proposed upper deck will bring the total number of parking spaces at the terminal to 180, with six designated for those with disabilities.
St. Thomas CZM Committee Chairman Austin "Babe" Monsanto questioned whether adding just two additional spaces for the disabled would be sufficient for the project.
Representatives of Port Authority said they were open to discussing an increase in that number.
Otherwise VIPA's plans for the parking deck were found by the committee to be uncontroversial.
The three members of the St. Thomas committee who were present – Monsanto, Sarah "Peggy" Simmonds and Karl R. Percell – all voted in favor of the motion. Winston Adams was excused from the meeting.
In a separate request for permit modification, CZM also gave VIPA approval to update the Tortola Wharf Inter-Island Ferry Terminal to bring it into compliance with the Americans with Disabilities Act. This will include the installation of an elevator and modifications to doors, restroom stalls and an interior ramp.
Tuesday also saw the approval of an additional permittee to be added to the 2007 major permit for construction of a combination resort and residential community at Botany Bay.
By the Sea LLC, which recently purchased two parcels within the development, was added to the list of permittees for the project that includes Botany Bay Partners LLC, August West LLC, and Botany Bay Hilltop Villas LLC.
No additional changes were made to the Botany Bay permit, although legal representation for the project said the newest permittee has the resources to expedite existing plans.
Also present at the meeting were Anthony Richards, CZM permits coordinator, and Michele Baker, CZM legal counsel.