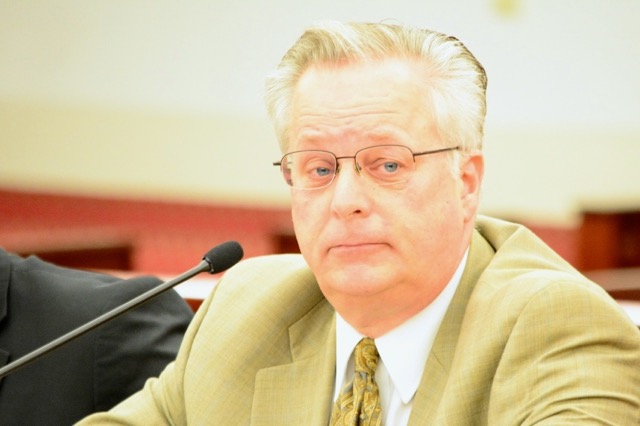 It will be easier to leave securities and retirement portfolios to an heir, without involving difficult probate court proceedings or losing control over the property beforehand, if a bill approved in committee becomes law. The bill [Bill 31-0227], called the Virgin Islands Uniform Time of Death Security Registration Act, would begin to reenact part of a massive reform of probate law the Legislature first enacted in 2009 and 2010, then repealed in 2011 and 2012.
In late 2009, the Legislature passed a massive bill codifying the Uniform Probate Code, the uniform law used in most states, and it was signed into law in 2010. The Legislature turned around and repealed most of it in 2011 and 2012, overriding then Gov. John deJongh Jr.'s veto for much of it. (See Related Links below)
"Economic development is not just the new businesses opening but it also includes a lot of variables that are not always readily seen but have an effect on the economy," said Sen. Janette Millin Young, one of the bill's sponsors.
"One look at the blighted downtown areas on St. Thomas and St. Croix and you will see what I'm speaking about," Millin Young continued. "Many of these buildings stand dilapidated and people know that it probably belongs to a certain family but they don't know why the property languishes in despair for years or sometimes decades at a time."
"Sometimes this occurs because properties are held in probate and that means that no matter how much any family member wants to repair it or refurbish properties, it cannot because the matter of ownership is before the courts," she said.
St. Thomas attorney Tom Bolt, the chairman of the V.I. Uniform Law Commission, said the bill only affects securities, not real property, but that real property and other aspects of probate law also need revisiting.
"It was the law up until a few years ago," when the Legislature "inadvertently repealed it," Bolt said.
"This law would allow securities brokers and anyone else who registers investments to offer their customers the option to name a beneficiary who will receive the investments when they pass away. This is accomplished very simply by titling the investment account with a second name, a successor in interest, after the letters, 'TOD,'" Bolt said.
These "transfer on death" laws have been permitted under federal law for U.S. Savings Bonds since the 1950s and are now adopted by 48 states and Washington, D.C., he said.
Without the change, under current USVI law, "some investors name another person as a joint account owner in order to ensure the person receives the investments when the original owner dies," Bolt said. But this creates risk and hassle, he said. First, creditors of the person intended to inherit may gain access to the investment, even though its owner does not owe the creditors. And if the owner changes his or her mind and wants to cash out the investment, the joint owner has to agree, Bolt said.
"In the case of a TOD registration, it is much safer than a jointly titled account because the owner retains 100 percent control during the owner's lifetime. The owner even has the option to change their mind and name a different TOD beneficiary at any given time," he said. This can help families avoid probate court.
Young asked if the law helps retroactively, for those already affected by the current V.I. probate law.
Bolt said it does not, because it takes effect in 2016.
But, he said "the trick may be to make it retroactive to the date the act was inadvertently repealed."
Sen. Nereida "Nellie" Rivera-O'Reilly asked how it could apply retroactively, when laws in general cannot be retroactive. She recalled the history of probate reforms, saying the 2010 reform was more than 300 pages long and, "after it passed, people began to question the intent and there was a lot of controversy, which I guess is what precipitated the repeal."
Bolt agreed that in most cases laws cannot be retroactive. But he said it depends on the circumstances, and since the law changed twice in recent years, "it bears at least considering."
AARP USVI Chairman Archie Jennings and Human Services Deputy Commissioner of Grants Administration Duane Howell also testified in support of the bill.
"The proposed bill creates no unwanted costs for anyone, meets a strong need for the elderly and is without downside risks to any but those very few who continue to feed on assets passing through probate," Howell said.
Voting for the bill were Rivera-O'Reilly, Millin Young, Sens. Clifford Graham, Myron Jackson, Neville James, Almando "Rocky" Liburd and Tregenza Roach. Sens. Novelle Francis and Kurt Vialet were absent.
The bill will go next to the Rules and Judiciary Committee, and if approved there, on to the Senate floor for a final vote.