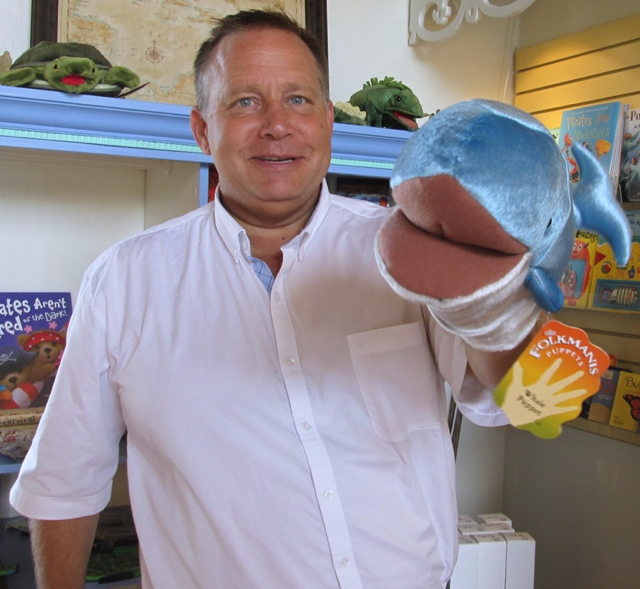 There's a new look at the V.I. National Park Visitor Center in Cruz Bay, and it's due to the recent opening of the Friends of the Park store in the Visitor Center.
There always was a small corner of the Visitor Center that sold merchandise, but it was run by a national group called Eastern National, which has contracts to operate stores at many national parks.
With their new store, the Friends group has vastly expanded the amount and diversity of merchandise. It already had a store in nearby Mongoose Junction shopping center, but this store has a different focus.
"This store is about helping people interpret the park," said Greg Gunderson, who manages both stores.
Friends President Joe Kessler added that the purpose of the store is to help visitors and residents better understand, appreciate, and enjoy the natural and cultural resources of the park.
Additionally, Kessler said, by assuming responsibility for the operation of the front desk, it frees up interpretive rangers to conduct more interpretive programs out in the park or around the Visitor Center.
"And the proceeds from the sale of these interpretive items will provide much needed funds for park programs," Kessler said.
Gunderson also said the merchandise has a price point that appeals to middle class people on vacation. Think key rings, patches, magnets, sunscreen, insect repellent, T-shirts, hats and books.
"If you put a turtle on it, it will sell," he said.
While the Mongoose Junction store carries things like hats and T-shirts, he said it also has a big selection of more expensive gift items.
Gunderson said that while the Visitor Center does not traditionally get local residents out shopping, he noted that it's a good place to buy children's holiday presents at a reasonable price. The offerings include puppets, stuffed toys, a flashlight stuffed inside a fish, and books that appeal to the younger set.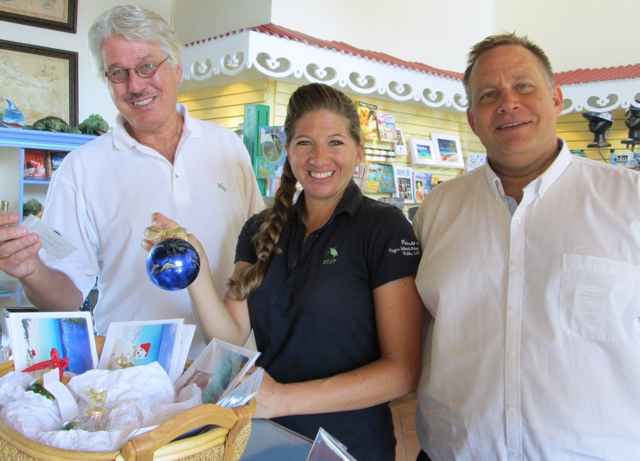 The store focuses on local artists, with works by lots of well-known local artists included. Shoppers will find cards and ornaments by St. John artist Lisa Etre, T-shirts with designs by St. John resident Janet Cook-Rutnik, and cards by St. John resident Caroline Rogers plus many, many more.
"Here's a T-shirt that says 'I survived the Reef Bay hike,'" he said, referring to one the park's more popular attractions.
Gunderson urged artists from any of the U.S. Virgin Islands to contact him to discuss the sale of their work in either of the Friends stores.
In keeping with the park's environmental focus, Gunderson said the Visitor Center store will sell four different types of water bottles ranging in price from $4 to $22. They'll be refillable at a complimentary water station in the Visitor Center.
"Last year the store sold 8,000 bottles of water, and we'll be getting that out of the waste stream," Gunderson said.
He said he expects to do a booming business, with the Visitor Center store selling three to four times as much merchandise as did Eastern National.
The Friends agreement with the park calls for two full-time staff members to work at the story every day. The Friends has paid staff, but Gunderson said he also needs volunteers to work at the Visitor Center store.
Gunderson's been on the job since early fall after working in sales on St. Thomas. A Minnesota native, he arrived on St. John in 2004 after a career mainly in sales. He took a break on St. John for a few years before moving back into sales on St. Thomas.
He said he takes a holistic approach to ordering merchandise, relying on opinions from the people who work in the store, including a former teacher who assists with book ordering, to provide insight into what will do well.
"It takes the whole community to do the job," he said.
The Visitor Center store is open from 8 a.m. to 4:30 p.m. daily. The Mongoose Junction store is open from 9 a.m. to 9 p.m. daily.
Gunderson can be reached at 340-779-4940.