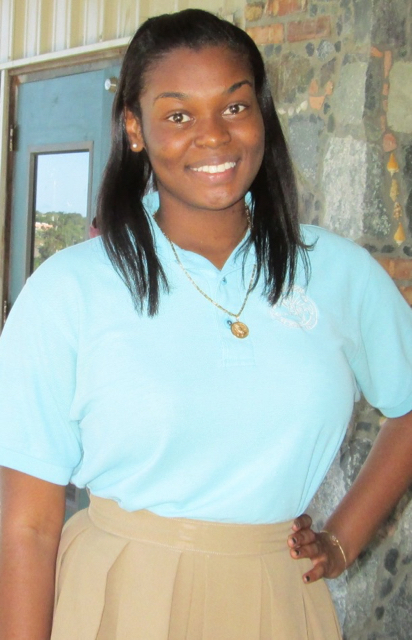 Gifft Hill School senior Monique Edward, 17, has her fingers in several community endeavors. In addition to being the vice-president of the school's chapter of the National Honor Society, she serves on Our Lady of Mount Carmel Catholic Church's fundraising committee and is the president of the church's youth group.
"Monique embodies the mission of Gifft Hill School," Head of School Laurie Bottiger said. "Not only is Monique compassionate and giving, she is well liked and respected by faculty and peers. Her service and dedication to the school and the St. John community in which she studies and lives are an inspiration to everyone. Monique has a wonderful balance as a talented young woman who is dedicated to her academics and is a joy as a member of our caring community."
For her efforts, Edward received a Martin Luther King community service award from the St. Thomas Synagogue in 2015.
Edward is also involved in Gifft Hill's sister school project in Uganda, and makes beaded jewelry using beads sent by the Uganda students along with other beads. She sells the jewelry at school events to raise money to send to the Uganda school. Edward also participated in a Black History Month poetry slam fundraiser that also raised money for the Uganda school.
"That money pays for books," she said.
She plays in the Love City Pan Dragons steel pan program and during the holiday season, is helping with the school's Toys for Kids program. In 2014, she went to Washington, D.C. on an Our Lady of Mount Carmel trip to participate in a pro-life march.
According to Edward, the key to being involved in many activities is being organized.
"I'm on top of things a lot," she said.
While she's busy with extracurricular activities, Edwards maintains a straight A average in her classes. A Gifft Hill student since kindergarten, she said she likes the school because the teachers are quick to help the students.
She said she'll have mixed emotions about leaving next fall for college.
"And I'm very nervous," she said.
Rider College in Lawrenceville, N.J., is her first choice of schools. She said she wants to major in film studies.
"I want to work backstage in the process," she said.
Seeing movies on the big screen involves a long and expensive trip to St. Thomas, so for now she's content to watch them at home. "Rush Hour" with Jackie Chan is her all-time favorite.
"I like the action," she said.
She said the cold weather at college will be a challenge. While she experienced minus 9 degree temperatures on the Washington march, the rest of her trips off island were to such places as Florida, Costa Rico and Atlanta, where the temperatures are warmer.
After she graduates from college, she wants to own her own business since she likes being in charge. She already has plenty of experience on that front since she helps afterschool at the family business, Courtesy Car Rental in Cruz Bay. It's owned by her parents, Josephine and Gregory Edward.
She has a brother, Gregory Edward Jr., 25, who lives in Atlanta. She also has two half sisters. Coreen Edward, 27, lives in Boston and Juleen Edward, 31, is in Nevada.
In addition to missing her family when she goes off to college, she said she'll miss St. John. Although she was born on St. Thomas, since St. John doesn't have a hospital, she's spent all her life on St. John.
"I'll miss the calmness of the island, the cleanliness and how friendly everyone is," she said.