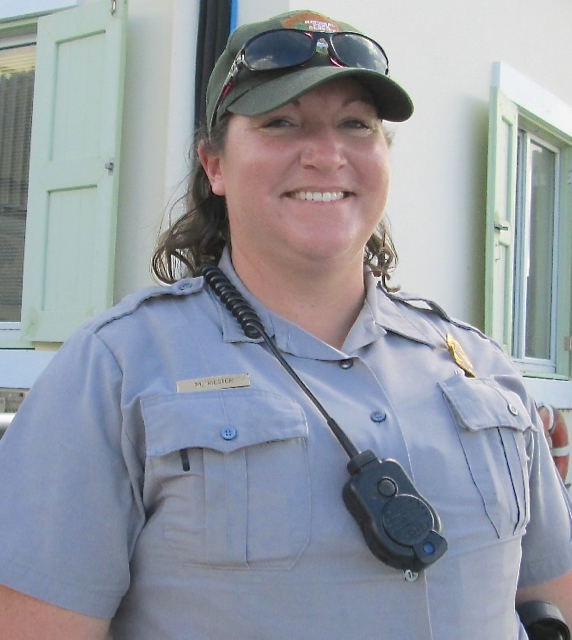 A job at Yellowstone National Park came with a caveat – due to the park's isolation, all law enforcement park rangers had to be emergency medical technicians.
So Meredith Riester, now enforcement ranger at V.I. National Park, got certified in what was then called Basic EMT.
"I can give oxygen and advanced first aid," she said.
Laughing, she said since her arrival on St. John in July, she's been called upon to deal only with a few cuts and scrapes.
While the island does have some very isolated areas, emergency services such as fire and the Emergency Medical Service is nearby. That's not the case at Yellowstone, and she said the park had its own fire and ambulance crews.
She took a monthlong EMT training course at Conway, N.H.'s, Stonehearth Open Learning Opportunities school geared toward people who worked in the wilderness.
"We learned things like setting splints when all you have around are logs," said the 33-year-old Riester.
She's put all that EMT experience to good use at her current post at the V.I. National Park, as coordinator of the park's EMS and as coordinator of the lifeguard program.
Her supervisor, Chief Ranger Rick Gupman, said Riester is an excellent example of how multi-dimensional park rangers can be. He said that in addition to being an EMT, she is a certified police mountain-bike operator and a trained horse patrol ranger.
"The knowledge and experience that she brings has just been a great asset for us," Gupman said.
He said she came to the park with lots of innovative experience that included the creation of a program called Eat Lunch with a Ranger in a city school system.
"I'd love to her do the same kind of program here," Gupman said.
The Birmingham, Alabama, native graduated from Auburn University with a bachelor's degree in wildlife management, but she had an internship at Yellowstone's Old Faithful area in 2003 that led to a change of heart about her career. She originally thought she'd do something in the sciences, but the fact that her internship supervisor was in law enforcement influenced her.
She got her first seasonal park job back at Yellowstone as a visitor use assistant, a job that had her collecting fees. A winter skiing in Bozeman, Mont. followed.
"And I worked as a volunteer EMT," she said.
Riester went back to Yellowstone for another winter seasonal job before heading the next winter season to South Dakota's Mount Rushmore National Memorial to work in law enforcement. A seasonal job at Cape Lookout National Seashore and another seasonal job at Everglades National Park followed, but she got permanent status at the Florida park.
From Everglades, she went to Ozark National Scenic Riverway in Missouri before returning to Everglades. A job at San Antonio Mission National Historic Park came next before she transferred to the St. John park.
Riester said she likes law enforcement because a lot of it involves protecting the resources rather than doing traffic duty like she'd have in a city park.
However, St. John occasionally has traffic accidents. She said that unlike other parks, St. John drivers seem to instinctively know how to navigate around the accident so she doesn't have much to do but stand by.
"If this was Florida, it would be mass chaos," she said.
She said she's shocked that there aren't more accidents on St. John given the narrow and winding nature of the roads. However, she said the fact that the speed limits are low help prevent accidents.
Riester said there have been some challenges since she arrived that included learning about the park.
"There's a lot of land and a lot of water," she said.
Rules differ from park to park, and she said she's been busy learning them too.
She's also catching on to the vagaries of food supply on St. John. She said she's mastered the St. Thomas shopping run and has learned to stock up. She said the situation is like Yellowstone, where the nearest large grocery store was a 2.5-hour drive away.
She said she loves St. John's beauty, and when she has a bad day, she just heads off the beach.
Riester recently bought a 20-foot power boat so she can explore St. John's waters and cays.
She arrived on St. John with a rescue dog named Chewbacca after the Star Wars character but recently adopted another rescue dog she named Princess Leia, another Star Wars name.
"She keeps me busy, she said.
As for the future, she said she has no idea.
"I'm here for the next who knows how long," she said.