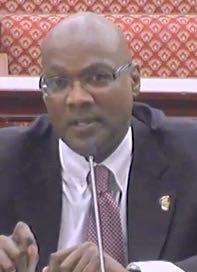 The V.I. Police Department could police more effectively if it put in place real-time electronic reporting and data management that most police departments use, a team of outside analysts told the V.I. Legislature on Thursday.
The group T&M Protection Resources of New York made an array of recommendations: both familiar ones like higher pay and more community based policing; and new ones like making police recruit and advancement exams that focus more VIPD policies and V.I. law, and putting the guides online so officers can more easily study them.
Sen. Novelle Francis, chairman of the Homeland Security, Public Safety and Justice Committee, opened the hearing, saying they did not plan to reveal any "smoking guns" or be "pointing fingers," but would have "a discussion of the operations of the Police Department and what can be done better."
Joe Dunne, project manager with T&M Protection Resources, said relatively low pay hurt morale, recruitment and retention. Robert Tucker, the company chairman, praised the government's recent move to implement contracted pay raises and said they would "go a long way" toward solving morale and retention problems.
The lack of electronic record keeping "is to me the most critical piece," Dunne said. "There is a manual, paper, incident reporting system. I don't know of any police department stateside that still uses paper as the primary record keeping mechanism. Everything is computerized now," he said.
Reports are filed on paper, then approved by a supervisor, before being sent to a central record depository. As a result, it can take weeks to get the reports finalized and sometimes they are never completed, Dunne said.
"Some St. Croix data doesn't make it to central records. They keep it over there. All of this results in no meaningful real crime analysis capabilities," like being able to "pin map" where incidents occur, he said.
With a digitized system, dispatchers could give officers en route to a scene vital information, Dunne said. "You could say on a call, listen we made five calls to this location in the past month and the last call a person had a gun. … We could give officers responding useful information to prepare them in their response," he said.
Ed Cannon, a vice president with T&M, said they were informed in October the VIPD does own a records management system, called Smart Cop, "and they are moving towards implementation of that," and had hired two analysts to help. "Many of the recommendations that we have made, the VIPD had begun to move toward implementation of them as well," Cannon said.
Francis, a former V.I. police commissioner and career police officer before becoming senator, said he was "dumbfounded by comments" that the Smart Cop electronic records management system was not in use and asked the police commissioner about it.
"I recognize we should have been more advanced in that area at that time in 2015," Police Commissioner Delroy Richards Sr. said, emphasizing he had hired individuals "to bring us up to date."
"From what I was told, we had Smart Cop but it was never brought online," he said. Other testimony indicated the department purchased the system in 2013.
T&M police staffing expert Demosthenes "Monty" Long recommended several changes to the way the department posts and schedules officers.
"One of the things we noticed at the time of our visit is that nearly 10 percent of the department was on extended leave. That's a big number," Long said. He recommended following up to understand why that is, and see if the officers can be brought back online faster or separated from the service and replaced.
Sen. Jean Forde asked Richards what accounted for the high number – 38 out of 406 officers – on extended leave.
"I don't have exact figures with me but there are quite a number of reasons," Richards said.
"We have officers out on workers compensation who were injured on the job. We have officers who were sent for in house counseling – you know we have our psychologist on board and we have officers who were sent for counseling and placed on temporary leave based on their recommendation for a period of time," he said. Some are on unpaid leave while incidents resulting in complaints are investigated, he said.
Forde asked, "That is a problem that is being addressed?"
"Yes it is," Richards said. "First of all we don't have any control when an officer goes before the psychologist and he is recommended to be placed on leave for a particular period of time because he is on stress or something to that effect."
Forde asked if it takes a long period of time to return officers back to duty after an investigation.
"It does and it all depends on how complex the investigation is," Richards said.
Long said the department needs more well-trained captains and other high ranking officers, and that promotional exams should have more V.I. specific content.
Currently the Department of Personnel administers the exams, which have a bibliography to study, but no VIPD and information specific to the Virgin Islands. More V.I. specific questions would make the training more relevant.
"They can develop questions on use of force, vehicle pursuits … those are things officers need to know, rather than reading a paragraph and telling what the main point was," Long said. He suggested an officer be assigned to personnel to help develop questions for advancement exams.
Also the exam guides should be available online, he said. Currently there is a single, paper guide, so that if one officer is using it, no one else can study. Having all the study materials online would give officers a chance to download and study at their leisure, which would likely mean more officers would do well on the exams, he said.
Sen. Justin Harrigan asked about how the department can get more officers.
"Many fail the exam and I notice the department is having a very difficult time. I would say you have to broaden the pool, and bringing people from the outside is almost a no-no," Harrigan said.
Long said the NYPD goes to military bases and colleges that have criminal justice programs to recruit.
Dunne suggested some candidates that pass the test may fail marijuana drug tests, and some of those may bear a closer look.
"This may cause some consternation here and create a little turmoil but I think in the day and age we live in you need to take another look at that marijuana situation and see just what it tells you about a candidate that may fail on a marijuana test. Is that someone that's an all the time user or smoked recreationally? I think maybe there is some sort of triage you can do there. You know, marijuana is legal in four states in the mainland now and I'm not a proponent, but I think it's worthy of a discussion," Dunne said.
"I don't know where I would come down on it but perhaps it is worthy of a discussion within a group such as this," he said.
Harrigan responded, "Okay, well the senator that pushes that particular subject is not here today but he would be glad to know that you brought it up."
Other issues affecting the department include a widely held view that advancement is affected by nepotism and favoritism. Also many officers told T&M surveyors that they are hesitant to police aggressively because they think they will be punished, blaming the federal consent decree.
VIPD and T&M officials said that was an excuse and not based in reality. Deputy Police Commissioner Curtis Griffin said few officers receive complaints at all, and of those who "a minority of the officers are even charged. And a minority of those are terminated. … so it is a very small minority of officers who are displaying that attitude."
Money and resources are factors in addressing all of these issues. Near the end of the hearing, Cannon said the commissioner and top police brass would have difficulty adding these new priorities to their schedules and said his company stands "ready to assist in overseeing implementing many of these recommendations," if the territory would consider hiring them.
Sen. Nereida "Nellie" Rivera-O'Reilly asked what they would recommend doing immediately.
Long said, "I would start with the technology. That is one you can immediately address. It would be one of my first priorities."