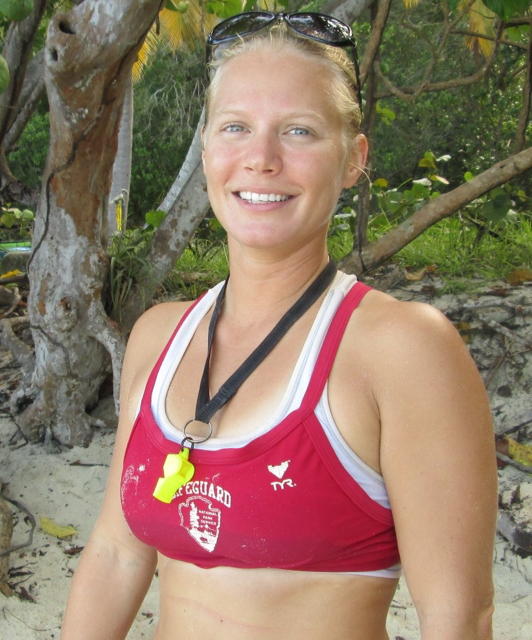 Rachel McKinley said when she graduated college, she got good advice when someone told her to try everything. With that goal in mind, she signed on as a V.I. National Park lifeguard in July 2015, spending her days making sure Trunk Bay visitors stay safe.
"We do see a lot of non-swimmers who don't have a clear concept of water safety," she said, keeping her eyes on the water while she chatted.
Some visitors head for the water at Trunk Bay without any swimming ability, she said. While most do fine, some get into trouble. That's why she and the other lifeguards train frequently to make sure they can get to them quickly.
"The biggest thing is getting them out of the water quickly," she said.
McKinley, now 30, started lifeguarding when she was 16 in her native St. Louis, Missouri. She coached a team from her community pool to the Lifeguard Olympics, a competition where each team strives to do better than others at lifeguarding skills.
She's a certified lifeguard with skills in first aid, cardio-pulmonary resuscitation, using a defibrillator, administering oxygen, and dealing with blood-borne pathogens. And she said she plans to soon get first responder status by taking an emergency medical technician class held by St. John Rescue.
"Rachel brings the kind of energy, enthusiasm, and dedication to the Virgin Islands National Park that any organization would be glad to have," Chief Ranger Rick Gupman said.
However, her lifeguard post is likely a detour in her career path. By training, she's a geologist with a bachelor's degree in geological science from the University of Missouri at Columbia.
"As with so many National Park Service employees, Rachel holds an additional, totally separate set of certifications," Gupman said.
After an internship at Craters of the Moon National Park in Idaho, where she conducted cave inventories, she went on to work as a geologist at an Idaho mine until it shut down. Warmer weather beckoned, so she went to Florida to work as a lifeguard and swim instructor.
She had met Shane McKinley in Idaho. By the time she moved to Florida, he was working at Everglades National Park in Florida. McKinley became his roommate, but romance followed.
McKinley soon got back into geology, and spent stints in Bakersfield, Calif., and as a consultant working around the country and in the British Virgin Islands.
The two got interested in the Caribbean after she visited the BVI and Shane McKinley made trips to Hassel Island and Henley Cay for National Park Service projects. When Shane McKinley got a job as a biologist at the St. John park, she followed.
McKinley worked for V.I. Ecotours at Honeymoon Beach on St. John before joining the park's lifeguard team.
The two got married in June 2015, and now they're busy settling into St. John life. McKinley said she enjoys the challenges that come with life at the end of the consumer pipeline.
"I'm learning to be more creative with what we have," she said.
McKinley said they spend their free time exploring the island, standup paddle boarding, hosting chili cook offs for their friends, and working with the Caribbean Caribbean Oceanic Restoration and Education Foundation doing lion fish removal and database redevelopment. They're both studying online for their master's degrees. She's working on one in geological engineering at the University of Idaho.
As for what's ahead, she said she doesn't know but she expects to return to geology. And she said she wants to be like her grandparents, who are in their 90s.
"They're always learning something," she said.