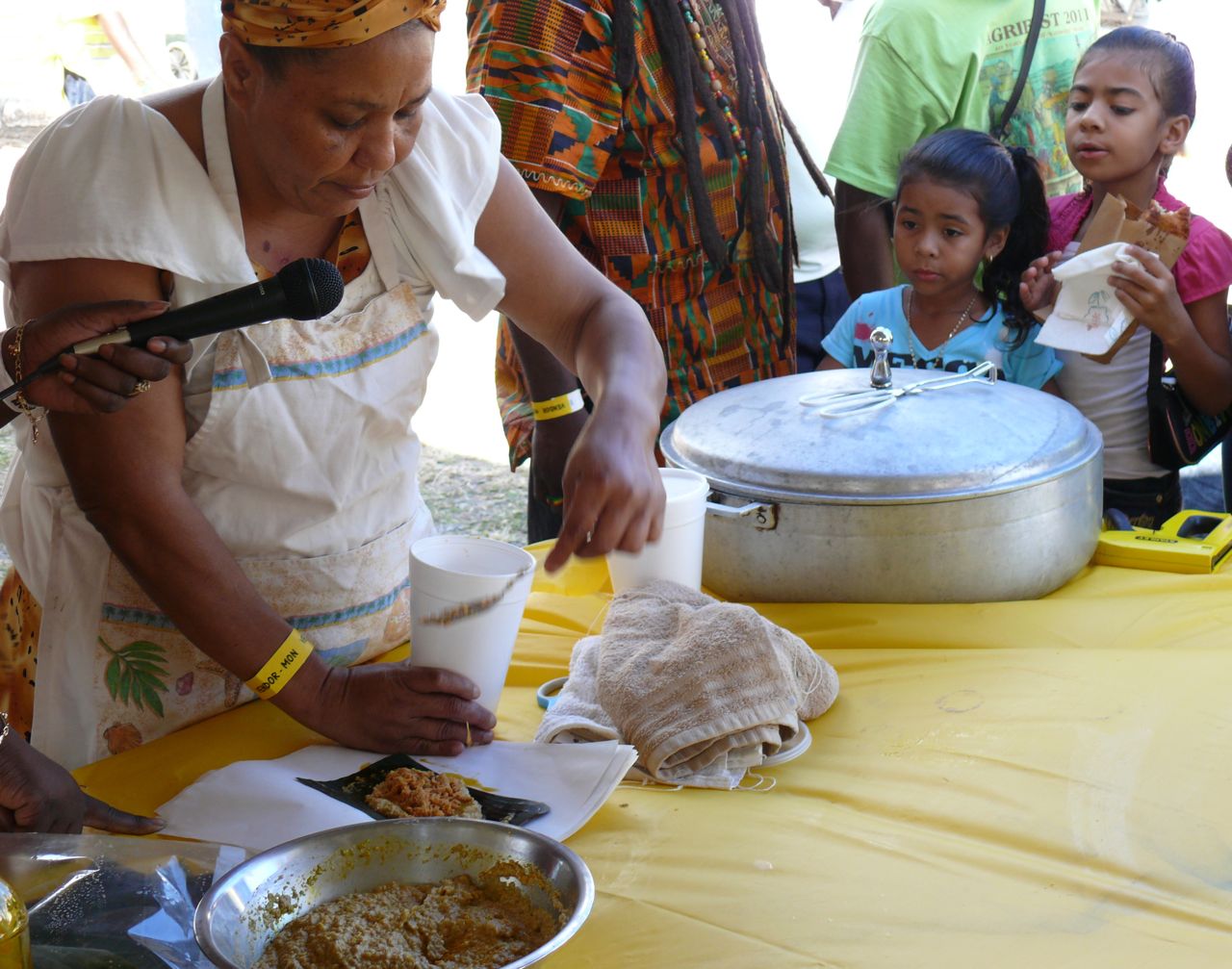 The 45th annual agricultural extravaganza, called V.I. Agrifest, will take place this weekend beginning Saturday on St. Croix.
This year's festivities are themed "Agriculture – From Brown to Green." Gates at the Rudolph Shulterbrandt Agricultural Complex at Estate Lower Love will open at 9 a.m. Saturday. The opening ceremony is scheduled to begin at 10 a.m.
Admission is $6 for adults, $4 for seniors and $3 for children. Weekend passes are $10 for adults, $7 for seniors and $5.50 for children. T-shirts are $10.
The festival is a chance to learn a little about V.I. foods and culture, and to compete with the best local cooks and bakers.
The event will include music, contests, corporate and government displays, a petting zoo, the best, freshest produce, and lots and lots of food.
Members of 4-H, the Boy Scouts and other youth groups will display elaborately decorated hay bales and other arts and crafts projects for competition.
The petting zoo will feature local breeds such as Senepol cattle and white haired sheep, and 4-H Club members will give talks on animal husbandry and other farming topics.
Sylvia Ventura will demonstrate how to make pasteles at 2:30 p.m. Saturday, by the big brick oven. Evannie Jeremiah will show how to make lentil-potato patties at 1:30 p.m. Sunday at at 2:30 p.m. Sunday Janet Crump will talk about tizon.
Natalie Ballentine will show how to make authentic Crucian red pea soup at 3 p.m. Sunday.
Monday, the final day of the Agrifest, Clint Ferris will give his popular ice cream making demonstration at 11:30 a.m. This year, Ferris is churning up some fresh cassava ice cream and planning a surprise for a second recipe. And at 3 p.m., Olasee Davis will talk about various herbs and their uses in his popular "bush talk."
Anyone who wants to put his or her cooking up against the best of the territory, there is a public competition for black cake. Those who think they have the stuff can submit their entries at the food pavilion between 8 a.m. and 2 p.m. Sunday for a chance at a cash prize.
Throughout the festival there will be storytelling by Auntie Janice. basket weaving, scrap rug and loom demonstrations.
There will be lots of roasted pork coming out of the old brick oven and lots of entertainment, with soca bands, steel-pan bands, mocko jumbies, dance groups, fashion competitions and more.
Many companies and non-profit organizations will have tents and displays. The Community Foundation of the Virgin Islands plans to have a Play and Learn Tent, designed to encourage children and parents to engage in play and developmentally appropriate activities together. Early childhood professionals will also be on-hand to model ways of promoting language, cognitive, and social skills.
The "Talk at the Fair" handout will be available in both English and Spanish, It is a guide tat provides prompts for families with children to talk about what they see and do at the fair. Prizes and giveaways (including books, tote bags, and stuffed animals) will be handed out for participation. The CFVI's annual Fatherhood Collaborative T-shirts will also be available for pick-up by fathers.
The fair is the largest agriculture festival in the region and draws farmers from far and wide. This year organizers expect off-island visitors from Guyana, St. Lucia, Antigua, Puerto Rico, Grenada, St. Kitts, Dominica, Nevis, St. Eustatius and St. Martin.
The Agriculture and Food Fair is sponsored by the V.I. Department of Agriculture, the UVI Cooperative Extension Service and the V.I. Department of Tourism. Other sponsors include Innovative, V.I. Lottery, Health, Choice, V.I. Water and Power Authority, V.I. Waste Management Authority, Seaborne Airlines, AARP Virgin Islands, WTJX- Channel12 and Radio, VI Consortium, Lawrence Boschulte and Disability Rights Center of the Virgin Islands.
More information is available online at viagrifest.org.