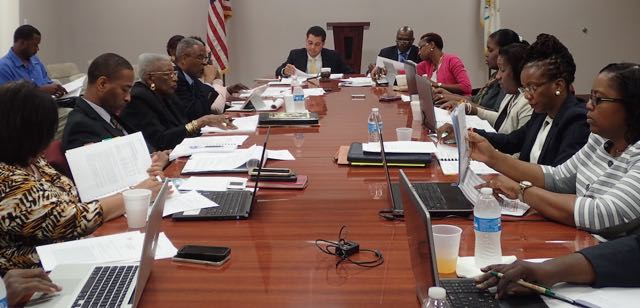 The governing board of the V.I. Port Authority learned Wednesday the agency has exceeded revenue projections and held expenses below budget for the year despite rising costs of dredging Crown Bay Harbor on St. Thomas and repairing the runway at St. Croix's Henry Rohlsen Airport.
Chief Financial Officer Donna Frett-Gregory reported operating revenues of $18.5 million for the first quarter of Fiscal Year 2016, or $72,000 more than budgeted and 4 percent higher than last year at the same time.
Year-to-date expenses were $17.8 million, 12 percent, below budget, yielding an operating gain of $740,000. Most expense categories were lower, except salaries, wages and financial expenses that increased by 1 percent, she reported.
It is not surprising that marine revenues of $11.2 million, while down almost a million dollars from last year, surpassed aviation income, considering the number of cruise ship passengers that visit the territory versus those who travel by air.
Aviation brought in $7 million, an increase of $389,000. Income for Cyril King Airport on St. Thomas dropped 1.25 percent and increased by 6.78 percent for Rohlsen Airport on St. Croix.
Operating expenses for the marine and aviation divisions were below budget, almost 14 percent and 17 percent respectively, according to Frett-Gregory.
While the financial numbers seem impressive, thousands of past-due dollars are owed to the Port Authority.
VIPA's $5.9 million in accounts receivables include past due amounts from airlines, transports services and the V.I. government. Owing for more than 30 days are Delta Air Lines (past due $374, 285); US Airways ($21,516); American Airlines ($42, 445); and Seaborne Airlines ($25,261). Hyannis Air Service has owed $28,292 for more than 30 days.
Payments from American Airlines and US Airways have been delayed due to problems with the merger of the two companies and a dispute with the amount owed by Seaborne has been resolved, according to VIPA.
Crown Bay Center owes almost $500,000 in past due rent even though payments have been received every month.
According to Ava Penn, Crown Bay general manager, "The current level of receivables continues to primarily be the result of outstanding rent payments owed by the St. Thomas Dialysis Center. This account is currently pending court litigation."
Several board members, including Yvonne Thraen, commented that the Port Authority has been more than fair and "considerate of (St. Thomas Dialysis's) outstanding issues."
The board heard updates on capital projects and also approved several expenditures at Wednesday's meeting on St. Croix.
Dale Gregory, VIPA engineering director, asked for an additional $2.358 million "to address unforeseen conditions" for the Crown Bay dredging project that ramped up the cost from $3.5 million to $5.9 million.
According to Gregory, the remnants of an old pier were discovered and more than 60 additional piles have been removed. He also said an invoice was not included when the board approved a $2.5 million overrun last December.
The Crown Bay project, initiated in 2014, will provide access to larger cruise ships after dredging East Gregerie Channel in Crown Bay and an area north of the Austin "Babe" Monsanto Marine Terminal.
Carlton "Ital" Dowe, VIPA executive director, told the board dredging to 10 feet has been completed except some spots where the draft is 9.95 or 9.98. Those will be leveled in time for reports to be completed that were requested by cruise lines next week.
The next phase will include expanding the pier and installing a dolphin. Both are in the design stage, Dowe said.
Board members questioned the cost increase, including the high price of dredging and environmental consulting.
Public Works Commissioner and VIPA board member Gustav James pointed out that Orion Marine Construction Inc. is paid more than $32,000 a day whether or not they are dredging and CDR Maguire is requiring an additional $373,013 for consulting.
The expenditure was approved.
The board also acted to authorize up to $261,596 to American Infrastructure Development Inc. for the second phase of runway rehabilitation at the Rohlsen Airport. Additional construction administration services are required to compensate for the original contractor's failure to meet the August 2015 deadline.
According to Gregory, the additional expense will be funded from liquidated damages incurred daily for missing the deadline. VIPA's share of the cost will be around $26,000.
The board also approved:
– a $74, 510 agreement with CDR Maguire to prepare a CZM permit application for the Gallows Bay Marine terminal on St. Croix to include drawings, an environmental assessment report, water quality and environmental monitoring survey. Dowe noted that, like Red Hook Marina on St. Thomas, the project is important to St. Croix.
– the purchases of budget ($116,925) and lease management software ($59, 446).
– annual renewal of all-risk property and terrorism insurance not to exceed $1.9 million.
– A lease with the Department of Tourism at the King Airport for a VIP lounge. Tourism plans to invest $40,000 in the 272 square foot space and will owe rent of the $13,600 in the fourth year.
– and a proposal for $47,845 from CDR Maguire to perform a mooring and berthing study to locate a new 100-ton bollard and recommend an appropriate fendering system at the St. Croix container port.
Board members attending the meeting were Roberto Cintron, chairman, James, Thraen, Beverly Nicholson-Doty, Jose Penn, Claude Walker and Laurel Hewitt-Sewer.