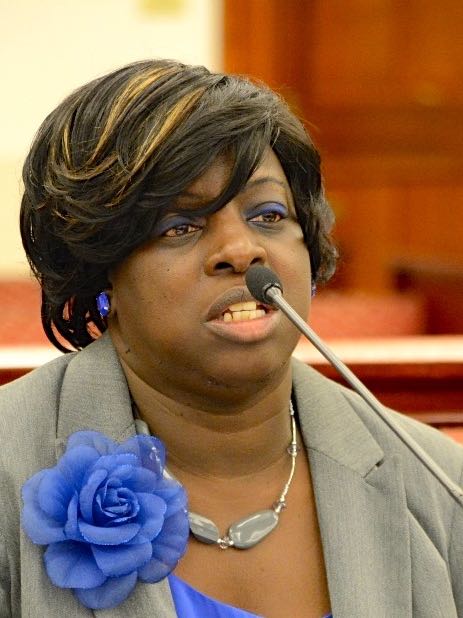 The Legislature will require the Education Department to train public school counselors in "grief and stress counseling" if a bill approved a second time in committee Thursday becomes law.
The new training mandate [Bill 31-0279] sponsored by Sens. Marvin Blyden, Justin Harrigan, Neville James and Kurt Vialet does not have a funding source, calling into question if it can be carried out if enacted into law.
Blyden introduced the bill to the Rules and Judiciary Committee Thursday, saying students face greater stress than in years past and counseling is valuable. The bill was amended in committee to remove a certification requirement, which "eliminated the expense needed to go off-island for training," Blyden said, adding that he believed this addressed the Department of Education's objections to the measure.
Teachers unions; several Education Department officials, including the director of school services, who oversees counseling; and the V.I. Board of Education all gave testimony saying they were for training, but that the bill was unnecessary and would need funding.
Avery Lewis, president of the St. Thomas-St. John Federation of Teachers, said school counselors "already provide grief counseling," and that "we really don't see the need for this bill."
"Who will pay for this training? Will there be an additional stipend for those who receive this?" Lewis asked.
Deputy Superintendent of Schools for St. Thomas-St. John Racquel Berry Benjamin reiterated that the department is for training and for grief counseling. But she said counselors already have training and experience in grief counseling and already give it. And more training would require funding.
"The position of the department is, when it comes to grief and stress counseling, that is a natural part of a counselor's job. … That is a part of what they do naturally, currently, without the legislative mandate," Benjamin said.
V.I. Board of Education Chairwoman Mary Moorhead submitted written testimony also saying training is good but money would be needed to carry it out and more detailed guidance would be needed.
"The amended bill could have a positive impact on our school communities," Moorhead wrote.
"However, in addition to identifying a funding source, it may be necessary to identify at what point a school counselor's employment would the training be required e.g. at the time of hire, within two years of teaching in USVI public schools or every year as part of the school counselor's professional development plan."
St. Thomas-St. John District Director of Student Services Winifred Anthony Todman, who oversees counselors in that district, also said counselors already get training in grief counseling and that more training, while good, would take more money.
"Yes, counselors have been exposed to grief counseling in some fashion by virtue of what we do. … All counselors, in order to obtain their degree, must have dabbled in that counseling," Todman said.
Some senators dismissed the idea that funding was needed.
"We always talk about money for everything," Blyden said. "It is about the students. I am hearing everything but I am not hearing about the students. It's about the students in our schools. They are going through a lot right now," he said.
Gittens said, "Training is already a part of your budget. Also there is federal funding out there you can apply for."
Some expressed concern over whether the bill was necessary and about funding.
"I think this bill is certainly well intended," Sen. Jean Forde said, adding he is "questioning whether or not it is absolutely necessary," in light of the testimony to the committee.
The V.I. Government's financial situation is tenuous, making new funding initiatives difficult. Although the Senate recently approved funding for pay increases across the government, the territory is facing a roughly $100 million budget shortfall next year and each year thereafter, according to past testimony from the Office of Management and Budget.
Currently government agencies owe the V.I. Water and Power Authority about $42 million in overdue utility bills, and as a result, WAPA is being sued by a fuel supplier for not paying a past-due fuel bill and is being put on watch by Moody's rating agency for a possible bond rating downgrade. (See Related Links below)
Voting to send the bill on for a final vote on the Senate floor were Gittens, Harrigan and James. Voting no were Forde and Sen. Janette Millin Young. Sens. Novelle Francis and Nereida "Nellie" Rivera-O'Reilly were absent.
The committee voted to hold, for now, a bill from Gittens to establish penalties for perjury before the Legislature.