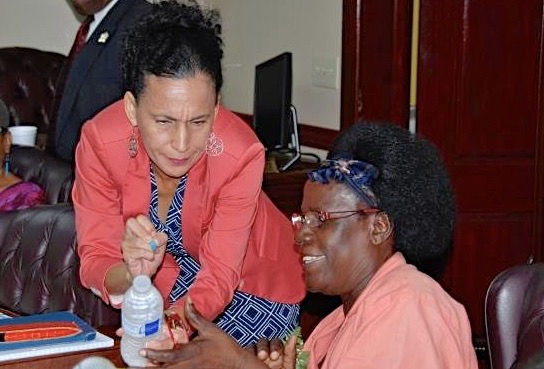 Senior citizens playing the part of senators passed an ersatz bill to give them more power in designating power of attorney to a relative or caregiver and called on senators to pass a real bill addressing this matter during the annual "senior mock session" of senators on St. Croix.
The bill would eliminate automatic sunsetting – or ending of power of attorney – after a set time and standardize it, also establishing a criminal penalty for misusing the power of attorney. It would prohibit banks or other institutions from requiring a durable power of attorney to be renewed periodically. Fifteen area senior citizens took the place of the 15 senators to debate the measure in a mock, though certainly not mocking, Senate session on Tuesday.
The annual mock Senate is sponsored by the Department of Human Services in conjunction with the Legislature. It alternates between St. Thomas and St. Croix.
The gallery was packed with seniors for the debate and, while the substitute senators joked and laughed on occasion, they also made serious points about difficulties senior citizens face in the territory.
The real senators of the 31st Legislature and their staff stood nearby, helping their replacements deal with the mechanics of procedure: introducing bills and amendments and making motions.
Mary Harley, playing the role of Sen. Jean Forde, said, "I feel the bill should be more comprehensive and more definitive to people in the Virgin Islands, especially the elderly, who want to make sure what they want done by power of attorney is accomplished. So I think this is a very important bill brought before us today."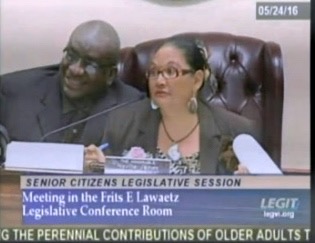 Cheryl Harley, playing the role of Sen. Novelle Francis, said she supported the measure because "this is going to help a whole lot of people," by making sure family members and others "cannot change what you have established."
Carolyn Thomas, playing the role of Sen. Nereida "Nellie" Rivera-O'Reilly, said if she were incapacitated or passed away, "and my daughter has to go get some money or something from the bank, I would like her to be able to go and do what she has to do."
Thomas later proposed a mock amendment to the mock bill, making penalties of a fine and up to six months in prison for violating the mock law.
Robert Johnson, playing the role of Sen. Justin Harrigan, talked about the problems seniors face in setting up a power of attorney that make the law necessary. "My understanding of this durable power of attorney is that the power of attorney that the principal issues is different from the one that the financial institutions have," Johnson said.
"The bank would like to use their own power of attorney form and it is different for each bank and that creates a hardship for the principal because … if I issue a power of attorney, the bank may not recognize it because they want to use their own form," he said.
Marcia Degraff, playing the role of Sen. Marvin Blyden, was one of several seniors urging senators to take up the bill in reality and not just for show.
"I am in full support of this bill and I think we should take it very serious and take it out of the category of mock bill. … This bill should become law," Degraff said.
"When someone becomes incapacitated and relies on a person we trust, this is what we are talking about, and if we want to trust that person, we should have laws to protect us," she continued.
It would not be the first time the senior session led to real legislation. A 2010 home accessibility bill came out of the 2009 senior mock session and is now law. (See related link below)
The "senators" later voted 13-2 to approve the ersatz bill.
After the fun mock session came to a close, senators praised seniors and said they would look into the proposal.
"We will certainly make this bill become official," Forde said.
During the festive faux session, the senators and seniors took a moment to honor Winthrop Hector of St. Croix, who turned 100 this year and was in the audience. Hector stood briefly and took a bow.
Seniors representing the various dignitaries not yet mentioned included: Eunice George (Sen. Kenneth L. Gittens), Norma Ash (Sen. Clifford Graham), Valeria Skeete (Sen. Myron Jackson), Maria Santiago-Feliciano (Sen. Neville James), Gwenevaire-Hyndman (Sen. Almando Liburd), Joseph Gilbert (Sen. Positive Nelson), Urline Lettsome (Sen. Tregenza Roach), Georgina Blek (Sen. Sammuel Sanes), Phyllis Nehlsen (Sen. Kurt Vialet), and Edith Haynes (Sen. Janette Millin Young). The Senior Senate Session was managed by Janet Phillips-timekeeper/journal clerk, Elizabeth Bryan-Chaplin/sergeant-at-arms, and Marcelle Sorhaindo-reporter/stenographer.