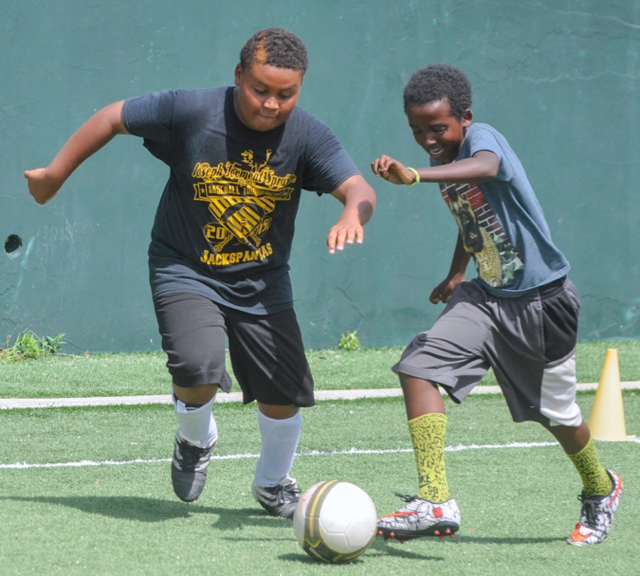 Classes may be out for the summer at Gifft Hill School, but Trayser Field at the school's upper campus remains abuzz with activity thanks to a summer soccer camp that coaches say mixes fun with competitive rigor.
The camp, which began June 13, is organized by LaRaza FC, a St. Thomas-based soccer club for youth and adults. It runs for three weeks at Gifft Hill School. Athletes age nine to 17 years old can sign up to participate on a weekly basis at a cost of $125 per week.
The camp includes two one-and-a-half-hour sessions between 9 a.m. and 12 p.m. In the first session players practice skills, including passing, ball touches, finishing, and defensive work via drilling. In the program's second half, the young athletes develop what they've learned by taking part scrimmage matches.
Mathew Mattiuz, who coaches the camp along with Catherine Savitch and Joe Limeburner, said so far the program has attracted a young crowd, with the oldest athlete being 14 years old.
"We have some campers who have never played soccer before. This is their first exposure," said Mattiuz. "I'd love for it to be a positive enough experience that they want to continue on, whether it's with a club program, whether it's with their school team."
The first week of the camp brought approximately 20 athletes, half of whom commuted from St. Thomas, but Mattiuz said he expects the next two weeks to bring in more players now that more district schools have let out for the summer. A bus picks up the St. Thomas students from the Cruz Bay ferry dock and one of the coaches commutes with the inter-island athletes.
One of the draws touted by the camp program is its experienced coaching. Limeburner played on the U.S. Virgin Islands National Soccer Team. Mattiuz and Savitch are both former college players. Mattiuz has continued coaching at the college level at DeSales University in Pennsylvania.
"We want this camp to be competitive," Mattiuz said. "If we develop some top-notch players who we see are wanting to play at a higher level, hopefully this will be that kind of in for them to get to that level."
One of the LaRaza club's goals, he said, is to bring soccer, a very competitive sport among Caribbean nations, to a higher level in the territory by developing student athletes' skills at a young age.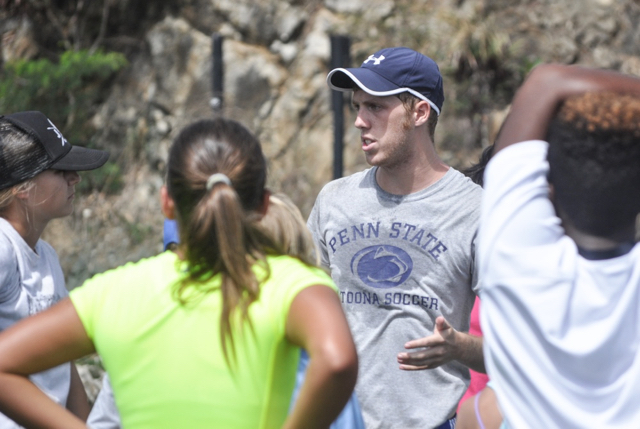 "I want every player to get something out of this, to be a better soccer player than when they started," he said. "It's a sport that develops discipline, develops team work, develops camaraderie. There are just so many life skills that you get out of the game, that I got out of the game at this age."
"Obviously individual growth is great to see," agreed Savitch, who also coaches the LaRaza U-12 girls team.
She said she's pleased to see more young women becoming interested in the sport. Many of the camp's participants are elementary and middle-school aged girls.
Players get one-on-one attention from the camp's coaches, Savitch said, making it an ideal place to develop skills that are harder to practice during a game. She said she wants the campers to "take risks, try things that you haven't tried before. It's OK to embarrass yourself."
GHS student and soccer camper Kaden D'Abbraccio said despite the summer heat radiating off the school field's AstroTurf, he's having a good time.
"It's really fun so far. I love doing all the drills. I hope that I get better with my kicks, and strikes and defending," said D'Abbraccio who is on the GHS elementary school team and expressed interest in sticking with the sport through middle and high school.
"The most fun is playing the game at the end," offered fellow camper Onyx Reid.
"And the most challenging part is staying hydrated and staying cool," added D'Abbraccio.
GHS Head of School Laurie Bottiger said in addition to the soccer camp, the school will also host another eight weeks of summer activities with "an experiential learning philosophy."
"Camps are half or full day and promise to be both fun and educationally enriching. Our faculty combines a balance of master teachers and local experts," said Bottiger.
Camp programs to be hosted by GHS in the following weeks include circus camp, Shakespeare camp, and steel pan and culinary arts lessons.
A full list of summer camp activities is available and students can sign up at www.giffthillschool.org.