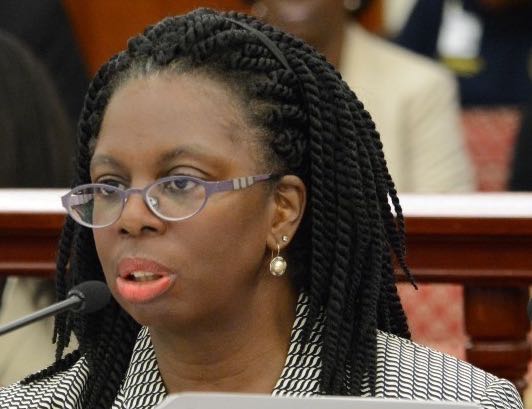 The Department of Health's ambulances are in poor repair, to the point where on Saturday there was a period of several hours with no ambulances available on St. Croix, Health Department officials told senators during budget hearings Tuesday.
"We've had experiences over the last month where we had no vehicles available," Health Commissioner Michelle Davis told the Finance Committee.
Health "is currently at risk of not being able to respond to 911 emergency calls for Virgin Islanders in need of urgent care," she said. "We are down to one to two functioning ambulances on each island on any given day," Davis said, adding that "15 of the vehicles in our ambulance fleet are 5 to 17 years old. Purchasing new ambulances takes six months or longer."
There are currently 12 ambulances for St. Thomas and St. John, with another three quick response vehicles. There is a need for a minimum of three new vehicles for St. Thomas and one new 4×4 for St. John, Davis said. St. Croix has five ambulances and three more quick response vehicles and that district needs "a minimum of four new ambulances," she said.
Sen. Novelle Francis asked about times when no ambulance at all was available and what contingency plans were in place.
Assistant Health Commissioner Taetia Dorsett said the department has called on St. Croix Rescue for help when they are short, and St. Croix Rescue has been extremely helpful. But this past Saturday, a rescue vehicle borrowed from St. Croix Rescue broke down, leaving them with no vehicle for a time. A mechanic was called at 1:30 a.m., Dorsett said, to work both on the borrowed vehicle and the Health Department ambulance.
Sen. Clifford Graham asked if Davis or Dorsett knew about legislation passed earlier this year to finance the purchase of more emergency vehicles. Earlier this year, the Senate passed a bill allowing the Public Finance Authority to borrow $10 million on a recurring, revolving basis to buy vehicles, including emergency vehicles, for numerous government agencies. (See Related Links below)
Davis said the money had not been distributed yet and the legislation did not give a specific amount to the Health Department that could be used to show vendors and begin the process. Graham said as a bond instrument it had to go to market, but should be available by the end of the year.
"If we could find used vehicles as a temporary solution," that would help, Davis said, though "it would not be ideal." She emphasized that the situation was serious.
Sen. Marvin Blyden noted that Health is requesting $3.8 million more this year than last year and asked what the new funds were for. Davis said it was a result of the need to pay the expenses of patients who are receiving medical treatment off-island.
"One of our largest bills is from the five patients combined who are being treated at Larkin Community Hospital in South Miami, Florida. Out of the additional $3 million requested, $2.6 million must be paid to Larkin," Davis said.
Davis presented the Health Department budget request for Fiscal Year 2017 of $52.8 million. That includes $23.3 million from the General Fund and $2.6 million from fees for services in the Health Revolving fund; $20.7 million in direct and indirect federal funds; and $6.1 million in the miscellaneous section of the budget.
No votes were taken. Present were Blyden, Graham, Francis, Sens. Kurt Vialet, Myron Jackson, Sammuel Sanes, Tregenza Roach and Positive Nelson.