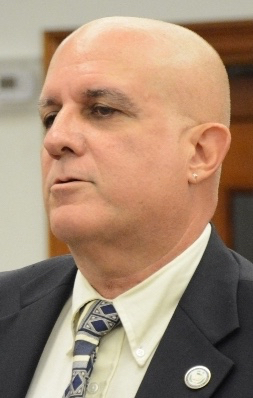 Four-term V.I. Inspector General Steven van Beverhoudt received an enthusiastic thumbs-up for a fifth seven-year-term term from the Senate Rules and Judiciary Committee Monday.
The committee, meeting in the Earl B. Ottley Legislative Hall on St. Thomas, also gave the nod to Gov. Kenneth Mapp's renomination of Noreen Michael and George Blackhall to the V.I. Housing Authority board of commissioners. All three will now head to the full Senate for a final vote, where, barring a major surprise, they are likely to be approved.
Beverhoudt told senators he would like to gradually increase staffing in the office, but understands that the government's current fiscal condition means that change will need to be slow.
When Sen. Novelle Francis asked him what he thinks the level of corruption in the USVI is, Beverhoudt said he does not believe it is any different from anywhere else, but residents seem willing to tolerate behavior that has resulted in state governors resigning. He mentioned exorbitant travel expenses for a governor as an example.
Some aspects of the USVI make the job of a watchdog or investigator more difficult, he said.
"Being a small community where a lot of people are related and people have to work here, it is very hard to get people to come forward with credible evidence and to be willing to stand up to what they say," Beverhoudt said. "We've had a lot of people who have come to us and say, make allegations, and when you ask them, will you work with us and let's see if we can, you know catch the person or provide us with evidence, they right away say, 'Well I live here I work here and I don't want to get involved.' That is the hardest part of the whole process. You know things are going on, you get a sense but to get proof is the hardest part."
He said he wants to see a gradual increase in employment, but realizes the finances of the government make a large increase difficult at this time.
Asked if there were a number residents can call to report government fraud or waste, Beverhoudt said the V.I. Inspector General website has the hotline number, 340-774-3388, along with other meethods of reporting. The web address is http://www.viig.org/contact/hotline/.
Sen. Clifford Graham, who is not a member of the committee, asked Beverhoudt to describe his vision for the the Office of the Inspector General with respect to manpower and the scope of work.
"I think the ideal situation would be to have anywhere from 30-40 professionals where we can almost have auditors in just about every one of the major departments and agencies," Beverhoudt said.
He said he would then like to develop a system where every two years, a team follows up on the progress made with recommendations advised during the audit process. Ideally, in the long term, the agency also would be "truly independent," no longer requiring expensive outside contracts to fulfill mandates, he said.
Senator-at large, Almando "Rocky" Liburd, also a non-committee member, asked about tax benefit programs in the territory that are designed to promote economic development.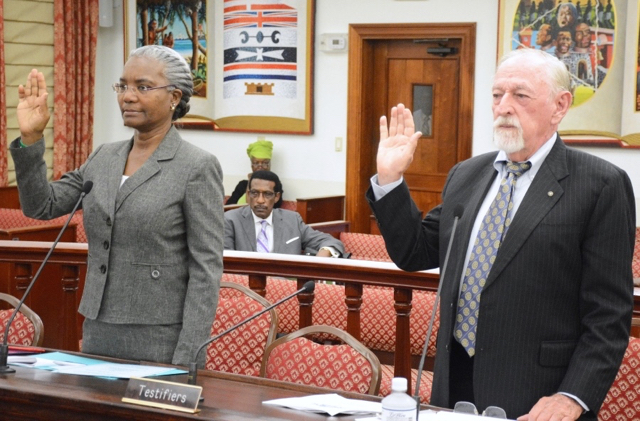 "I think the whole idea of the incentive program is to encourage businesses to come in here to establish" themselves, Beverhoudt said. "You give them grace to get themselves organized and then after a while they become a taxpayer, a contributing member to the government."
He questioned the value of current agreements that forgive almost 100 percent of taxes for decades at a time. Liburd agreed, saying "if you're not contributing to the community …" at which point Beverhoudt interjected "then we don't need you here."
Born on St. Thomas, Beverhoudt graduated from the College of the Virgin Islands in 1979 with a degree in accounting. That same year he received an award from the Wall Street Journal for outstanding academic achievement. He has spent his entire 38-year professional career in government service, most of it as V.I. inspector general.
For the first seven years of his career he worked as an internal revenue agent with the Virgin Islands Bureau of Internal Revenue. The last 31 years he was an auditor with the Office of the Virgin Islands Inspector General, with the last 27 years of that as inspector general. He is a certified fraud examiner and government financial manager, among other certifications and association memberships.
Later, senators questioned VIHA nominees Noreen Michael and George Blackhall and urged them to place greater focus on visiting facilities, particularly in the St. Croix district.
"Visit the other housing communities and see exactly what's going on," said committee chairman Sen. Kenneth Gittens.
All three nominees were approved without opposition.
Voting for Beverhoudt were: Francis, Gittens, Sens. Justin Harrigan and Nereida "Nellie" Rivera-O'Reilly. Sens. Jean Forde, Neville James and Janette Millin Young were absent. Forde later arrived and joined the senators present in voting to send Michael and Blackhall's nominations forward.
The committee also heard from St. Thomas nominee for the Water and Power Authority board Hubert Turnbull, but lost a quorum and was unable to vote. Gittens said the nomination would be considered again as soon as possible.