A full range of clinical services will return to Cruz Bay's Morris deCastro Clinic by the beginning of 2017, Department of Health officials said at an open house on St. John on Thursday.
Services and hours were cut back at the clinic beginning in 2012 due to government austerity measures.
DeCastro is the smaller of the two public clinics operating on St. John. Most patients are treated at the Myrah Keating Smith Community Health Center, operated by the government-owned Roy L. Schneider Regional Medical Center. Some patients from St. John also receive services at the St. Thomas East End Medical Center in Tutu.
According to Janet Denton-Bennett, a midwife and advance practice nurse with Health, some services have already been reintroduced at deCastro, but many in the community may not be aware that they have returned. Getting that information out to residents was one of the purposes of the open house, she said.
Booths were set up under tents between the clinic and Franklin Powell Park on Thursday morning, where Health employees were handing out brochures about services offered at deCastro.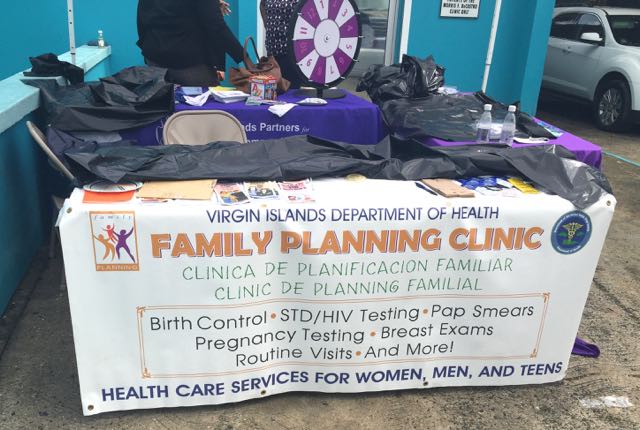 Despite rainy weather, a fair number of St. John residents had turned out for the free flu shots and Zika testing being offered at the open house, employees said.
"The services at deCastro slowly left, especially after the nurse practitioner was released," said Denton-Bennett. "We started about two years ago bringing family planning services back, but it's not well known."
The Health Department's family planning clinical services, which include birth control, STD testing, pap smears, pregnancy testing and breast exams, are now being offered at deCastro on the second and fourth Friday of every month.
The clinic is also offering immunization services every other Thursday.
A federally funded Women, Infants and Children (WIC) program can also be found at deCastro. The WIC provides supplemental foods to low-income pregnant and breastfeeding women, and to infants and children up to age 5 who are found to be at nutritional risk.
According to Jennifer Williams, the WIC director on St. John, "WIC is one of the programs that never left. We've been here throughout."
Denton-Bennett said Health hopes to bring back full family practice clinical services at deCastro by January. She said efforts are under way to hire a physician or nurse practitioner for the clinic.