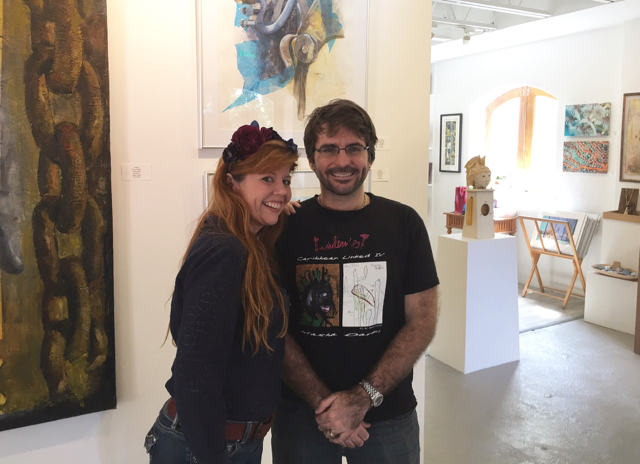 Bajo El Sol, the gallery at Mongoose Junction, has always been widely regarded for its focus on St. John artists. Now under new ownership, the gallery is expanding to include artists from all three islands as well as to showcase art forms such as poetry and film.
David Knight Jr. and Priscilla Hintz Rivera Knight took over the gallery at the end of the summer and quietly went to work with St. Thomas artist/designer Jon Euwema to open up the floor plan. Now they can convert the gallery into a comfortable venue for readings, performances and films by sliding away the moving walls and by pulling out the 40 chairs ingeniously stashed in a central storage cube.
First on their schedule of events is a reception for Karen Munk-Nielsen at 6 p.m. Thursday. Munk-Nielsen, the director of the Holbaek Museum in Denmark, is "the primary Danish facilitator of 'the Freedom Project,' a trans-Atlantic effort to display replicas of three iconic statues of Danish West Indies freedom fighters," Knight said.
"The project is the first time Denmark will be displaying the monuments that acknowledge and create dialogue about the nation's history as a colonial power and a nation involved in the slave trade," he said.
Munk-Nielsen is visiting each of the islands in the territory with another purpose as well; she wants to meet Virgin Islands artists as she organizes events for V.I. Centennial-themed events and exhibitions in Denmark.
Munk-Nielsen can certainly get an eyeful of the kind of work local artists are producing by seeing what's on display at the Bajo El Sol Gallery.
St. John artists who will show their work at the gallery include Janet Cook-Rutnik, Lisa Etre, Avelino Samuel, Livy Hitchcock, Karen Samuel, Aimee Trayser, Casey Giakas, Ayn Baldwin Riehl, Steve Simonsen, Lucy Portlock, Kimberly Nogueira, Lisa Quin, Larry Lipsky, and Gail Van de Bogart.
Several St. Croix artists will be featured, including Luca Gaspari, Niarus Walker, Laura Ballard, and Mandy Thody (who lived on St. John for many years before moving to St. Croix.)
St. Thomas artists include Shansi Miller, Jessica Rosenberg, Madeleine Meehan, Doreen Walsh and Timisa Cree.
Among the treasures found at Bajo El Sol are "vintage works" by artists who are no longer living but have deep connections to the Virgin Islands. These include painter Eric Winter, artist and art educator Larry Gluck, and Knight's grandfather, photographer George Knight.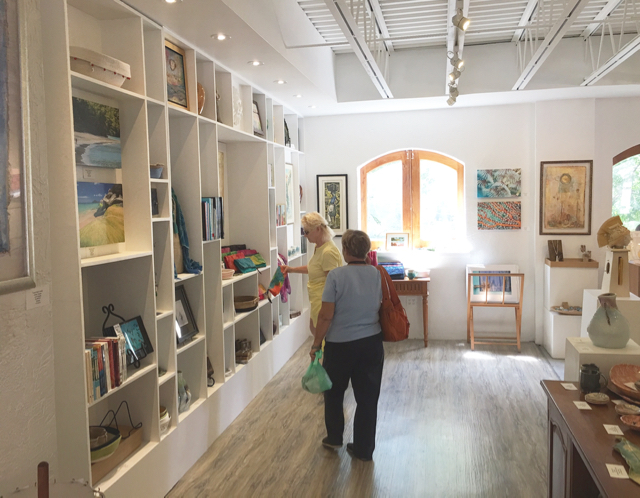 Hintz Rivera Knight has worked with painter Shansi Miller to produce the gallery's exclusive line of bags and scarves that are fabricated at Zora's on St. Thomas. The gallery also features handwoven hemp baskets made by Knight's stepmother, Lolly Prime.
Two other events within the next month are in the works. On Nov. 25, the gallery will host its first monthly exhibition, entitled "New Vernaculars," which will showcase new works by six artists from St. Thomas and St. John: Ensor Colon, Jon Euwema, Cooper Penn, Bill Stelzer, Eric Browne, and Deborah St. Claire.
On Dec. 8, the gallery will screen the world premiere of "It Ain't Easy Being Green," a film produced and directed by Crystal Fortwangler in collaboration with Bill Stelzer and Ziggy Livnat.
Knight and Hintz Rivera Knight both grew up in the islands and have been immersed in the art scene separately and together for years. Several years ago they formed the Gri Gri Project, producing critical writing and arts-related events for projects in Cuba, Aruba, Puerto Rico, Barbados, the U.S. and, of course, the Virgin Islands.
The couple has produced a series of "pop up" shows – temporary art shows in non-traditional spaces – but dreamed of finding their own permanent place to showcase art. When they learned that Livy and Tom Hitchcock, the previous owners of Bajo El Sol, were looking to retire, they made their move on the gallery that was originally an artists' collective.
Hintz Rivera Knight has a master's degree in arts administration from Goucher College and a certificate in museum studies from the University of Turabo in Puerto Rico, in conjunction with the Smithsonian Institute. She published on online arts magazine, Artfusion, from 2008-2011.
Knight, a freelance writer (and a regular contributor to the Source), attended Emerson College and the University of Southern Maine to earn a degree in media studies. In 2013, he began collaborating with Richard Georges, a poet from the British Virgin Islands, to produce Moko Magazine, an online journal of contemporary literature and art from the Caribbean. They are now publishing their tenth issue. (See the link below.)
"We really love the idea of being part of the Mongoose family," Hintz Rivera Knight said, "but we're hoping to still produce some pop up shows. One of the things we thought of doing when we took over the gallery was to reach out to other artists. We're working with other galleries, organizations, and collectives who think it's important [to nurture] a progressive art movement in the territory."