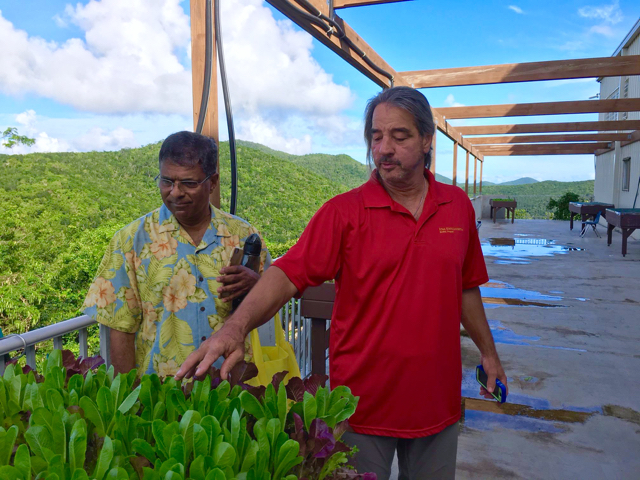 It doesn't take more than a few minutes of conversation with Harith Wickrema, the recently appointed chairman of the Virgin Islands Waste Management Authority Board, to understand he is a visionary.
In fact, it is a description he has embraced since 2008, when he gave himself the title "chief visionary officer" of his successful events management company, Harith Productions.
Since assuming the chairmanship of VIWMA in October, Wickrema has set an impressive goal.
"Our objective is to take the Virgin Islands towards a zero-waste strategy," he said.
By "zero waste" he means nothing, ultimately, will wind up in our landfills. It's a lofty ideal, he admits, but, "If both the private and the public sectors work hand-in-hand, this can be accomplished."
As of now, Environmental Protection Agency studies have shown that 60 percent of what the average Virgin Islands household throws away can be composted, and an additional 15 to 20 percent can be recycled, Wickrema said.
Yet the territory continues its struggle with landfills that have overreached their capacity and are out of compliance with EPA regulations.
Some very practical solutions have been proposed in recent months. The U.S. Virgin Islands Senate recently approved legislation to outlaw plastic bags for most uses, starting in January. Wickrema co-authored the legislation along with Dawn Henry, Commissioner of the Department of Planning and Natural Resources, and Emile Henderson, Chief Legal Counsel to Governor Kenneth Mapp.
Two other measures – one to require purchasers of bottled beverages to pay a deposit, and another to require residents to sort out recyclable materials from their household waste – are still being debated.
This last proposal, known as source separation, is crucial to a successful recycling program. Wickrema said.
"What if we don't think of what we throw away as waste, but instead as a resource that can be reconfigured for something else of value?" he asks. "You wouldn't throw away something of value, would you?"
Wickrema believes that solving our problems of solid waste involves a change of mindset. He suggests it might be time to change the name from the V.I. Waste Management Authority to the V.I. Resource Management Authority, or the Materials Management Authority.
"What if we can change the culture and our thought process?" Wickrema continually asks.
As a faculty member at Temple University's School of Sport, Tourism and Hospitality Management for more than ten years, that was a question he frequently posed to his students.
"Most of us are familiar with the 'Three R's' – reduce, recycle, and reuse,' Wickrema said. "In 2012, students in my course in Sustainable Development came up with another 'R' – rethink. By 'rethink,' we have to ask, 'Do I want this, or do I need this? We'll have fewer things to recycle if we don't generate 'stuff' that we don't need."
Although this statement may sound idealistic, Wickrema balances the warm and fuzzy with the downright practical. Looking at his accomplishments in the past month, you might even describe him as turbocharged.
In November, he worked with VIWMA to promote composting workshops on all three islands.
On Nov. 29, VIWMA and St. John's Island Green Living Association (for which Wickrema is the president) held a Sustainability Waste Management Think Tank at the Westin Resort on St. John.
"Nearly 40 people attended – pretty good for a weeknight," Wickrema remarked.
On Dec. 1 and 2, the EPA, Island Green Living Association and several other organizations convened a Caribbean Recycling Summit in Puerto Rico. Almost 300 people from throughout the region attended.
"We islanders can learn from some of the best practices from other islands; we can team up," Wickrema said.
Last month he also worked with the board to select VIWMA's new executive director, Roger Merritt, from among the 81 candidates who applied.
As chairman of the VIWMA board, Wickrema said he's committed to trimming costs and improving compensation for the agency's employees.
"I've been told that the employees haven't had raises in nearly nine years, and therefore it is vital to recognize the hard working men and women of VIWMA," he said.
As president of IGLA, Wickrema said the organization's goal, "starting with the smallest island, is to make the Virgin Islands the greenest islands in our region."
IGLA is now starting to work with Sharon McCollum, commissioner of Education, and the V.I. Board of Education, to introduce units on sustainability to the curriculum in the public schools. One idea is to distribute to all school children flyers that include questions about gardening and composting. The flyers will be filled out by students in collaboration with their parents.
Wickrema is a huge proponent of gardening. Several years ago he decided to put his successful meetings and incentives business on hold and move to St. John. There, he bought a house that was poorly constructed and not "eco-friendly" and turned it into a luxury conference center. Eco Serendib Villa and Spa, which was designed to serve as showcase for "island living with green touches to influence decision makers," now has a flourishing, terraced, vegetable and herb garden.
When guests make their reservations for Eco Serendib, they are directed to a seed catalogue where they can choose which varieties of produce they wish to eat during their stay. The staff will plant their choices and include them as they ripen in their menus.
Guests at Eco Serendib are also required to make donations to organizations that promote environmental sustainability. More than $50,000 has been collected to promote such efforts as beach erosion mitigation, lionfish eradication, and recycling.
Wickrema was recognized last month by Temple University for his contribution of more than $100,000 towards the creation of the Harith Wickrema Sustainable Tourism and Hospitality Management Endowed Scholarship Fund. The fund allows students to spend a semester on St. John working as interns with IGLA.
Education is vital, according to Wickrema. He grew up in Sri Lanka in a family that made education a priority. Before moving to Pennsylvania to attend Temple University, Wickrema was trained at Ananda College, the largest public secondary school in Sri Lanka, where many graduates have gone on to outstanding careers. His mother was a physician. His father had a masters of business administration degree from the University of Pennsylvania and two doctorates. Several of his siblings have doctorates and are leaders in their fields.
"I'm the dummy of the family," he jokes.
Although he lives full time in the Virgin Islands, Wickrema still maintains connections to the States; he has unofficially adopted a a five-year-old boy with special needs.
"I influence him the way my parents influenced me,' he said.
Wickrema said his decision to "retire" and move to St. John, where Harith Productions had arranged events for more than 20 years, was partially influenced by the death of a brother from cancer.
"I thought, 'What am I doing? I want to do something to make a difference." IGLA approached him to join their efforts, and he's been moving full speed ahead since then.
Wickrema credits his success in business to "helping my clients save money by negotiation. I delivered value. 'Underpromise; overdeliver.' That's been my mantra."
Now he's using those techniques to benefit the Virgin Islands.
"Since I retired," he said, "I've been working harder, getting less sleep, making less money, and having more fun."