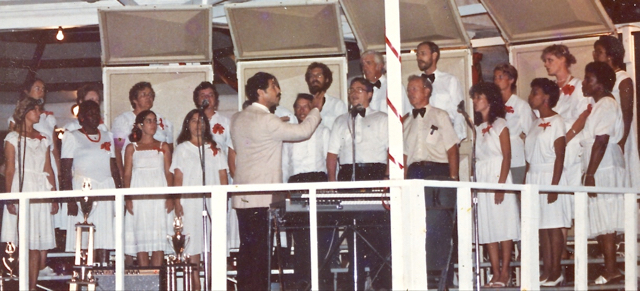 How can you tell it's Christmastime when it's always sunny and warm, and the shades of blue in the sea and the sky eclipse the traditional holiday reds and greens?
For many people on St. John, the ritual of attending the St. John Singers' annual concerts is the signal to start the festive season.
"I look for the concert poster as soon as I get back to the island," said Maggi Ward, who spends winters on St. John. "Going to the concert is a family tradition."
For 35 years, audiences on St. John have enjoyed the choir's Christmas concerts, which feature music from throughout the centuries, guest artists from throughout the territory, and a spirited carol sing with willing audience participation.
At this year's concerts, scheduled for Dec. 21 in Cruz Bay and Dec. 23 in Coral Bay, the audience will be treated to a rare local performance by New York-based soprano Laura Strickling. The singers' current director, Janice Ballard, serves as Strickling's accompanist and vocal coach when Strickling spends time at her home on St. Thomas, and she was able to entice her to perform for the 35th anniversary concerts.
The St. John Singers was founded by John Cahill, who directed the choir for its first 30 years. In 1982 Cahill was in his first year teaching music at Charlotte Amalie High School when he was approached by four women from St. John who had been commuting every week to the College of the Virgin Islands on St. Thomas to attend rehearsals with the Caribbean Chorale.
Regular ferry service between the two islands ended at 9 p.m., but the women were allowed to ride back to St. John on a special late boat scheduled for college students.
"One night we got to the dock in Red Hook, and there was no late boat," said Lonnie Willis, the only one of the four women who still lives in the Virgin Islands. "It turned out the college wasn't in session, but no one had told us. We had to hire Per Dohm's water taxi, for some outrageous price, to get back to St. John. That's when we decided to get a choir started on St. John."
Cahill soon amassed a group of more than 30 singers, some commuting from St. Thomas, to be part of the choir. The secret to the choir's success, Cahill said, "was the tendency to have rehearsals be solid work."
Solid work was necessary. Cahill chose music from the Renaissance, Baroque, Classical, and Modern periods.
"We'd do at least one challenging work at each concert – Stravinsky's "Ave Marie," Britten's "Missa Brevis," Vivaldi's "Magnificat," Bach's Cantata No. 42," he said.
A Julliard graduate, Cahill routinely kept the entire choir engaged during the rehearsals with anecdotes about the composers; after the women's sections were dismissed for the night, he'd keep the men's sections going during practice with his store of salty jokes.
In spite of the high caliber of the music, the choir has remained a community choir open to anyone who can commit to attending rehearsals.
"It's true. They'll take anyone!" said Pam Gaffin, pointing at herself and laughing.
A handful of current singers have been there since the earlier years.
"I joined in 1984," said retired police officer Elvina Garcia. "I have a passion for singing. I cannot read music, but that doesn't dampen my spirit. I won't stop. Every time I think it's my last year, I come back."
"It's the high point of my week," said Catherine Fahy, who joined the choir in the mid '90's. "But I'm worried that we're aging out. There are fewer young people joining. The choir's getting smaller, and older. I'd hate to see us die out."
Geneva Paris joined the choir in its first year after being asked by a friend who wanted company on the long ride from Calabash Boom to weekly rehearsals in the Nazareth Lutheran Church in Cruz Bay.
Paris fondly remembers the choir's caroling expeditions after the concerts in the early days, when family and friends would follow the choir and sing themselves hoarse crooning the traditional local carol "Guavaberry" at every bar and restaurant in the area.
Others recall singing in St. John churches on Palm Sunday, touring the hospital and the Queen Louise Home on St. Thomas, and winning a three-foot high trophy at a Christmas Sing Out Competition at Emancipation Garden in 1986.
"Probably the best times I had were our trips to Virgin Gorda,' said Margie Labrenz. "We hung out at Little Dix Bay, gave a concert in the afternoon, and boarded the chartered ferry boat for a moonlight boat ride back to St. John."
As the choir teacher at CAHS, Cahill kept his eye out for talented young musicians and regularly invited them to perform with the singers. Among his recruits were DeWayne Venzen, who earned a doctorate in music and now has a job with a military band; Rashawn Ross, who plays with the Dave Matthews Band; and jazz saxophonist Ron Blake, who's been a member of the Saturday Night Live Band and Dion Parson's 21st Century Band.
Other guest performers included violinist Alana Davis, organist Albert Lynch, vocalist Gylchris Sprauve, flautist Nancy Ruffer, vocalist Lorna Freeman, clarinetist Luben Davis, and the vocal trio Las Tres Amigas.
Cahill also liked to showcase Virgin Islands composers, brothers Ray and Bill LaMotta, whose catchy melodies and positive lyrics often celebrated the Virgin Islands.
One other composer he championed was Chris Clark, a choir member with an ear for contemporary sounds. After Hurricane Hugo struck, Clark composed a three-part number, "Dreaming of the Storm." When it was performed several months later, the audience laughed during the section entitled "The Reconstruction Rag."
"To our great and deep dismay, the whole roof had blown away
Leaked like a basket anyway, was gonna patch it up someday
But now I'll get a new one and the FEMA man is gonna pay…"
But during another section, choir members rattled sheets of galvanized metal and shook jars of broken glass while a tape blared the voices of distressed people calling into a radio station for help.
"The audience really didn't like that," said Labrenz. "Too many were still suffering from post-traumatic stress disorder."
For 30 years, Cahill's choir kept audiences charmed and challenged, but when he finally retired from teaching at CAHS in 2012, his wanderlust re-emerged. The restriction of the regular weekly rehearsal didn't fit with his plan to travel for extended periods in Haiti and Cuba, where he now teaches music and performs for several months at a time.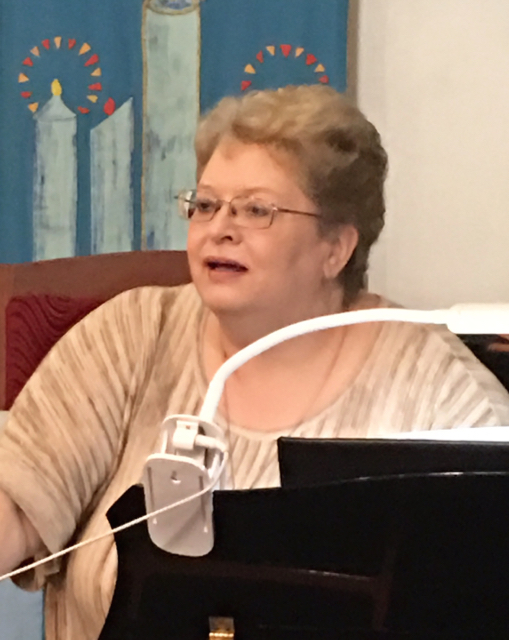 Janice Ballard, who had been the group' accompanist since 2006, took over as director, and the choir's repertoire has shifted from longer, classical works to shorter pieces, including selections from Broadway shows, gospel tunes, and traditional African songs.
"I strive for a balance between pieces that are readily accessible and pieces that provide musical challenges for the singers, encouraging their development and growth," Ballard said.
Like Cahill, she demands the best from choir members, cajoling, praising, and scolding when necessary.
"You have to focus on beautiful tone," she reminds the choir during a rehearsal. "The audience's impression is framed in the opening phrase. You have to reach out and grab them, let them know that good stuff is coming that they want to hear."
The St. John Singers will perform at the Nazareth Lutheran Church in Cruz Bay at 7:30 p.m. Wednesday, Dec. 21, and at the Emmaus Moravian Church in Coral Bay at 7:30 p.m. Friday, Dec. 23. Tickets are $20, and children are admitted free.
The choir, which incorporated as a non-profit organization almost 20 years ago, is supported by ticket sales, members' dues, and annual grants from the Virgin Islands Council on the Arts.