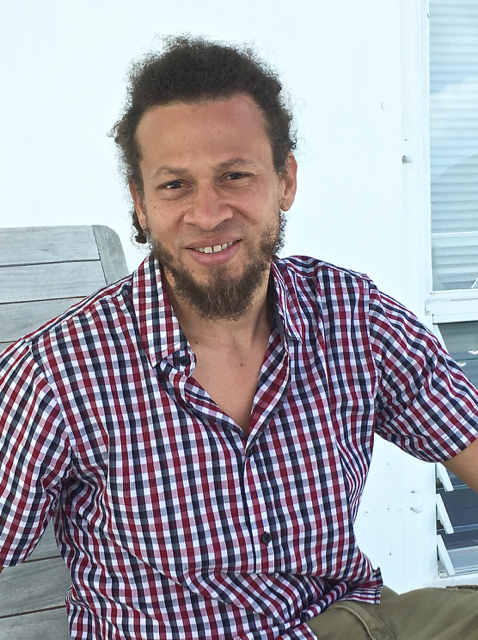 Longtime St. John residents might remember Derik Smith as the little boy with cocoa skin and blond curls wielding a big book bag as he hopped on the ferry to St. Thomas to attend school.
Derik began his education as a preschooler at the Pine Peace School on St. John, then moved on to the Montessori School in Red Hook for elementary school and finally the Antilles School for high school.
Sightings of Derik since he graduated from the Antilles School in 1993 have been all too rare, mainly because he's been busy doing the things adults do – pursuing his education, working at his profession and raising a family – but also because he spent several years as a college professor in the Middle East, and it's a long way home from Dubai to St. John.
Now an assistant professor of African American literature at the University at Albany, SUNY, Derik recently took some time on St. John to visit his parents, Alan and Magda Smith, and relax after completing a draft of a new book about poet Robert Hayden.
Robert Hayden is best known for the poem "Those Winter Sundays," which appears in numerous high school literature textbooks. Beyond that, few people are aware of the work of the man who was born profoundly nearsighted but developed the wisdom and the vision to become the first African American named as consultant in poetry to the Library of Congress, or poet laureate.
Writing about the Underground Railroad, the American slave trade, and historical figures such as Frederick Douglass and Harriet Tubman, Hayden sought to express the voice and range of African American experience. But his poems about family life or a painting by Claude Monet capture what's universal about a particular human experience.
As a convert to the Baha'i faith, Hayden visited the Virgin Islands around 1980 to visit Derik's parents, who are deeply committed to the faith. (Hayden even dedicated a poem to them.) It was this spiritual connection that brought Derik to study Hayden's work.
"The Baha'i faith is a world religion that originated in 19th century Persia, now Iran," said Derik. "It comes out of Islam, but it is independent of it, as Christianity came out of Judaism."
The prophet-founder is Baha'u'llah, which means "Glory of God" in Arabic. "The primary belief is the oneness of God, a divine force, and the oneness of humanity," he explained. "It recognizes that throughout history, there have been divine prophets which are appropriate for the time and place that they appear – Moses, Christ, Buddha, Krishna, Muhammed."
"Because of their recognition of humanity's fundamental oneness, there's a higher rate of interracial and intercultural marriages among Baha'is," he said.
Derik's parents are the perfect example: Magda, who served for many years as the director of the Humanities Council, is a Caucasian from Germany; Alan, a former commissioner of DPNR and magistrate of the Superior Court, is an African American from a small town in Michigan.
Derik followed their example of cross-cultural romance when he married Narmin Estefani, who was raised in Jordan and Iran before her family migrated to Australia. They now have three children, sons Badi, 18, and Shiraz, 12, and daughter Bahiyyih, 9.
The fact that Narmin's first language is Arabic and her second is Farsi made it easy for the family to move to Dubai in 2005. Although he speaks a little Arabic, Derik taught literature in English at Zayed University, which was a women's university at that time.
The family has been living in Albany, New York, for the last five years. Narmin, a hairstylist by training, uses her language skills to work with The U.S. Committee for Refugees and Immigrants. Many of her clients have been through traumatic experiences and need help to become integrated in American life.
Working for the good of the community is an inherent part of Derik's work as well, especially with undergraduate students. He has found that his methodology has been evolving to become more community-based. He challenges his literature students to work collaboratively and develop ways to share their creative responses to African American literature in schools, libraries, and other community institutions.
"Many of my students are not just writing papers and taking tests. I want them to figure out how they can work in communities and focus on the interrelatedness of all people," he said. "What is the point of developing scholarly knowledge if it doesn't trickle down and impact everyday people?" he asked.
As part of his commitment to working in the community, Derik has also taught in several New York state prisons for the last four years.
What he found most surprising about teaching in prisons is the "vitality of life within prison," he said. "There's humor, vibrancy, human compassion and camaraderie, right alongside danger, guardedness, and isolation."
He's also been surprised by the "talent and potentiality" in some of his classes. "The people are so engaged and focused."
While he seeks ways to show the power of literature to impact ordinary lives, he also maintains a level of professional scholarship.
Derik's forthcoming book, "Robert Hayden in Verse," is a complete revision of his doctoral dissertation and is written for a scholarly audience.
"It's not a biography," he said. "It's more a cultural analysis that looks at the way Hayden's poetry reflects the development of African American culture during and after his life."
The book is scheduled for publication at the end of the year by the University of Michigan Press. The University of Michigan is where Derik did his undergraduate work, where his father earned his law degree, where his mother earned her bachelor's and master's degrees, and where Robert Hayden taught in his final years.