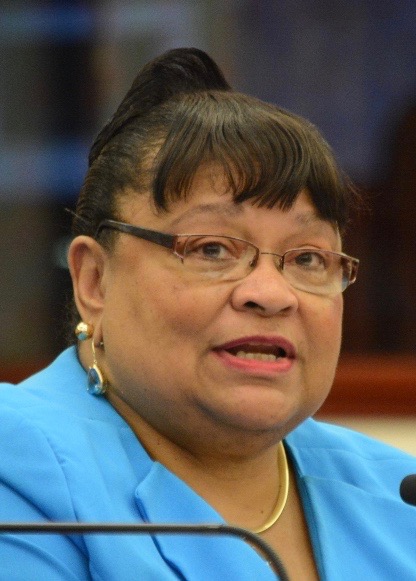 Cutting Education Department funding to help reduce the territory's budget deficit would be difficult because most local funding goes straight to salaries, Education Commissioner Sharon McCollum told senators during an oversight hearing Thursday. The exchange highlights the difficulty in cutting government budgets as the territory grapples with credit downgrades and a structural deficit of $130-$170 million per year.
On Tuesday, as the Finance Committee approved revenue increasing measures affecting tobacco, alcohol, sodas, timeshares and property taxes, business leaders urged the government to try hard to also cut the government budget.
"It is not possible that the private sector today can replace the $100 million a year the refinery was generating," St. Thomas attorney George Dudley said during Tuesday's Finance Committee hearing.
"At some point this government has to think about how to restructure. … At some point we need to acknowledge we can't afford the government we have," Dudley said.
Other business leaders were sharper in their criticism of government spending.
But while cuts to government in the abstract may be attractive, the public schools are by far the largest single local government expense, at $167 million in local funding this year. Next in order of cost are the Police Department; Human Services; partial payment for mandated care from the territory's public hospitals; the courts and the prison — most of which are already underfunded.
Sen. Janette Millin Young broached the subject during Thursday's hearing of the Education, Youth and Recreation Committee, saying that "in light of the current fiscal crisis," she felt it is "important to ask every agency what they might be able to cut."
"We have already cut almost $6 million from our budget. … We are already under extreme hardship," McCollum said.
Cuts would mean layoffs, she said.
"The bulk of our local funding goes to salaries so we would be cutting personnel and we already have extreme (personnel) shortages," she said.
Anthony Thomas, her chief of staff, said the Education Department has 98 school vacancies in core and hard to fill positions, including English as a Second Language, science, art, foreign languages and school nurses. Difficulty filling these positions has been a vexing issue for the department for years. (See related links below)
St. Croix Federation of Teachers President Avery Williams also said his union strongly opposed cuts to pay levels. The average starting salary for a V.I. public school teacher is $34,000, officials said at another point. Salary data disclosed in previous years indicates teacher salaries start at the lower level and top out around $74,000 for difficult to fill, highly-qualified positions where the teacher has a lot of seniority.
The school system needs between $70 million and $90 million for deferred maintenance, officials said. Union leaders said school buildings were in poor condition, with mold, broken doors and too many rooms without working air conditioning. School officials partially disputed the condition of the schools, highlighting extensive work that had been done. But both agreed there was a need for much more funding.
Cutting might mean getting rid of school buses and making parents bring their children, McCollum suggested.
"We can't cut utilities. We can't cut back on food," McCollum said. It would be hard to cut back on transportation, but "it's a possibility," she said.
"I'm just throwing this out there on the top of my head. Parents may have to start transporting their own children … and start carpooling, because we spend a lot of money on transportation," she said.
At the closing of the hearing, McCollum said increasing salaries would be a big benefit that would help reduce teacher shortages.
"We unfortunately have a very limited amount of funds. But I firmly believe in terms of teacher retention and attracting the best and the brightest, we have to give competitive salaries," McCollum said.
Committee members present at the oversight hearing were Sens. Jean Forde, Novelle Francis, Myron Jackson, Neville James, Tregenza Roach, Brian Smith and Kurt Vialet. Noncommittee member Sen. Janette Millin Young was also present.