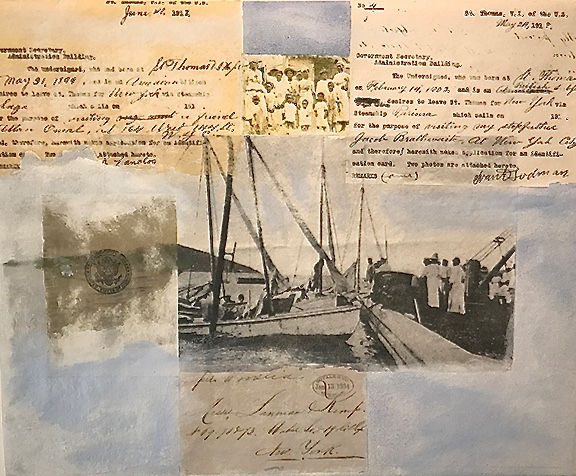 Exploring themes of migration and journey, Virgin Islands artist Janet Cook-Rutnik's multimedia show marking the centennial of the territory's transfer from Denmark to the United States opens Thursday at the sevenminusseven gallery on St. Thomas.
Entitled "He Art-i-facts," the show reflects on how the lives of Virgin Islanders past and present have been affected by the transfer of possession while also engaging viewers to participate in the commemoration.
Featuring more than 25 pieces that span the mediums of video, photography, assemblage and installation, Cook-Rutnik's pieces cover post-colonial to present times, incorporating historical symbols and artifacts to raise questions about what Transfer Day means to Virgin Islanders today.
"I propose questions with my work and the viewer can decide what they think and how they wish to reconnect with this history, which really isn't ancient, since many people have heard first accounts from their grandparents," Cook-Rutnik said.
Cook-Rutnik continued, "How do we reflect on this history and what does it mean to people?"
Tracking down many of the seldom seen historical photographs featured in her works took some digging. The Travel ID papers that feature portraits of Virgin Islanders were gathered from U.S. government archives in Maryland.
"My collaborators found these photos in a dusty little box in College Park," Cook-Rutnik explained.
She added that Denmark has more historical artifacts from the Virgin Islands in its archives that it would like to give to the territory, but its waiting for there to be a suitable place like a museum for them to be housed in first.
In Cook-Rutnik's "House of Dreams" series, historical and original photographs were transferred onto recovered wood that represents the disappearing homes that were built by hardworking members of the Virgin Islands' middle class following Transfer Day.
"These small, hand-built, vernacular houses that once dotted the landscape were the 'House of Dreams' for those who held on and forged a future out of the rubble of abandonment and neglect of the post colonial years," Cook-Rutnik explained in her artist statement.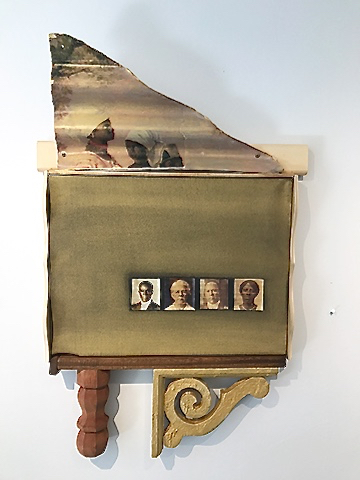 Looking toward the future, the show also features a piece on contemporary life called "Summer Solstice" that shows photos of young Virgin Islanders interacting with one another at the beach. The scene is a stark contrast from the pristine, uninhabited beaches that are commonly marketed in promotional photos and postcards.
Cook-Rutnik, a New York native who said she's lived on St. John since Neil Armstrong walked on the moon in 1969, has exhibited her work throughout the U.S. and Caribbean over her decades-long career.
"I'm excited to present a major body of work in a setting that is focused solely on the art," Cook-Rutnik said, adding. "sevenminusseven is really an alternative space in that sense."
The show features more than 25 works, many of which have multiple pieces within them, and will be on display until Feb. 28. After the opening event on Thursday, viewings will be by appointment only. Arrangements can be made by calling Clay Jones at 340-643-2260.
The show has been funded in part by the Virgin Islands Council on the Arts and the National Endowment for the Arts. More of Cook-Rutnik's work is online at www.cookrutnikART.vi.
Directions to sevenminusseven: From downtown Charlotte Amalie, head towards the airport and the University of the Virgin Islands. Stay straight and after passing the turnoff for the airport you will pass Community Motors on the right, make a right turn at the signs for Caribbean Battery and Broadband VI. Make another right turn after Boyne's Gas into a warehouse complex. Make an immediate left turn after Cyclone Fencing and Le Bleu. The exhibit is in the last warehouse bay.