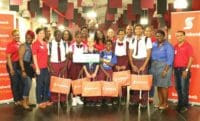 Scotiabank International has invested $2,000,000 in Junior Achievement's (JA) project Road to Success. JA is one of the largest NGOs (non-governmental organizations) in the world devoted to inspiring and preparing youth to be successful in today's global economy.
"One of our priorities is to support the ongoing improvement of the communities where we live and work. We are very proud to help JA offer financial literacy and social development programs to support young people with the tools and skills they need to be successful in the future," said Denis Vaz, country head, Scotiabank U.S. Caribbean.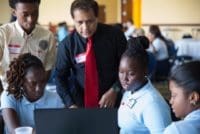 "Our biggest opportunity is to help youth discover their goals and guide them to reach success. Road to Success will allow us to do that by using innovative technologies to transform education," said Leo Martellotto, president of JA Americas.
Road to Success provides young people with the necessary tools and hands-on, in-class workshops to help them succeed in life and face economic challenges. The program's objective is to raise awareness among youth about the importance of managing their finances and have clear professional goals, interests and values.
The funding provided by Scotiabank supported the following three phases:
New version: Economics for Success 2.0 – During this phase, the existing content was digitalized to offer printed and electronic resources to participants.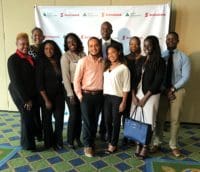 New activities to complete Road to Success – Innovation Camps
JA has introduced a new activity: Innovation Camps. These one-day camps are an intensive experience that engages students with entrepreneurial and collaborative learning opportunities. The students were divided into teams and were presented with the same challenge to find a creative and innovative business solution that will benefit others in society.
National and Regional Innovation Camp Contests
After the initial Innovation Camp, a Scotiabank volunteer jury will choose the winners of the national competition, who will then compete against their peers in a regional competition.
The Road to Success program was implemented in the following countries:
Chile, Colombia, Mexico, Peru, Uruguay, Costa Rica, Panama, El Salvador, The Caribbean, Bahamas, Jamaica, Trinidad and Tobago, Puerto Rico, U.S. Virgin Islands, Dominican Republic and Dominica.
In the U.S. Virgin Islands, the six-week course was taught by Scotiabank and community volunteers in classrooms at Addelita Cancryn Jr. High School on St. Thomas and John H. Woodson Jr. High School on St. Croix.
Road to Success will have a long-term impact on the future lives of 50,000 students between the ages of 16 and 20.