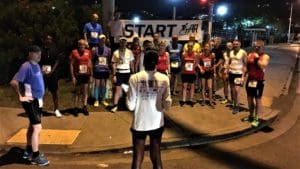 On Sunday, March 5, 54 runners toed the line at Mandela Circle for the first Denmark–Virgin Islands Marathon that was offered as a contribution from a group of veteran Danish runners to the Centennial Anniversary of the transfer of the V.I. from Danish to U.S. rule.
Beginning at 5 a.m., three races were contested: the full marathon (42K or 26.2 miles), half-marathon (21K or 13.1 miles and 10K or 6.21 miles). Runners ranged in age from 6 to 69, and the squad of 40 Danish runners was joined by 14 locals.
Danish runners dominated the full marathon with Torber Jensen taking the men's race in 3:41:50 and Anna Søndergaard Pedersen leading the women in 4:36:13. Locals led the half marathon with St Thomas Association of Roadrunners (STAR) regular Steven Laplace emerging as top male in 1:58:37 and Buzing Geizer victorious among the women in 2:08:07. Male and female St. Johnians owned the 10K. Matthew Crafts was overall winner in 40:36 while Mary Vargo's 44:45 was almost 10 minutes ahead of the next finisher.
In addition to these winners, a few other individuals merit attention. At one extreme 69-year-old Danish runner Mogens Søndergaard Nielsen held off a good field to finish second overall in the half marathon while, at six years of age, Alyson Monsanto became one of the youngest runners to have contested a 6.2-mile course in the Virgin Islands. Teenagers Kasim Upchurch and Lilliana Martinez ran well enough among the veterans to earn medals in the 10K.
The next leg of the Denmark-Virgin Islands marathon series will take place in Coral Bay, St. John, on Thursday, March 9. Registration will remain open on St. John until 5 a.m. that morning, but runners requiring transportation from St. Thomas must register by noon on Wednesday.
A special ferry with limited capacity will depart at 3:45 a.m. to take both visiting Danish runners and their St. Thomian counterparts to St. John.
Start and finish for the three events (marathon, half-marathon and 10K) will occur near the Fortsberg Bus Stop. The course will remain centered on the flat lands of Coral Bay. As was the case for the St. Thomas edition, each participant will receive a commemorative medal and special T-shirt. Plaques will be awarded five-deep to female and male victors.
For more information, contact Roy Watlington at 777-8183 or by e-mail: rawatlington@earthlink.net.
The final and culminating day of this three-island event, officially recognized by the V.I. Transfer Centennial Commission, will be March 12. The Danish visitors invites local runners to run with them over the same three distances. Start and finish will be at Fort Christiansvaern in Christiansted, St. Croix. Questions can be directed to: wallacewilliams@msn.com
The Virgin Islands Pace is the overall organizer of the Denmark–VI Transfer Marathon and provides details and maps for all events on its Web page: http://virginislandspace.org/transfermarathon.html
Complete results:
The Denmark/Virgin Islands Transfer Marathon – St. Thomas Participants – (Male/Female) — TIME
Torben Jensen (M) 3:41:50
Martin Thomsen (M) 3:44:24
Jens Søndergaard Pedersen M 3:55:10
Mark Pippen M 4:13:31
Kim Smitt M 4:19:41
Benny Bull M 4:27:47
Lars Vilhelmsen M 4:35:55
Anna Søndergaard Pedersen F 4:36:13
Michael Nilsson M 4:38:44
Bjarne Jensen M 4:40:06
Karin Erickson F 4:40:46
Lars Troelsen M 4:40:47
Peter Simonsen M 4:54:13
Lars Simonsen M 5:08:08
Jan Kjærsgaard M 5:18:59
Per Hjorth M 5:19:01
Anne-Marie Lyngbye F 5:30:05
Søren Andersen M 5:31:51
Mikael Schmidt Lassen F 5:45:30
Jeppe Søndergaard M 6:38:12
Deion Pruitt M 6:42:43
The Denmark/Virgin Islands Transfer Marathon – St. Thomas Participants – (Male/Female) — TIME
Steven Laplace M 1:58:37
Bozuayeu Geizer F 2:08:27
Sofie Lund Petersen F 2:11:01
Birgitte Sørensen F 2:19:26
Mogens Søndergaard Nielsen M 2:21:28
Kirsten Toft Nielsen F 2:21:37
Tommy Jensen F 2:24:46
Birgitte Rojek F 2:29:19
Solveig Nørup F 2:32:40
Steen Jensen M 2:32:41
Pia Festersen F 2:59:28
Anne Grete Jacobsen F 3:02:32
Holger Jacobsen M 3:15:39
Tanja Thomsen F 2:55:16
Monique Simon F 2:55:17
The Denmark/Virgin Islands Transfer Marathon – St. Thomas Participants (Male/Female) TIME
Matthew Craft (M) 0:40:36
Nicholas Madison Van Heurck (M) 0:42:37
Mary Vargo F 0:44:45
Kasim Upchurch M 0:54:15
Lilliana Martinez F 0:55:41
Morane Spruyt F 0:59:12
Meredith Walling F 1:02:57
Eduardo Carmona M 1:05:58
Ensor Colon M 1:06:08
Lisbeth Bach Sørensen F 1:07:25
Jonna Andersen F 1:22:07
Alyson Monsanto F 1:34:09
Jocelyn Monsanto F 1:50:43
Karin Birgith Hougaard Grøn F 1:51:37
Niels Christian Grøn M 1:51:38
Martin Grøn M 1:57:42