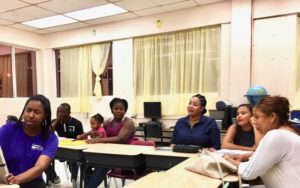 At the sound of footsteps approaching up the stairs, Nyiesha Smalls gets up from the desk in a classroom at the Julius E. Sprauve School and goes to the door to greet whoever comes.
On this Tuesday night on St. John, it is a quiet, small-framed man from Haiti who enters first. He is one of two people from Haiti and six people (including one small child) from the Dominican Republic who have been able to put aside other demands and make education a priority this evening.
They've come to practice their English-speaking skills in a program that meets twice a week from October through April. It's funded by a federal grant through the 21st Century Community Learning Centers program, which also funds the afterschool program at the Julius E. Sprauve School, St. John's only public school.
The evening program for adults is a natural extension of the afterschool program for youth. "We try to focus on parents who have children in the program so they can better help their children and assimilate in the community," said Yvonne Wells, program director for Sprauve's 21st Century grant.
The populations of immigrants from the Dominican Republic and from Haiti are growing on St. John; it's difficult to determine by how much, but the growth is reflected in the number of English language learners enrolled in the school.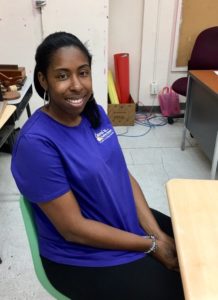 Of the 285 children enrolled in grades K-8 at Sprauve School, 70 are English language learners, according to Sprauve Principal Marion Lynch-Esannason. That's close to one-quarter of the school's population.
The youth English language learners at Sprauve have the opportunity to get extra help after school as a group. "But when they go home, they don't have the support [of English speaking parents.] That's why we need to offer the program for parents, to maximize all their potential," said Wells.
But funding for this program is in question. "The federal grants office has indicated it has funding for 75 percent of the fourth year," said Wells. "It was originally intended for only three years. For the program to continue, we will have to work with the St. John Community Foundation to see if we can obtain additional funds and assist in getting the proposal to the federal office," she said.
No one wants to program to die off, especially the adults who come to Nyiesha Small's class. In fact, they would like to see the program expand to "mas dias (more days) – three days is better," according to one student.
"I want it for my baby coming in five months," says another woman as she puts her hands on her rounded stomach. "I want my baby to speak two languages. I can help my baby when I go to school."
The adults who attend class are at all levels of proficiency in English, says Smalls, "and that makes it kind of crazy." In the past, the Virgin Islands Department of Education also provided funding for adult English language learners, and Smalls was able to split the classes into two levels over four nights a week. On some nights, more 30 than adults attended class.
Because of the limited funding, the adults who attend now have to buy their own books but they're exempted from the $30 registration fee. "The class for adults is free because we're trying to get parental involvement," said Wells.
To make sure she meets the needs of all of her students, including the absolute beginners, Smalls starts class with a review of the alphabet from "apple" to "zipper" before moving on to practice everyday conversation.
"I basically go through the lessons in the book but I teach to their needs, which are to assist their kids and develop vocabulary for their jobs. I have a lot of housecleaners; they need to know the word 'mop' and phrases used for time sheets."
Smalls' clearly good intentions help quell the fears of those who are shy about participating. "Some would rather listen to others, especially the new learners. They don't know how to pronounce the words and they don't want to sound funny but, over time, they participate," said Smalls.
Smalls, who grew up on St. John, has years of experience in teaching English as a Second Language and Spanish.
After graduating from Ivanna Eudora Kean High School in 2002, she went on to earn her B.A. in Spanish with a minor in education from Florida A&M University and taught Spanish for two years. In 2008 she took a job as an ESL instructor at Prince George County Community College in Maryland.
Smalls was home on St. John over Christmas break in 2008 when she decided to visit her former teachers at Sprauve. "I saw my old Spanish teacher, Ms. Carolyn Hodge, and she told me she was retiring in August," Smalls said. "Mr. Francis, the principal, told me they'd have a position for me if I wanted to come home."
That was an offer she couldn't refuse. "Ms. Hodge had been there for 30 years. I figured the opportunity wouldn't come again," she said with a smile.
In August 2009, Smalls took a full-time job teaching Spanish during the day at Sprauve, and then began teaching English as Second Language to adults in the evenings.
But about a year ago, Smalls made a hard decision. As a single mother struggling to support her young daughter, she realized she needed to quit her full-time day job with the Department of Education.
"I couldn't pay my rent on the salary. I had to teach coach, and do after-school, part-time jobs just to feel comfortable," she said. She took a full-time job with a villa management company instead and fulfills her passion for teaching by continuing with the evening adult program at JESS.
Unfortunately because she is no longer on staff at Sprauve, Smalls no longer has access to the school's Promethean boards and computers. She carries a box containing white boards, flash cards and other materials upstairs to another teacher's classroom each night.
The lack of high-tech tools doesn't seem to bother the students. They're too busy making eye contact, shaking hands and practicing phrases like, "How do you spell your name?" and "Could you write it for me?"