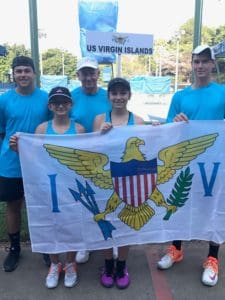 The 2017 Junior Davis Cup and Junior Fed Cup just ended in San Salvador, El Salvador, and once again Virgin Islands boys made a strong showing. The Virgin Islands Tennis Association (VITA) sent a team of two boys, Alec Kuipers and Russell Armstrong of St. Croix, to represent the U.S.V.I. in the prestigious Junior Davis Cup tennis tournament. Kuipers and Armstrong are familiar names in the tennis community, having represented the V.I. well in these junior tennis events year after year. This was the last year of eligibility for this event.
Also, for the first time this year, the V.I. sent two girls to the Junior Fed Cup, St. Thomians Natasha and Lisa Messier. "It has been an exciting process to see a group of girls rise up to be ready to compete on this international level," said Bill McComb, president of the VITA. Colin Robertson from St. Croix was the team's captain.
There were 18 Caribbean and Central American nations represented in the boys' division and 15 in the girls' division.
The teams played a round-robin format for the first three days of the tournament. Armstrong and Kuipers moved into the final eight positions, fighting hard in their first group against Costa Rica and Guyana. Despite losing overall to Costa Rica, Kuipers pulled off a strong singles win against their No. 1 player; later both had excellent scores against Guyana, winning both singles and doubles handily, earning them a position in the final main draw.
They lost to their next opponent, El Salvador, won against Barbados, lost to the Dominican Republic, and ended up in 6th position overall out of 18 teams.
The girls team is considered a younger team, being eligible to compete next year as well. Lisa Messier played the number one position and her sister, Natasha No. 2. Lisa and Natasha compete primarily in the Southern Section of the USTA, and Lisa is highly ranked nationally in the U.S. in her age division. The girls lost to Aruba but posted strong scores, and they lost to Bahamas and El Salvador.
They then played for 9-15th place, winning an exciting match against Panama, posting a deciding win in doubles in a tiebreaker, then losing to the strong team from Jamaica. But they played very bravely, winning the final match in a re-match against Aruba to finish 11th overall.
Coach Robertson is a very professional addition to the tennis community of the V.I., having retired from a career in tennis as the owner and developer of a club and facility in Oklahoma. He was a college coach, a USPTA certifier (Pro 1 status), and he has an impressive record as a player, having played in the Australian Open and Wimbledon. But he continues to be active in the sport.
He has re-instated his teaching credentials to help certify the V.I. coaches to higher professional levels. Robertson commented on the event, "Once again it was a privilege for me to accompany and coach such a fine group of young adults, and their parents should be [as] proud of them as I was. Every one of our players knew how to act and showed the proper respect to opponents, officials and coaches. I am grateful for being able to have such a great group to work with."
The tournament is organized by the ITF (International Tennis Federation) and is the pre-qualifying, six-day, round robin event for Central America and the Caribbean. They V.I. team competed against nations that included Panama, Dominican Republic, Guatemala, Honduras, Aruba, Barbados, Costa Rica, Curacao, El Salvador, Jamaica, Nicaragua, Puerto Rico, Bermuda, Grenada, Guyana, Trinidad and Tobago, and Bahamas. The team was sponsored in part by the VI Olympic Committee.
The boys and girls were chosen based on their competitive rankings achieved by competing in ITF and USTA sanctioned tournaments, their Universal Tennis Ratings (UTR) and, in some cases, a play-off/round robin for the final positions.
The V.I. Tennis Association is a non-profit organization and is administered by volunteers to further the sport of tennis in the U.S. Virgin Islands. It has a new facebook page: Virgin Islands Tennis Association, and it welcomes those interested in following tennis to "like" the page.
For more information, contact Bill McComb, president of the VI Tennis Assoc., at 690-0308.