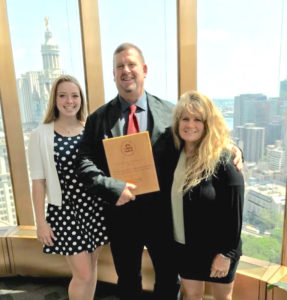 Frank Cummings, lionfish destroyer extraordinaire, traveled to New York City accompanied by his wife and daughter to receive an award from the Environmental Protection Agency.
Cummings has been honored as an Environmental Champion, the highest recognition presented to the public by EPA Region 2, for his pioneering work in lionfish eradication with the Caribbean Oceanic Restoration & Education Foundation (CORE).
In keeping with his low profile, Cummings was tempted to skip the May 19 awards ceremony.
"I don't want to be in the limelight. I was happy for them to send me the award in the mail, but people wanted me to go," he said. "It's really CORE that deserves this award."
When word of his award got out, VI CORE Foundation and community members chipped in almost $1,500 to pay for his travel expenses. The Cummings stayed with St. John residents Ed Oldfield and Gail Karlsson in their apartment just minutes away from the EPA offices in Lower Manhattan.
The award comes on the heels of another prestigious award – this one for the Cummings' family business, VI SNUBA Excursions. SNUBA equipment allows snorkelers to remain under water while breathing through a tube connected to a floating dive tank. The Cummings were selected to be Operator of the Year from among the 79 SNUBA outlets.
Frank and his wife Tammy have been teaching SNUBA on St. Thomas and St. John for 29 years, averaging about 1,000 customers per year. Their daughter, Kaitlyn, now a sophomore at Florida Gulf Coast University, began learning the family business by floating along with the dive tank raft when she was three years old.
It was SNUBA that led to Frank's involvement with CORE. He saw his first lionfish off the rocks between Trunk Bay and Jumbie Bay, where he usually leads visitors on SNUBA Excursions.
Knowing that the local fish were unaccustomed to seeing lionfish and would be especially vulnerable to their predation, Cummings figured his livelihood was in serious jeopardy.
"I don't like killing things," he admitted, but he enlisted with CORE and has taken on more responsibilities each year.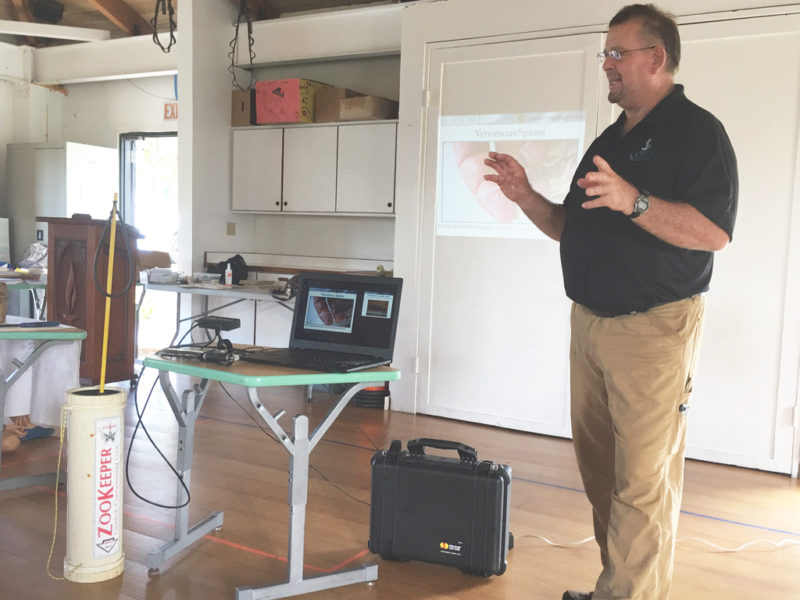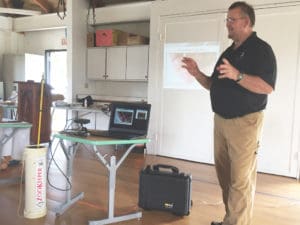 Now as education outreach director with CORE, Cummings runs monthly trainings to certify snorkelers and divers to carry the special three-pronged spears used by lionfish hunters. He also develops strategies for combating the influx of lionfish that has besieged St. John since 2011.
At a recent meeting of the Unitarian Universalists on St. John, Cummings presented the latest findings from lionfish researchers, and he has some scary news: Lionfish, "by far the most aggressive and invasive fish on the planet," are way smarter than we think; they hunt in packs.
Cummings has seen them gather in a semi-circle, fluff out their fins, and corral a group of small, unsuspecting fish. When their prey are all herded together, the lionfish make their move and suck them down in a wink.
They've also learned to ambush fish at "cleaning stations," where mid-size reef fish go daily to have smaller fish remove parasites by swimming in and out among their gills. Lionfish apparently have no respect for reef protocol, which dictates sanctuary for the smaller fish; the lionfish show up and gobble up all the little ones.
One lionfish that was caught had 18 baby grunts in its stomach.
Fortunately, humans are smart, too, and have better technology. Cummings and his colleagues have come to recognize the type of habitats lionfish prefer by looking at pictures of underwater landscapes generated by satellite technology, and they now monitor these "hotspots." Lionfish favor clefts in rocks or coral between two taller spires, so CORE volunteers have been patrolling sites that fit this profile.
Lionfish hunters often find lionfish living in groups in these clefts or hanging under ledges. When they do, they aim their spears to kill. Once a fish has been speared, the diver uses a long knife to pierce the swim bladder, so the fish won't float away and wash up on a beach somewhere to be picked up by an unsuspecting child.
The long knife is a safety precaution. Cummings learned the hard way that a short knife puts the hunter's hand too close to the 18 venomous spines that the lionfish use to kill their prey.
"I can tell you it hurts," he said.
Research shows that lionfish reach breeding size in about 14 months, so Cummings said teams of CORE divers try to get to the lionfish hotspots every six months to take out the fish before they mature.
It's an endless battle. Lionfish started populating the Caribbean when four breeding pairs got loose from Florida during 1994's Hurricane Andrew. They can produce 30,000 eggs every four days – that's two million a year. They can store fat and travel long distances without feeding. They float in currents to the South Drop off St. John and stay at depths far deeper than divers can chase them.
When conditions are right, they float into the shallower bays on the south side of St. John. A CORE team destroyed 200 lionfish in Rendezvous Bay in one hunting trip two years ago.
But culling lionfish works, "if you're steadfast," said Cummings. The 250 trained and certified CORE lionfish hunters throughout the territory have had great success at keeping the lionfish population down.
Local divers and snorkelers on St. John regularly patrol the shoreline to hunt down lionfish, which left to their own devices will wipe out entire populations of Caribbean reef fish.
In the Indian and Pacific oceans – the lionfish's native habitat – local reef fish have learned to avoid them, and larger species such as sharks, snappers and groupers have learned how to consume lionfish head first to avoid being pricked by their spines. Caribbean fish have yet to learn these responses, so it's up to divers like Cummings to keep the reefs safe.
Further details about lionfish on St. John are online here.
CORE's mission goes beyond controlling the lionfish population. They're hoping to educate people about another very serious threat – the use of sunscreens with oxybenzone, a chemical which damages the DNA of coral.
"Don't buy sunscreen with oxybenzone," said Cummings. "There are other products with zinc, like Raw Elements, that don't damage the corals."
Hawaii is considering legislation that forbids the importation of any sunscreen containing oxybenzone, Cummings said.
Those interested can learn more about CORE by visiting the group's Facebook page.