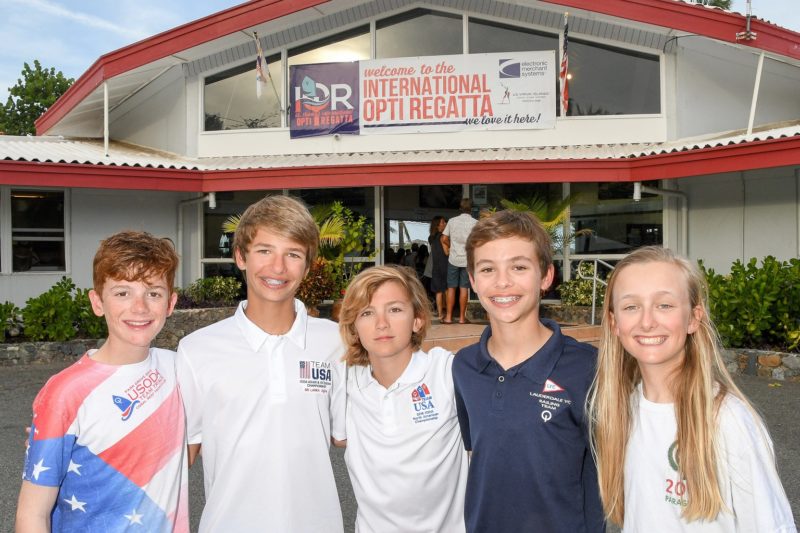 Staying focused, putting new start tactics into practice and accurately sizing up the shifty wind conditions are the kind of skills junior sailors on Team USA Worlds used to win the TOTE Maritime Team Racing Championships. The championships are one of a trio of events sailed this week out of the St. Thomas Yacht Club (STYC). They were prefaced by the three-day TOTE Maritime Clinic and followed by the 25th International Optimist Regatta (IOR), presented by Electronic Merchant Systems (EMS) Virgin Islands, Friday through Sunday.
Sixteen teams of five sailors each participated in the TOTE Maritime Team Race. In an extremely close race, the champion title came down to a best of three contest between Team USA Worlds and Team ISV 4. Team ISV 4 — composed of the V.I.'s Mia Nicolosi, Rayne Duff, Julian van den Driessche and Mathieu Dale — took the initial lead by winning the first race. Then Team USA Worlds — Mitchell Callahan, Justin Callahan, Charlie Leigh, Liam O'Keeffe and Stephan Baker — followed with a win to tie the score 1:1. An excellent start by Team USA Worlds in the third and final race proved key and enabled the team to achieve a second and title cinching win.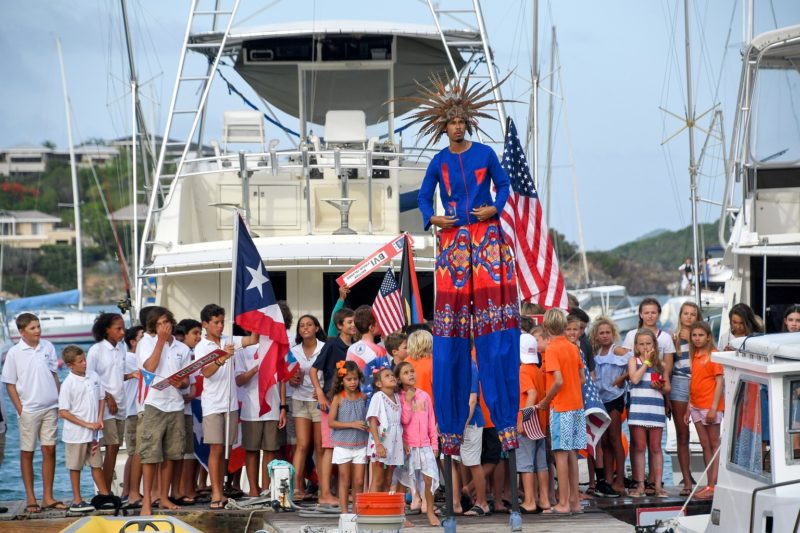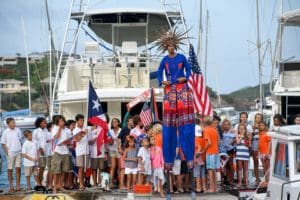 The TOTE Maritime Perpetual Trophy will be inscribed with the names of the Team USA Worlds sailors, who represent both the Lauderdale Yacht Club, in Fort Lauderdale, Fla., and the Coral Reef Yacht Club in Miami, Fla.
"Sure, we wanted to defend our title from last year," said 14-year-old O'Keefe, who, with fellow 14-year-old Baker, were members of the team that won the TOTE Maritime Team Racing Championships last year. "But more importantly was just to win."
Baker said, "We really wanted to bring it [the trophy] back, but since there were three of us that weren't on the team last year, we wanted to stay focused and see what worked since this is great training for team racing at the Worlds (Optimist World Championships) next month in Thailand."
For Justin Callahan, also age 14, and twin brother Mitchell it was all about gelling as a team for the future and reading the conditions correctly in the present. "We learned during the clinic that it can be shifty towards the shore. So, tactics and boat handling skills really helped, and that's what team racing is all about."
Starts were a skill honed during the TOTE Maritime Clinic that Mitchell Callahan found beneficial to today's team race win. "We tended to use one starting strategy 99 percent of the time. They [the coaches] made us come up with three others and that came in handy today, especially in the last race."
Finally, it was the tactics of team racing that Charlie Leigh enjoyed and excelled at. "Team racing is different than the fleet racing we'll be doing this weekend because you have to think and work together as a team. That's the fun part."
*******************************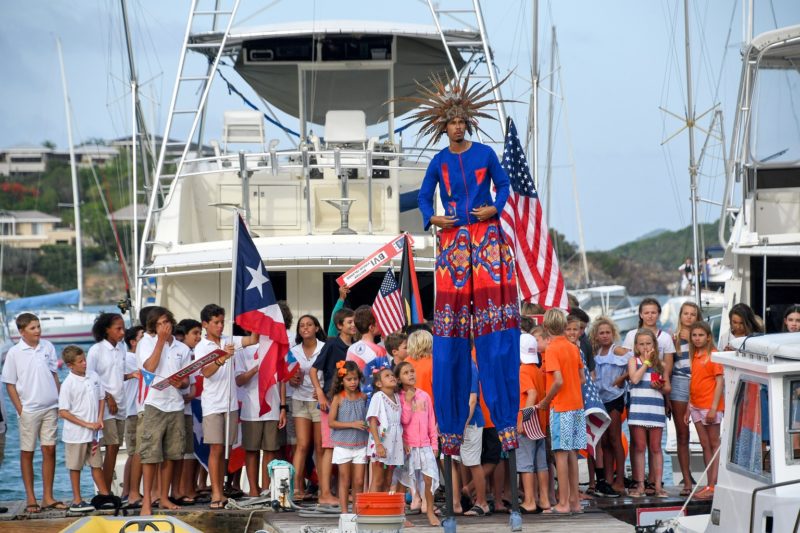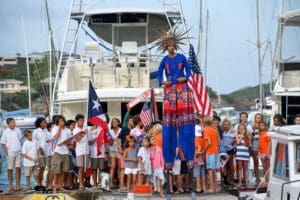 Some 91 8-to 15-year-old sailors, both beginning and advanced, representing five nations — U.S. Virgin Islands, British Virgin Islands, Puerto Rico, Antigua and U.S.A. — started off the week by training in the three-day TOTE Maritime Clinic held June 12-14. The clinic was run by top local and international coaches.
Puerto Rico's Arturo Diaz finished 14th overall in last year's 2016 International Optimist Regatta (IOR)/EMS; his goal this year is top 10. "It's supposed to be windy and I do well in big wind. I'm looking forward to the racing," said Diaz.
It was practicing starts on a line with many more boats than she's used to at her home California Yacht Club in Long Beach, Calif., that Katharine Doble believes will serve her well in this weekend's regatta. "We did a lot of starting drills on a bigger line than I'm used to and that really helped," Doble said.
Antigua's Maria Eldridge, who sailed in the 2016 IOR/EMS, is glad to be back. "We don't have as many other sailors to sail against as we do here or at bigger competitions like the North Americans. It's a whole different experience and I really enjoy it."
The 25th IOR/EMS gets underway Friday. The near-record 119 junior sailors are divided into a Green or (beginner) fleet with 24 sailors and an 86-member advanced fleet separated into age groups: White (age 10 and under), Blue (ages 11 and 12) and Red (ages 13 to 15). They are expected to complete more than a dozen races over the three days.
Breakaway Charters will have a boat available for spectating. The cost is $80 per person on Friday and Saturday and $40 per person on Sunday. Drinks and snacks provided. For information and reservations, call (800) 808-7604.
In addition to the hi-caliber racing, shoreside activities include tonight's Parade of Nations and Caribbean-themed Welcome Party and a beachside Father's Day BBQ Brunch and the Awards Ceremony scheduled for 3 p.m. on Sunday June 18.
Trophies will be awarded to the top five sailors in each fleet and top three overall. Additional trophies include the top female sailor, Peter Ives' Perpetual Trophy and the Chuck Fuller Sportsmanship Award.
In honor of the IOR/EMS's 25th anniversary, there will be a raffle, which includes a $300 certificate from Colie Sails towards the purchase of a new Olympic Sail and a set of Black/Gold Spars donated by McLaughlin Boat Works.
"EMS Virgin Islands is pleased to sponsor the IOR for a second year," says Cobia Fagan, owner, EMS Virgin Islands. "This regatta is a great way to showcase our local young sailors and gives us the opportunity to host sailors from many other countries. Our hope is to get more youth involved in the sport on a local level and foster their love for sailing and the water."
The IOR/EMS and TOTE Maritime Clinic and Team Race, hosted by the Virgin Islands Sailing Association and sanctioned by the Caribbean Sailing Association, are also sponsored by the U.S. Virgin Islands Department of Tourism as well as K3, which is providing all sailors with 5-liter dry bags.
For more information, call 775-6320; e-mail: internationaloptiregatta@gmail.com, or visit the St. Thomas Yacht Club Web site at www.styc.club or www.regattanetwork.com for full results.