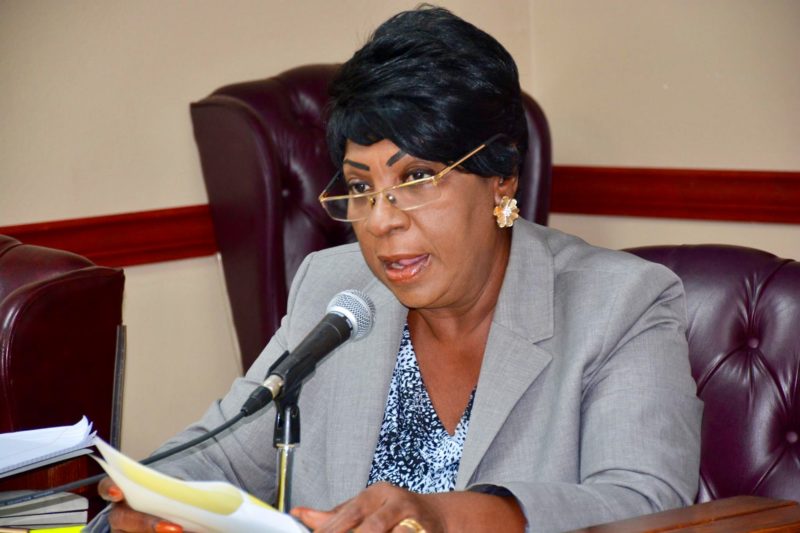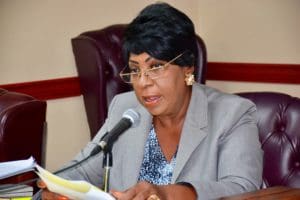 A bill aiming to clarify the territory's existing noise pollution laws, and make penalties easier to enforce, cleared the 32nd Legislature's Committee on Government Affairs, Veterans, Energy and Environmental Protection on Wednesday.
The territory's current laws on noise disturbance were passed in 2007 by the 27th Legislature, but the V.I. Police Department has consistently said those laws are hard to enforce, in part because their wording makes violations difficult to prove in court.
Due to the frequency of noise complaints received by the VIPD, as well as other government entities, the issue has re-emerged in every subsequent legislature since the original Noise Pollution Control Act was passed.
The 32nd Legislature's Bill (Bill 32-0011) was sponsored by Sen. Novelle Francis Jr., who similarly championed the issue of noise pollution control in the 31st Legislature. A former police commissioner, Francis said he has seen firsthand how often police must respond to noise-related calls. These include instances, he said, in which individuals, tired of a perceived lack of enforcement, take matters into their own hands by threatening noisy neighbors or establishments with violence.
Francis said he believes everyone in the community is looking for balance on what has proven to be a vexing issue, one that frequently leads to debates about enforceability, as well as about cultural differences among residents of the Virgin Islands.
Sen. Alicia "Chucky" Hansen, for instance, was the lone member of the committee who voted against moving the bill forward, stating that she would not support any regulations that might discourage traditional V.I. "beach jams," at which loud music is sometimes played. Although some testimony was offered Wednesday suggesting that hotel guests in Frederiksted were occasionally bothered by loud music played on the beach near their rooms, it was not clear the bill intended to, or had the power to, ban people from having parties there, as Hansen suggested.
Hansen has in the past taken the position that there should be broad exemptions from noise pollution laws in the V.I. for reasons of culture. In 2012, she was successful in getting a bill passed that made weekends and various holidays exempt from the Noise Pollution Control Act. Francis's bill gets rid of many of those exemptions.
"This is not an anti-business, anti-music, anti-entertainment, or anti-culture bill. It's a quality of life issue bill and a quality of commerce bill," Francis said.
He added that many of the things the bill seeks to regulate cannot, in his view, be defended under the banner of culture.
"Blasting music to a deafening level is not culture," he said.
The bill does set sound standards for noise or music emanating from business establishments, permitting varying decibels on weekdays and weekends. It also sets decibel levels for all types of motor vehicles, including music emanating from them.
The area of most agreement among senators and testifiers was that loud car stereos, especially those with speakers faced outwards, need to be better regulated. Even Hansen, and Senator-at-Large Brian Smith, a non-committee-member who was critical of the bill, said they were fully in support of increased enforcement of car sound systems playing over a certain decibel level.
Smith attended the hearing partly to advocate for decreasing the amount of distance allowed between unenclosed bars and churches, schools, and residences. He said such regulation stifles commerce in a small, densely-populated community such as Cruz Bay. Francis's bill, however, actually lowers the mandated distance to 100 ft. from current noise pollution law, which sets the distance at 500 ft.
Testimony on the bill mostly came from stakeholders on St. Croix, where Wednesday's hearing was held. Three business owners, all located in Frederiksted, said noise disturbances in the town affects their ability to do business there.
Christopher Swanson, the owner of a company that specializes in the adaptive reuse and restoration of historical properties, said the buildings his company has renovated in Frederiksted have kept traditional jalousie windows that do not block out sound during nighttime hours, causing problems for guests and renters.
"We know that as far as developers go, the first thing a town needs in order to revitalize is density. We need people to live in the town and want to live in the town," Swanson said.
Kathryn Alexander-Tiddark and Chris Richardson, both owners of businesses that rent hotel rooms and vacation properties in Frederiksted, said they frequently receive complaints from their guests about late-night loud music from bars and passing car stereos.
Mark Coneiro, St. Croix deputy police chief, confirmed that the VIPD receives noise complaints "on a constant basis." He said that police do respond to those complaints, but since penalties are so seldom enforceable, violators often fix the problem only temporarily. He said the police do not have a functional citation policy or tickets for noise disturbance cases.
One way that Francis's bill aims to help is by giving enforcement capabilities to the Department of Licensing and Consumer Affairs and the Department of Health, in addition to the VIPD.
DLCA Commissioner Devin Carrington said he supported the move to give his department more enforcement powers over noise pollution via fines and removal of licenses, saying it would "make more eyes and ears available for complainants."
Carrington said, however, that the DLCA should only be tasked with enforcing the law when it comes to its own licensees, which was not specified in the bill. Carrington added that currently his department only has enough enforcement officers to cover daylight hours, while 35 percent of its licensees operate at night, when most noise complaints are made.
The Department of Health expressed more skepticism about their ability to help enforce noise pollution laws. In testimony delivered by audiologist Dr. Wincess Gentius, Health Commissioner Michelle Davis said that the bill is "a step in the right direction," but it doesn't do enough to clarify matters of jurisdiction among its three enforcing entities.
"This legislation loosely mentions an allocation of funds from fines but does not specify how much each identified agency would receive," said Davis. "In order to fully analyze the feasibility of the Department of Health's role, we would also need a funding source to carry out the mandates set forth."
Voting to forward the bill to the Committee on Rules and Judiciary for further consideration Wednesday were Sens. Marvin Blyden, Nereida Rivera-O'Reilly, Jean Forde, and Sammuel Sanes.
Voting no was Hansen. Sen. Janette Millin Young abstained and Sen. Tregenza Roach was excused from the hearing.
Testifiers also included Christiansted Community Alliance representative Douglas Canton and president of the Frederiksted Economic Development Association Melody Rames.