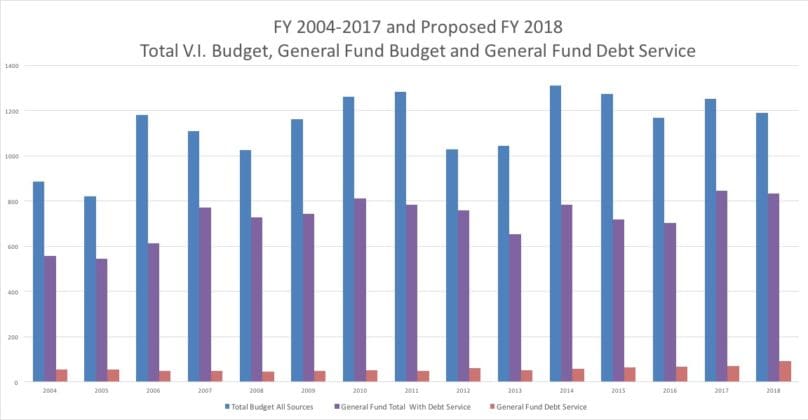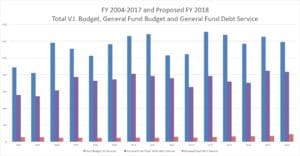 Gov. Kenneth Mapp submitted his Fiscal Year 2018 budget Friday afternoon as projected earlier in the week, and as expected it is smaller than last year's budget proposal and ultimate appropriations.
It projects $833.9 million in local General Fund spending for all executive branch agencies, the Legislature, courts and semi-autonomous entities like the University of the Virgin Islands and public television.
The budget was seven weeks past the May 31 statutory deadline due to the territory's ongoing budget crisis and uncertainty over revenues. Budget hearings before the Senate Finance Committee start Wednesday.
"These spending cuts, increased collections and revenue enhancement measures will keep the Virgin Islands Government operating without borrowing to cover operating expenses and put the Territory on a path to long term fiscal stability," Mapp said in a statement accompanying the budget.
Mapp said the General Fund budget expenditures of $833.9 million General Fund will cut Executive Branch spending by $67.7 million or 9.3 percent from FY 2017 appropriations. It also proposes a combined $4.4 million or a 7.2 percent reduction in cuts for the Legislative and Judicial branches.
"These reductions are required because we can only spend money we realistically believe we will collect," Mapp said.
It is a significant but less dramatic reduction from the initial FY 2017 budget Mapp submitted in May 2016. That budget proposed an $844.9 million General Fund budget – $11 million more than this year's budget. But several million dollars in new appropriations were added in the Legislature as budget bills were marked up.
"No new taxes or tax increases are proposed in the Mapp/Potter Administration's budget," the governor emphasized. "Instead, the Government will rely on "a vigorous and aggressive set of enhanced collection initiatives" focused on enforcement of existing statutes. These efforts have already begun in earnest at both the Bureau of Internal Revenue and the Office of the Lieutenant Governor."
The newly proposed FY 2018 budget includes a proposed expenditure of $656.5 million for executive departments and agencies; $19.5 million for the Legislature, $37 million for the Judiciary and $90.3 million for long-term debt service on the government's general obligation debt. Bonds secured by federal rum taxes are accounted for separately from the General Fund budget.
It sets aside $30 million for tax refunds.
In contrast, the previous FY 2017 $844.9 million budget proposal included a proposed expenditure of $715.5 million for executive departments and agencies; $21 million for the Legislature; 39.87 million for the Judiciary and $68.5 million for long-term debt service on the government's general obligation debt.
The Department of Education, by far the largest department with the largest budget, is budgeted $156.8 million for FY 2017, down $10 million from the initially proposed FY 2017 General Fund funding of $167.1 million and slightly more than the $154.5 million initially budgeted in FY 2016. Later, supplemental appropriations changed all of those past totals somewhat.
Human Services is budgeted at $62.7 million, down from $69 million for FY 2017, but more than the $59.3 million for FY 2016 and $62.3 million in FY15.
The V.I. Police Department has a proposed 2014 General Fund budget of $57.18 million; down from $63.1 million for FY 2017 and $59.2 million for FY 2015.
The Bureau of Correction is budgeted at $32.46 million; down from $35.9 million for FY 2017 but more than the $29.9 million the year before.
The Health Department is looking at $24.7 million, up slightly from $23.3 million last year and $19.9 million in FY 2016.
Mapp gives his own Office of the Governor $9.2 million for FY 2018, down from $12 million in FY 2017 and in line with the $9.2 million the year before.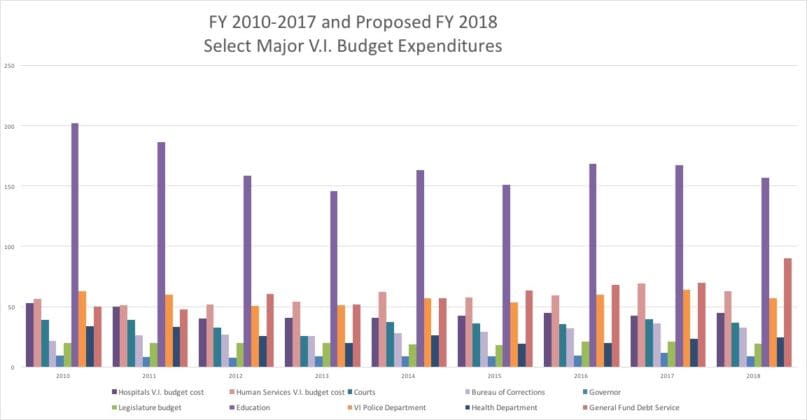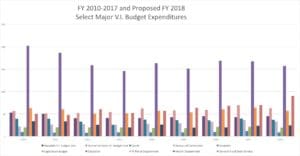 Many of the cuts are in personnel costs.
"The FY 2018 budget funds significantly fewer employee positions than FY 2017, and reduces the Government's contribution to employee's fringe benefit cost, which averages 40 percent of salaries," Budget Director Nellon Bowry wrote in his summary for Mapp.
"Specifically, the budget assumes a change in the allocation of the employee health insurance cost, which is currently shared 65 percent employer versus 35 percentpercent employees, to a 60 percent employer versus 40 percent employee split for active employees, 50 percent for retirees under age 65, and 100 percent contribution by retirees over the age of 65 (who are therefore eligible for Medicare)," Bowry wrote.
In his letter, Mapp said the economy "remains on the upswing and new revenue is anticipated in FY 2018."
"In this message, I want to point out that jobs in manufacturing, leisure and hospitality and other services regained momentum upward in 2016," Mapp wrote. "Relative to construction and information technology, the economy should receive support through expansionary manufacturing activity and several public-sector projects that will begin or continue within the upcoming fiscal year … These projects will bring significant revenue and jobs to the Territory, and we will continue to build upon our infrastructure," he continued.
He highlighted the Paul E. Joseph stadium project in Frederiksted. Efforts underway include road initiatives, new buildings at both campuses of the University of the Virgin Islands and the complete renovation of the territory's two horse-racing tracks. The governor's message also highlighted the lack of parity between the states and territories relative to our matching funds programs for Medicaid and Medicare funding. Covering health care costs remains a significant drain on the Territory's resources and Mapp has pursued efforts to recoup more of these costs from the federal government – to include a recent successful expansion of those eligible for federal assistance.
Mapp also recommends that the operating budget of the Department of Tourism be supported by the Tourism Revolving Fund rather than the General Fund. His budget would devote 11 percent, but not less than $2.7 million, of those funds, comprised of hotel occupancy tax revenues, to Tourism.
He said this proposal considers the increase in revolving fund collections due to increases in hotel occupancy taxes, and the newly enacted Environmental/Infrastructure Impact Fee on timeshare units in the territory.
Trying to reduce ongoing structural deficits of $110 million to $170 million per year, the territory also recently increased taxes on tobacco, alcohol and sugary beverages and put a floor on property tax exemptions.
"We have successfully made it through the last two fiscal years without long-term borrowing to pay operational expenses," Mapp wrote. That development was helped along by the fact that lenders declined to buy the territory's bonds earlier in the year. The ongoing structural deficits have also led to repeated bond rating downgrades by the three major bond rating agencies.
"We have not reduced school hours or furloughed government workers. We have not cut salaries, we continue to pay our vendors on time and yes, we continue to release tax refunds to taxpayers," Mapp said.
"We have increased our revenues while we have concomitantly decreased our expenditures. The challenges before us in this budget are to continue reducing our expenses, growing our economy and investing and improving our infrastructure … While I concede we have much work to do and that we are striving to do better; we are well on our way to accomplish our task of fiscal responsibility and sound fiscal balance," Mapp concluded.