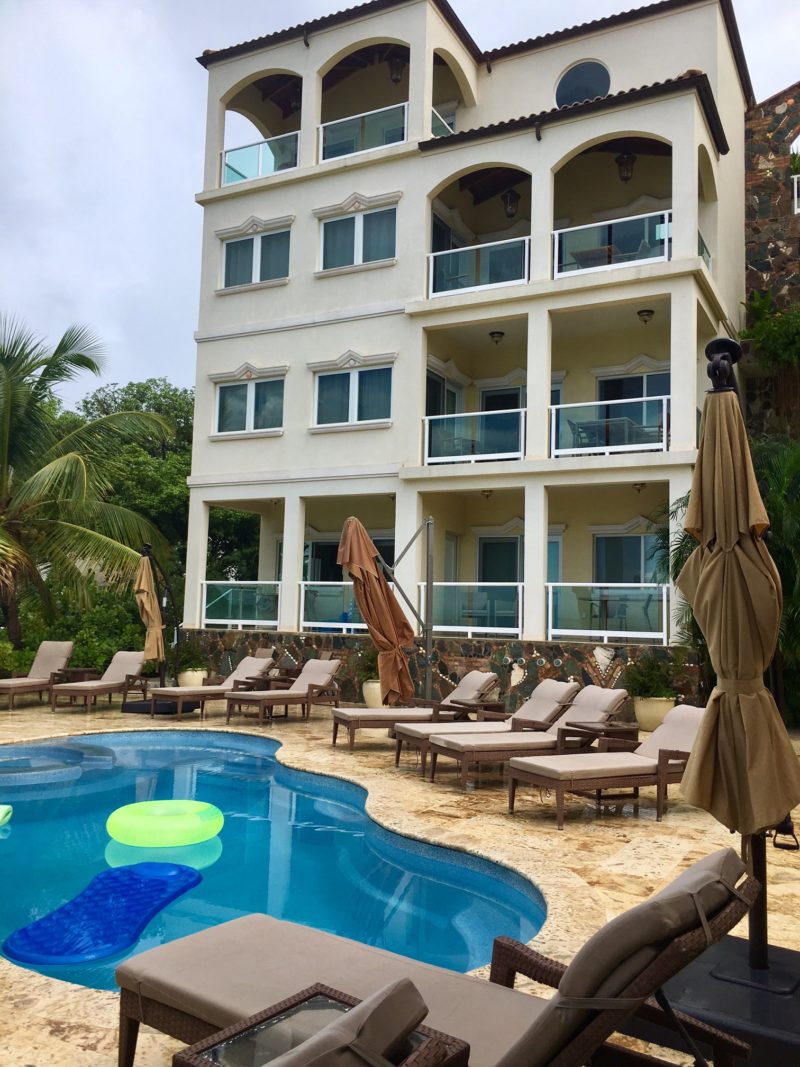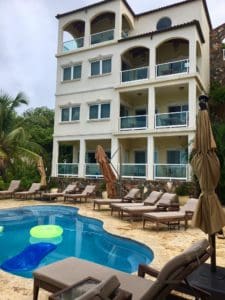 The rumors are true:  Delbert Parsons and Delrise Varlack are moving forward with plans to build a hotel with up to 200 rooms in Cruz Bay on 2.5 acres of land located between Mongoose Junction and the Lumberyard Complex.
In recent weeks island residents have noticed a backhoe clearing the tree-covered site nestled between (and above) the two densely-developed commercial properties.
Their plan is ambitious, but Parsons and Varlack are not novices in the realm of hospitality construction.  They are the developers behind a six-unit apartment complex in the Valley in Cruz Bay, and the upscale Sea Shore Allure, an eight-unit resort built on the shore of Turner Bay.
Parsons said they first thought about building a hotel when the news came that the Westin Resort was converting all of its remaining hotel rooms to timeshare units. "The people in the Virgin Islands, and the Government of the Virgin Islands, and St. John as a destination can use another hotel," said Parsons.
Parsons emphasized that a new hotel will boost declining employment on St. John.  "A lot of people have already lost their jobs at the Westin," he said, "With a hotel, you need to clean the rooms every day; with a timeshare, you only need to clean once a week.  They don't need so many people on the front desk and in reservations. People staying in timeshares use their kitchens; they don't need to go out for every meal, so the local restaurants are losing business."
Because of the Westin's conversion to timeshare units, the government stands to lose between two million and three million in revenues generated by the 12.5 percent hotel tax, Parsons said  (To offset the recent trend to convert hotel rooms to timeshare units, the VI Legislature recently voted to enact a $25 daily occupancy fee for timeshare rentals).
Parsons said the closing of Maho Bay Campground in 2014 has also contributed to a shortage of hotel accommodations on St. John.  "I could put up apartments or condos, but there's a wider need for the people of St. Thomas and St. John," he emphasized.
The property now being cleared is an ideal spot for a hotel, Parsons added.  "It has the most amazing view; it changes every minute as the boats go in and out of Cruz Bay."  With easy access to restaurants and taxis, guests will not need to rent cars, he said.
Parsons and Varlack purchased the property located at 18-52 Estate Enighed from George Stuckert III several years ago.  "He's completely behind this project; it's like heaven to him," said Parsons. The Stuckert family owns an additional nine acres adjacent to the proposed hotel site, "So if I need more acreage, I can get it there," said Parsons.
The property had been for sale for years and was eventually taken off the market because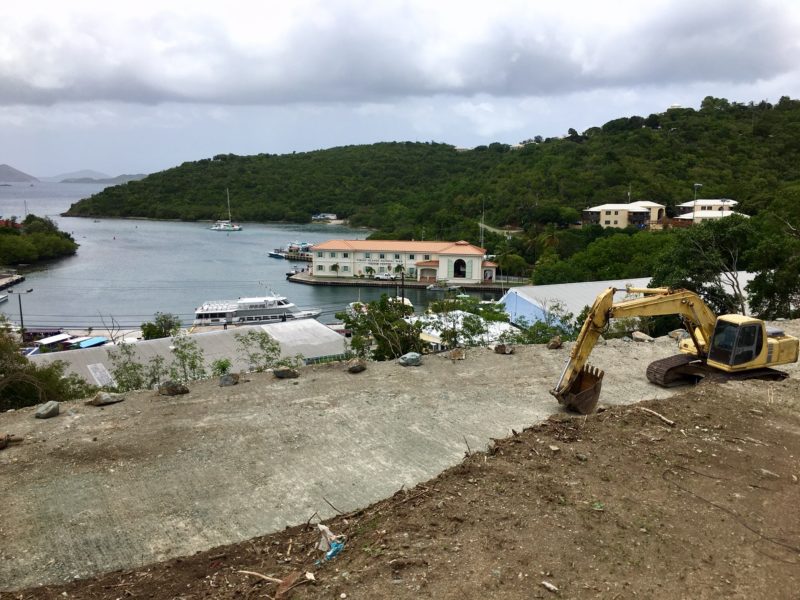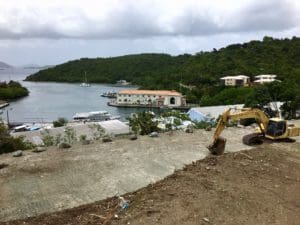 of lack of interest, according to Parsons. "When I opened it up, people said, 'Wait a minute!  What's going on here?'" He said a community of squatters had dwelled illegally on the property until heavy-equipment operator Boopie began clearing the rocky site.
The property will be accessed from the road to the Islandia Building just past the Dolphin Market on Centerline Road.  Guests will also have walking access to Mongoose Junction, according to Parson.
Because the property is not currently zoned for commercial purposes, Parsons and Varlack plan to apply for a zoning variance, which requires approval by the VI Legislature and the governor of the Virgin Islands. The site is also within the jurisdiction of Coastal Zone Management, so public hearings must be held, and the project must be approved by the St. John Coastal Zone Management Board, the Legislature, and the governor before the hotel construction can begin.
The current Department of Planning and Natural Resources building permit posted at the site does not mention a hotel.  It lists a "mobile home" with an estimated cost of $50,000 as the purpose of the earth change.
Parsons estimates that the hotel can be permitted and completed within three years if all goes as planned. The developers have not yet decided whether to partner with a major hotel brand or remain independent.
Although Varlack and Parsons have not yet chosen an architect, they've been actively discussing the design.  They plan to build three-story units using natural materials, such as stone and coral stone, as much as possible.  "It won't be crazy big, crazy high, and not all kinds of colors. I want it to complement Mongoose Junction as much as possible," Parsons said, adding, "I like nice things."  A swimming pool is part of the plan.
He said based on guest reviews for Sea Shore Allure, travelers now want modern conveniences, internet access, television, and high-end amenities (Sea Shore Allure consistently earns the highest possible ratings on Trip Advisor).
Parsons said they intend to make the proposed hotel "as green as possible." They plan to install solar power and their own generator although they will still be connected to the Water and Power Authority's grid.  He said one-quarter acre of the property has been set aside for the construction of a sewage treatment plant because the public Cruz Bay facility can't take on the additional load.
Parsons got his start in the hotel business in 1981 when he began working at Caneel Bay as a waiter and bartender.  In 1991, he launched Ocean Runner, a power boat rental company based in Cruz Bay, which he operated for 13 years. In 2008, he and Varlack started work on Sea Shore Allure, which took two years to complete.
Delrise Varlack is the manager of Varlack Ventures, one of the two major ferry companies that has served the island for three generations. Over the years the company has branched out to offer rental cars and other services.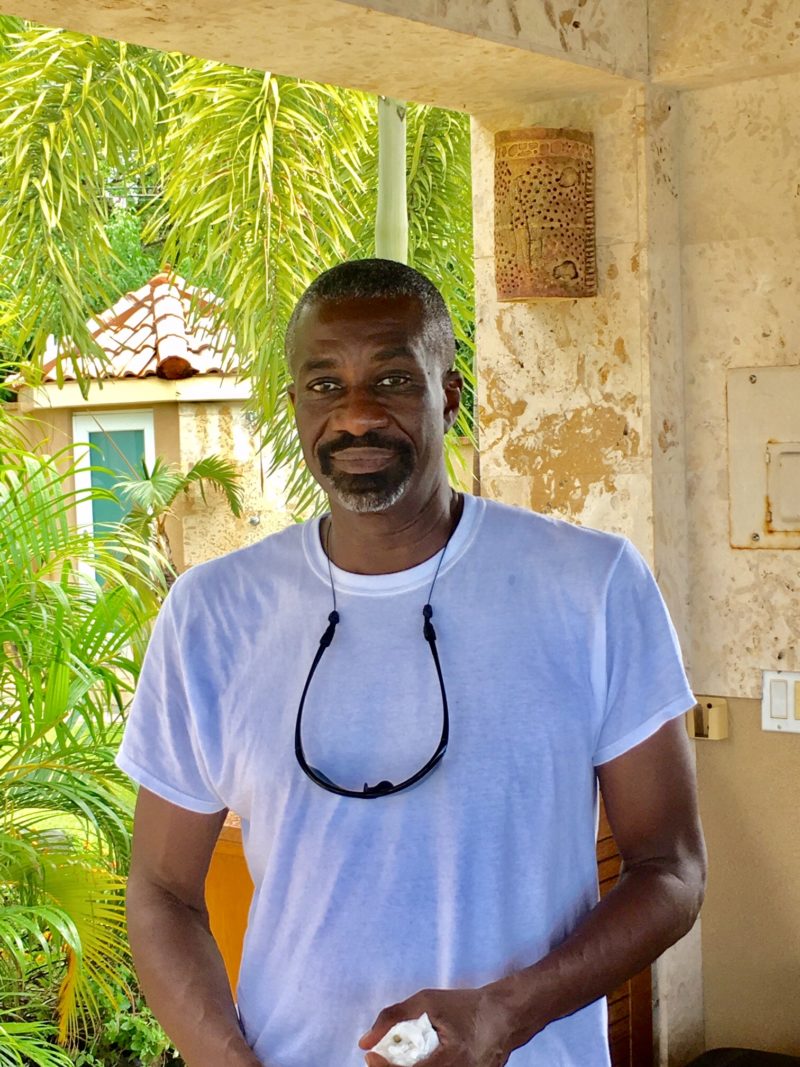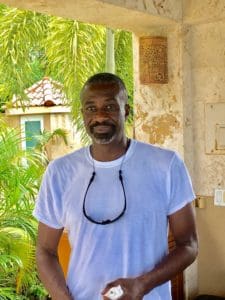 Parsons is also involved in the development of a one-half acre property at the foot of Jacob's Ladder owned by Donald Christopher, a family member.  The developers are currently planning to construct storage units and apartments on the site that has previously provided space for a welding shack and mechanic's shop.   Other commercial enterprises have expressed interest in relocating there, he said.
Parsons is still an owner of the Leylon Sneed, the 115-foot steel-hulled motor vessel that is moored in Enighed Pond near the barge terminal.  Parsons said he has a buyer interested in turning it into a floating restaurant.